Has not visited Good Master Bak Kut Teh for at least half year, previously never miss to eat Bak Kut Teh every week after badminton.

Suprisingly, I don't take raw garlic at all but when come to Bak Kut Teh a lot of raw garlic with black soy sauce is a must.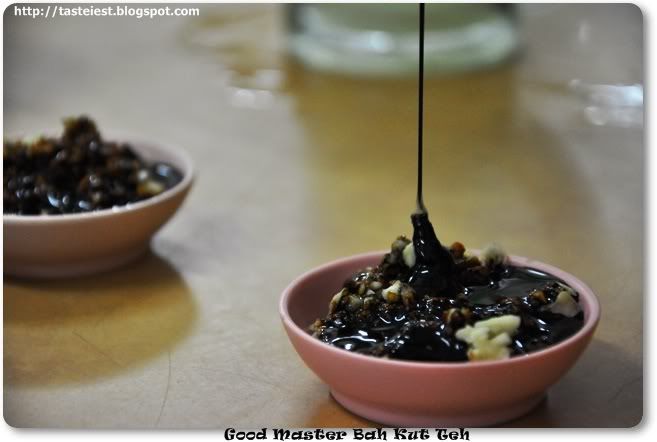 Oyster Sauce Vegetable, boiled vegetable with oyster sauce and fried garlic on top. Vegetable is crunchy but less oyster sauce make it no flavor, luckily some garlic on top help to boost a little bit of taste.

Dry Bak Kut The (Medium ~ RM20), the biggest difference with normal Bah Kut Teh obviously, the lack of herbal soup. Inside this claypot is more or less the same ingredients with soup Bak Kut Teh, pork, pork ball, pork stomach..etc.
What make Dry Bak Kut Teh is black soy sauce, dried chili, dried squid, lady finger and some secret ingredient.
Honestly, 6month before it was the best dry Bak Kut Teh in the town but not the same story now, was quite dissapointed this round as the flavor is not that strong compare to before.

Bak Kut Teh best friend, You Cha Kuih.

We did request for a small plate of Bah Kut Teh soup but they reject, reason because Dry Bak Kut Teh don't provide soup anymore, then how are we going to dip You Cha Kuih and the rice is so dry…Request and request again, finally they give a small plate, then told us no more on next round. Dissapointed..!
Price is reasonable

Rate 2 star only due to poor quality of Bak Kut Teh and Service.

Bak Kut The Good Master Restoran
134, Jalan Tembikai, Taman Mutiara
11400 Bukit Mertajam Penang
012-4235896
N5 21.628 E100 26.670

View Good Master Bak Kut Teh in a larger map