Eighteen Wine & Dine is well recommended by friend, so we decide to give it a try during our Friday 2 hours lunch.
This restaurant was located at Krystal Point, you can easily get parking beside the road or further up there is a parking lot.


Good ambient and nice decoration.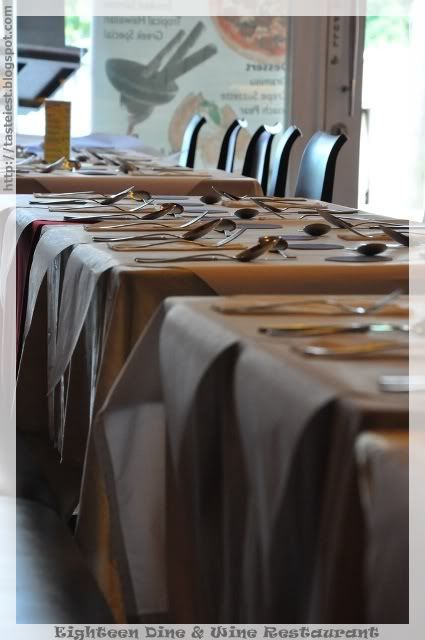 They have a wide range of wine for your selection.

Set Lunch Promotion RM19.80, which come with Drink, Soup, Main Course and Dessert. You may add RM5 for their Signature Dish. We ordered two set lunch, RM19.80 each.
They should have heated the bun before serve and the butter is just normal butter, butter portion is small as well.

Seafood Tomato Soup, few small pieces of fish meat cooked in homemade spicy tomato soup. Just normal but prefer if they could add more fish meat or squid.

Soup of the day.

Aglio-Olio Prawn Pasta, Pasta cook with white prawn, garlis, red cut chili and olive oil. I was quite dissapointed with the pasta.
Too much olive oil added and the small little prawn is not even fresh, not to mention the pasta is hard.

Seafood Tomyam Pasta, Stir fried seafood in rich and spicy Tom Yam Paste, It not really taste like Tom Yam instead is more toward heavy tomato taste. Normal.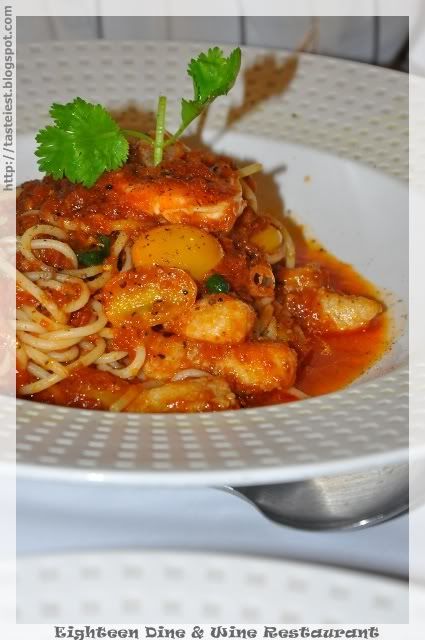 What I like is the Durian Air Cream, free flow of ice cream if you order set lunch.

I selected the wrong set lunch or this restaurant is overrated? Anyhow, there is a lot good pasta around Penang.

Eighteen Wine & Dine Restaurant
Block 303-G-21,
Krystal Point,
11900 Bayan Lepas
Penang Malaysia
604-646 6418
http://eighteendeli.com/
N5 19.900 E100 17.818

View Eighteen Dine n Wine Restaurant in a larger map