Visit Singapore last year and this was one of the best memory we had. We will stuck in China Town and quite disappointed as there is nothing to shop or eat, we end up having our dinner at Yang Kui Fei which we don't put much expectation.
The shop is actually very small and only manage to fit in a few tables, we choose to sit outside of the shop instead of air-conditioning indoor table, reason because during out visit there is a few Chinaman which talk very loud inside.

A jug of Sour Plum drink $3.80, sour and sweet drink make our stomach scream for food.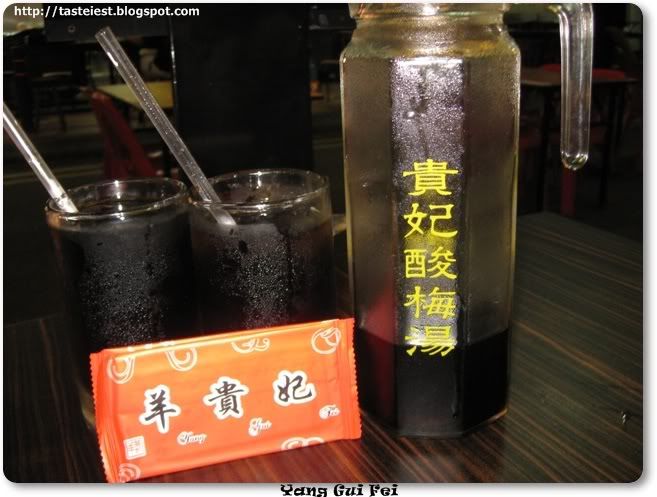 Initially plan was to order only 2 stick but minimun is 5 hence we have no choice but to ordered 5. Spice was added on top of the BBQ Lamb and little bit of spicy taste make us ask for more. $1 each.

Ma Po Tou Fu $8, Tofu cut into small pieces then cooked with Chili paste. Chili oil was too much and spicy, worst is the salty level which is unacceptable.

Oyster Sauce Vegetable Mushroom $8.90, vegetable is crunchy, mushroom is soft and absorbing the oyster sauce. Delicious.

Kui Fei Yang Pai $22. Best of the best and this dish created the memory. Lamb Rib grilled to perfection, crunchy skin and soft juicy meat. Simply irresistible.

It just simply awesome.

Price shown above is Sin Dollar.

Yang Gui Fei Xi An Mei Shi 羊贵妃西安美食
18 Smith Street Singapore 058932
Phone: 61000629