Swee Garden Seafood Restaurant was located behind Maybank Nibong Tebal, once you enter Nibong Tebal town you will see Maybank on your right hand side.
Many tourists actually turn into Nibong Tebal just to try out their signature dish Deep Fried Port Knuckle.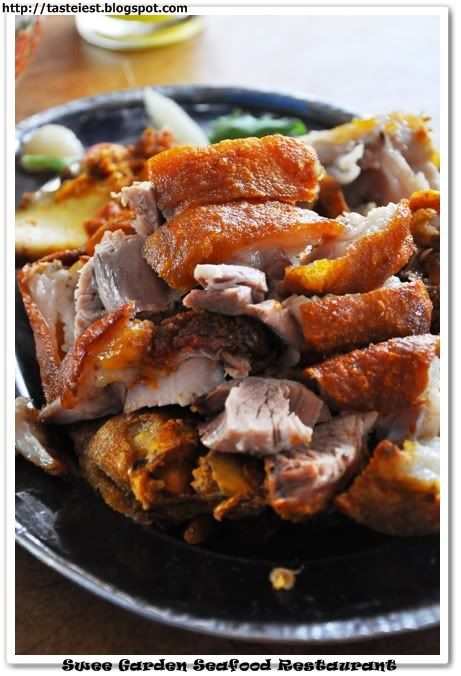 If you get into the right turn, should be easily spot this restaurant. You can easily get parking space, thing to remind if you cannot accept fly flying around please avoid going before 7pm.

Stir Fried Prawn RM20, Fresh prawn was stir fried with home made chili paste to dried. Crunchy skin, head and pleopods is eatable, very tasty.

Lotus Root Soup RM6, very genesrous amount of pork meat and lotus root cook with peanut. I just take this soup without ordering any other drink, very refreshing.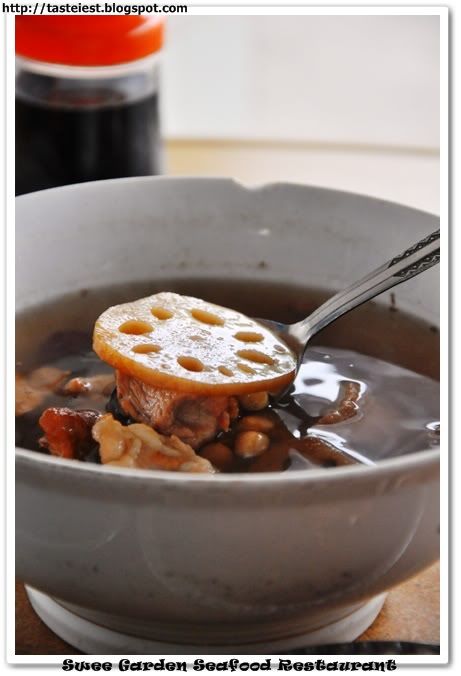 Kai Lan Zai Cha Jiap RM5, delicious and crunchy while it just cost RM5, pretty cheap isnt it.

Signature dish, Deep Fried Pork Knuckle RM32. You might start asking how many person to consume all 4 dishes right? The answer is just TWO, don't be shock by our appetite. We do that for you! HaHa!
Skin is crispy while meat is very juicy, serve with some pickled onions and cucumber.

Look at the layer of fat after crispy skin together with tender meat it was a perfect bite.

Sweet and Sour sauce provided, it add extra flavour to the delicious Deep Fried Pork Knuckle.

Tips: This restaurant is usually has a lot of fly before 7pm, hence if you cannot accept eating together with fly please go after 7pm but for sure you have to wait longer to be served.
Must try their signature dish deep fried pork knuckle, without those disturbing flies it would be 5 star for our rating.

Swee Garden Seafood Restaurant
No.1, Jalan Punai, 14300 Nibong Tebal, S.P.S.
Tel : 04-5934768
N5 10.132 E100 28.655
5.30PM onward, Close on Monday

View Swee Garden Seafood Restaurant in a larger map