Double Good Restaurant(好好)Auto City is branch for Bayan Lepas, famous for its Indonesian Prawn and effective service during our last few visits to Bayan Lepas Double Good Restaurant.
We 10 persons head down to Juru Auto City Double Good Restaurant after tiring Paintball game and expecting a delicious lunch.
We took Set C which cost RM178 for 10 persons, including of 5 main dishes, rice, drink and free Shark Fin Soup. We are actually request to change the Shark Fin Soup to other dish but they refuse so we have no choice but to take the Shark Fin Soup.
A small bowl of Shark Fin Soup is serving to everyone; very small bowl and it taste just normal.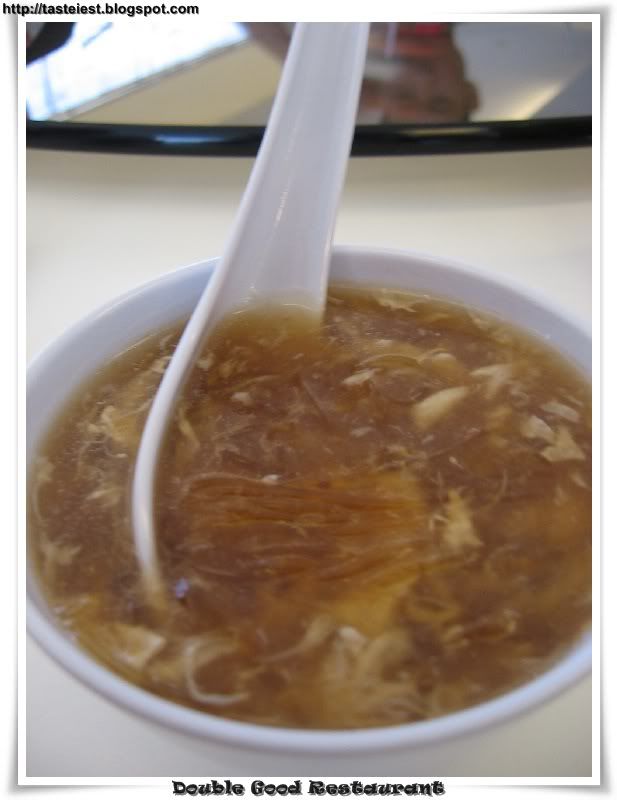 Special Beancurb with Dried Shrimp, Bean curb is deep fried and top with Dried Shrimp and spring onions. Not much flavor and the dried shrimp are so limited that you hardly notice it present.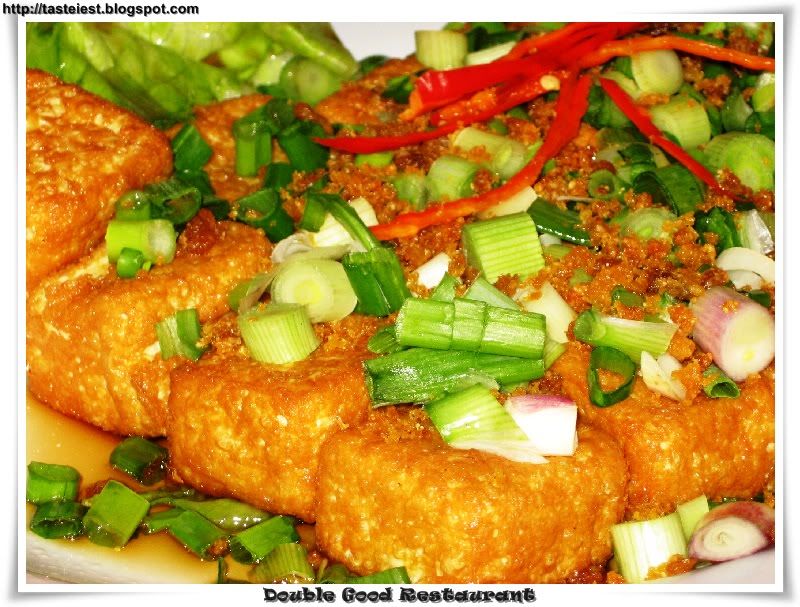 Stir Fried KaiLan, KaiLan fried with KaiLan, that the best word I can use to describe this dish. No Prawn, No Meat, No Salty Fish, Nothing, just plain KaiLan.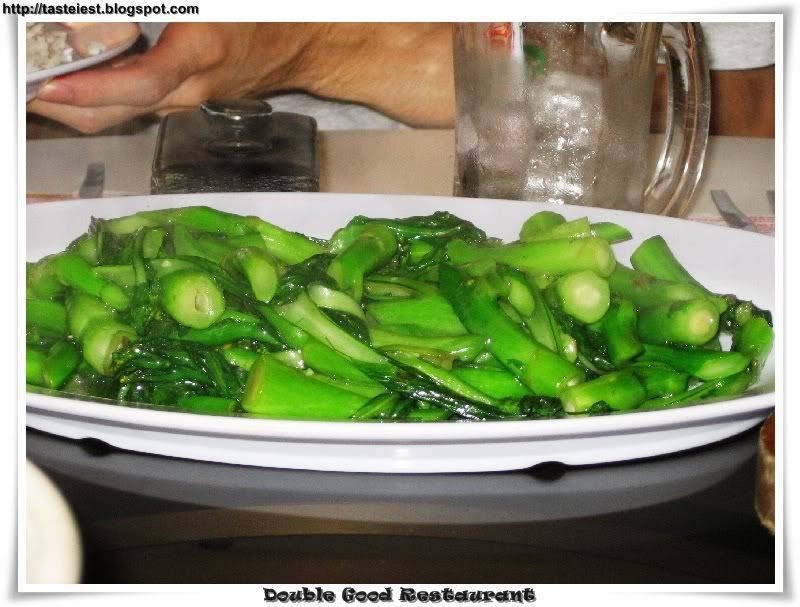 Sizzling Deer Meat with Black Pepper, a lot of Onion and Chili instead of Deer Meat, cook in black sauce and it taste just normal.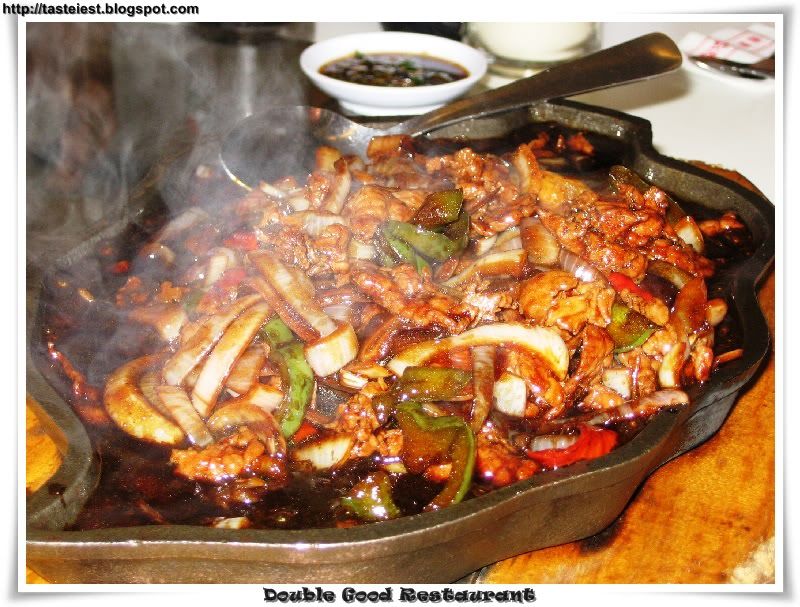 Beijing Style Pork Ribs, Deep Fried Pork Ribs cook with Sweet Sauce, Pork Ribs is tender and soft while the sweet sauce is nice to take with rice.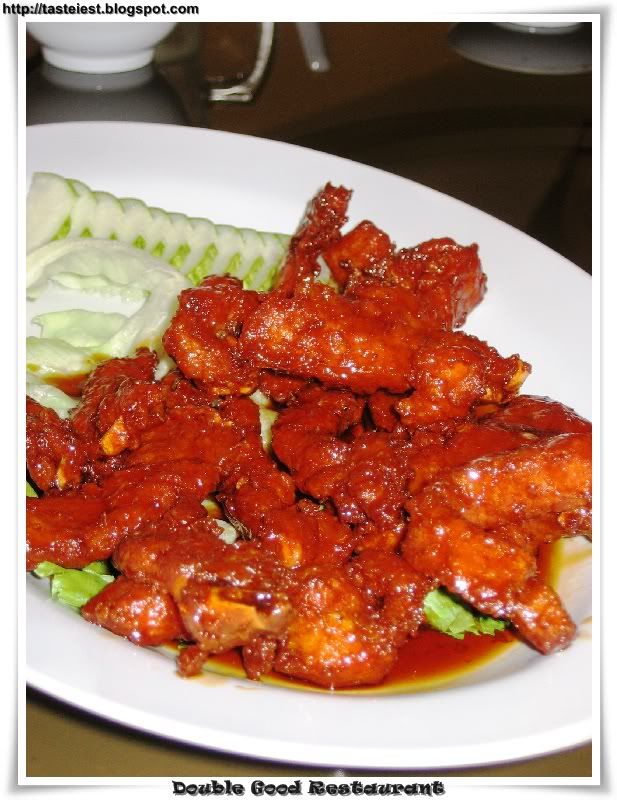 The signature dish, Indonesian Prawn. After so many disappointing dishes this is the only dish which keeps the standard as Bayan Lepas Main Shop.
White Prawn uses to cook in curry paste which very strong flavor and extremely good gravy taken with rice. Recommended!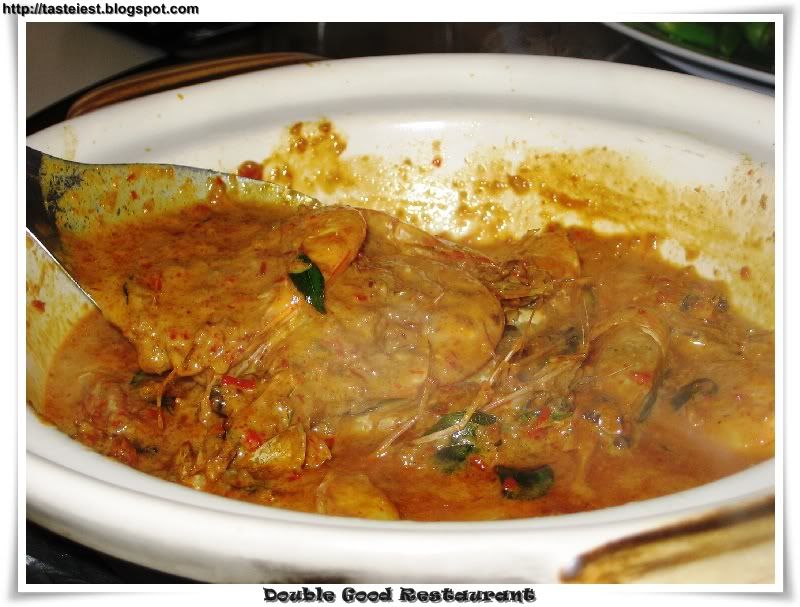 It quite disappointed with the service and food quality in Juru Auto City branch, piece of advice is to go Penang Island for the "original" quality food from Double Good Restaurant.
Rating

Double Good Restaurant (Penang Island, Bayan Lepas)
26, Jalan Tun Dr Awang
Sg. Nibong Kecil
Bayan Lepas
Penang
604-643 4188
Double Good (Mainland, Juru Auto City)
1681-F2 Jalan Perusahaan
Auto-City North-South Highway Juru Interchange
13600 Prai
Penang
604-501 4188
Business hours:
11 am to 3 pm
6 pm to 10 pm
N5 20.294 E100 25.846

View Double Good Restauran in a larger map