It was sometime back when I have my last buffet and this round visit to KL I going to try Munakata(宗像) Japanese Restaurant which located in Jalan Sultan Ismail, Kuala Lumpur.
Munakata served unlimited ala carte Japanese buffet, the way they operate is exactly the same as TAO Cuisine which you ordered and they prepare.
It was a great idea as the food serve will be hot and fresh.
RM60+ for an adult and RM35+ for child from 4 – 10 years old, consider cheap compare to other Japanese buffet which normally charge around RM100.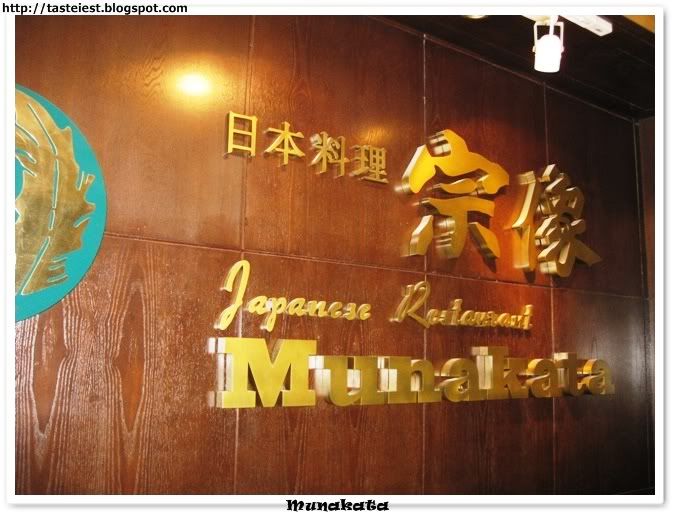 Each table are ready with an ala carte menu with description and photo, write down the code and hand over to waitress.
You place ordered and wait for chef to get it ready for you, quite slow during peak hour but worth the wait.
It was hard for me to explain all food we ordered as we almost finish the whole menu, which come to a total of 40 dishes.
I will give a few highlights and the rest will briefly go through so that you have a rough idea of what they serve and how value RM60 for the Japanese Buffet.
I would like to highlight few items which are
Umaki Tamago, Grilled eel wrapped in Tamago. Eel is fresh and Tamago is cold, it was delicious.
Shishamo, Grilled smelt fish.
Unagi Kabayaki, Grilled eel coated with sweet soya sauce. If you are Unagi lover, you can ordered as much as you can and probably you are eating more than RM60 just for Unagi. Right? I like the sweet sauce and Unagi is fresh.
Beef Steak, beef is tender soft with the sauce it was perfect.
Other dish are Chawan Mushi, Deep fried seafood bean-curb with seaweed, Boiled Green Peas, Grilled Spinach with butter, Fried Mix Vegetable, Pan-fry mushroom, Deep Fried Soft Shell Crab, Grilled Scallop, Grilled Salmon, Seafood Tepanyaki, Deep Fried Glass Shrimp, Deep Fried Squid, Barbecued Skewered Chicken, Salad, Fried What Noodle, Fried Rice, Fresh Fruit..etc
Salmon Sashimi, generous thick cut and freshness is the key to delicious Sashimi. Picture tell the texture of Salmon fat, buttery, fatty and just plain delicious.
Again, seriously you can order as much as you can finish, no joke! Hurray!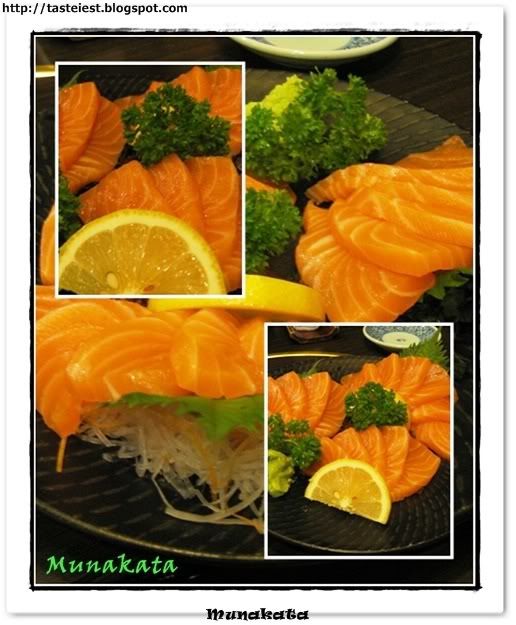 Fresh Fruit to help digest.

Last served was the delicious Green Tea Ice-cream top with Red Bean.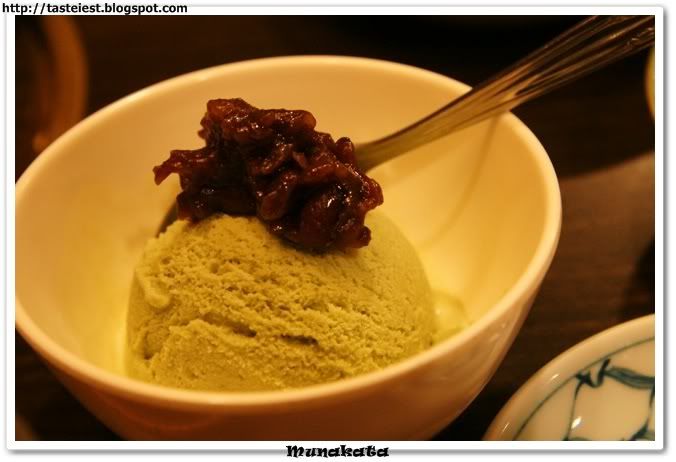 Make sure you finish all your ordered as RM10 will be charge for every dish that is unfinished.
Rating

Japanese Restaurant Munakata
Mezzanine Floor, Life Centre,
No. 20, Jalan Sultain Ismail,
50250 Kuala Lumpur
Tel: 03-21667441
N3 09.227 E101 42.499

View Japanese Restaurant Munakata in a larger map
Kuala Lumpur, Japanese Food, Buffet, 4 Star,