Salwa Mee Udang located just next to "Lover Bridge", but sadly "Lover Bridge" was now closed due to poor condition.
We ordered one plate of Mee Udang only as we know the price is expensive and we just finish Balik Pulau Laksa .

By the time we reach at around 5pm, chef is yet to be ready and we are the first customer as well. So we walk around the beach and taking some photo, nice view in this fishing village with a lot of boats.
Salwa Mee Udang not only serving Mee Udang instead they served Kari Ketam, Udang, pari…and a lot more, more toward Chu Cha style but famous for their Mee Udang.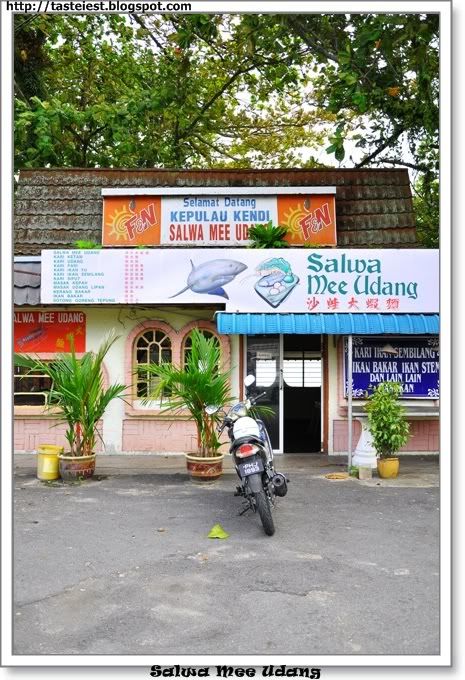 Environment is open air concept, sit next to the beach and feel the strong wind blowing is so relaxing.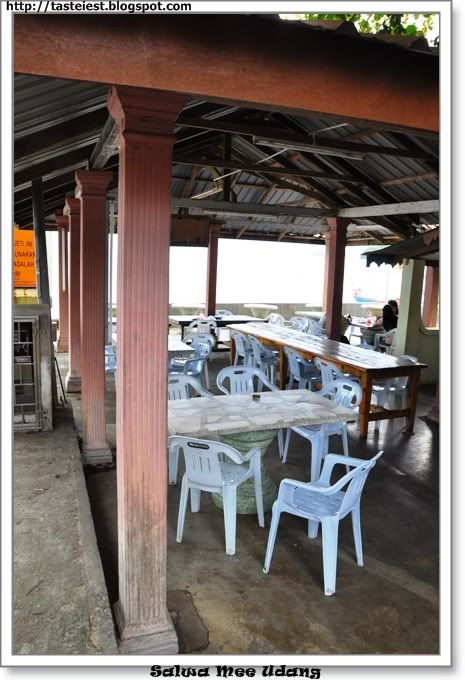 When the Mee Udang served, we will surprise and asking each other where is the prawn? After some digging and finding we just realize they put prawns under the mee, why not on top for good presentation? Weird.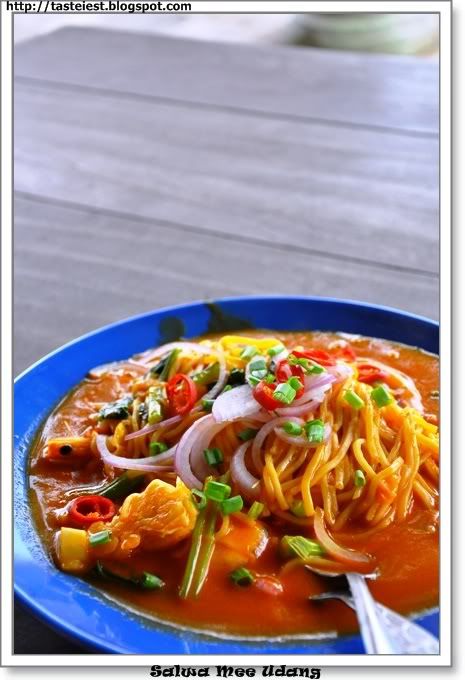 We found 6 big white prawns and arrange it nicely for photographing purpose, else our reader sure curve why we eat mee kosong. Right?
Yellow Mee cook with Tomato sauce, garnished with some onions, red chilies and spring onions, not really strong flavor gravvy but it just nice.
Prawn is big and fresh, meat is tender. This bowl of noodle cost us RM16, I would say it slightly expensive but you pay for 6 big prawns is well worth it.

Overall this shop is good for their big fresh prawn, recommended.

Salwa Mee Udang
926, Kampung Nelayan, Teluk Kumbar, 11960 Penang
04-649 4497
Weekday 3PM – 11PM
Weekend 2PM – 12AM
N5 17.220 E100 13.772

View Salwa Mee Udan in a larger map