Kuala Gula is a small town in Perak, you will be surprise by how outskirt it is located but this small town alone has 3 or 4 seafood restaurant.
We selected Ai Tee seafood coz the rest are closed, it was quite worry for us to step into Ai Tee Seafood as the whole shop is without any customer.
Did some research before come here and the recommended dish is Baked Crab and Crab Bee Hoon.

Stir Fried Lala, you can really taste the sweentness from Lala meat, this prove that the Lala is extremely fresh.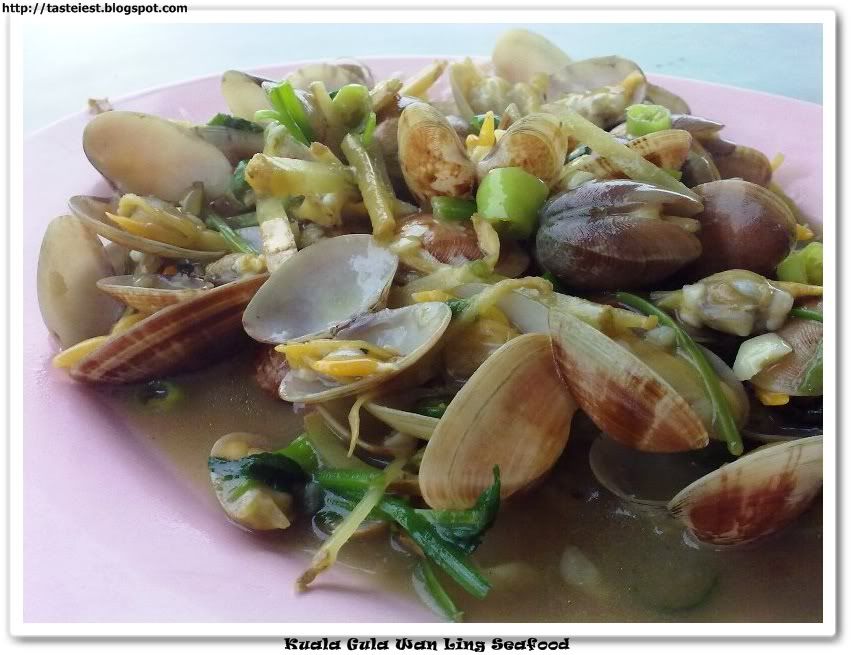 Crab Bee Hoon, 2 medium size crab fried with Bee Hoon. Bee Hoon absorb all the essence of the crab but still remain the sweetness of crab meat. Fabulous.

Asam Prawn, honestly the prawn are quite small, it would be better if they could provide bigger prawn. The sourness from asam really help to bring appetite and it make us lick our finger.

Baked Crab, 2 big egg crab was served and we will surprise by the amount of egg inside, as you can see from the picture egg is actually cover most of the portion.
This 2 crab is superb fresh and delicious, you can really taste the sweetness from it meat and really make us gone crazy.

Guess what, this meal only cost us RM50. Can you believe it? Total of 4 crab, 4 dishes, 2 rices and 2 drinks just RM50.

Ai Tee Seafood Restaurant
Jalan Muhibbah 1, Kuala Gula
N4 55.859 E100 27.891

View Ai Tee Seafood Restauran in a larger map