Ferringhi Garden is one of the nicely present tourist favorite dining restaurants in Batu Ferringhi, it located just beside main road with garden like outlook.
Ferringhi Garden did provide private car park but we doesn't aware of it because it was located behind the restaurant where you need to drive pass the restaurant and turn into the small road and it hide somewhere there.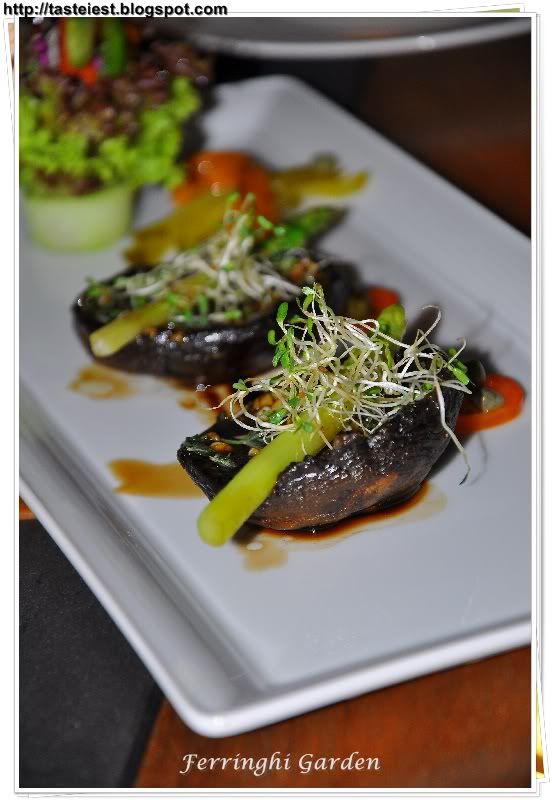 Orange Juice RM9.80

Mixed Loaf RM10.80, tomato and garlic loaf, at first we don't even know that the white sauce is for garlic loaf and tomato sauce is for the tomato loaf, we mix around and it actually taste quite good as well, so why tie to the rule if you could create some creativity.

Personally I prefer the tomato loaf mix with both sauce, it a little bit of sour and very appetite.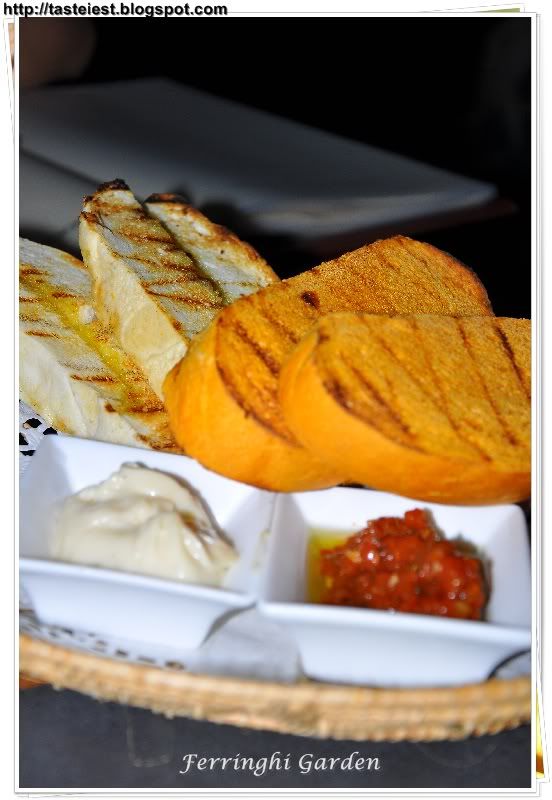 Bake Mushroom RM17.80, very strong flavor but without keeping much original flavor of mushroom, very good handling of the asparagus cooking time that keep the asparagus so crunchy.

CharGrill Salmon RM53.80, thick cut of Salmon fish with melting butter on top, Salmon skin is crunchy while Salmon fish with a lot of fat keep the meat to be very soft and delicious.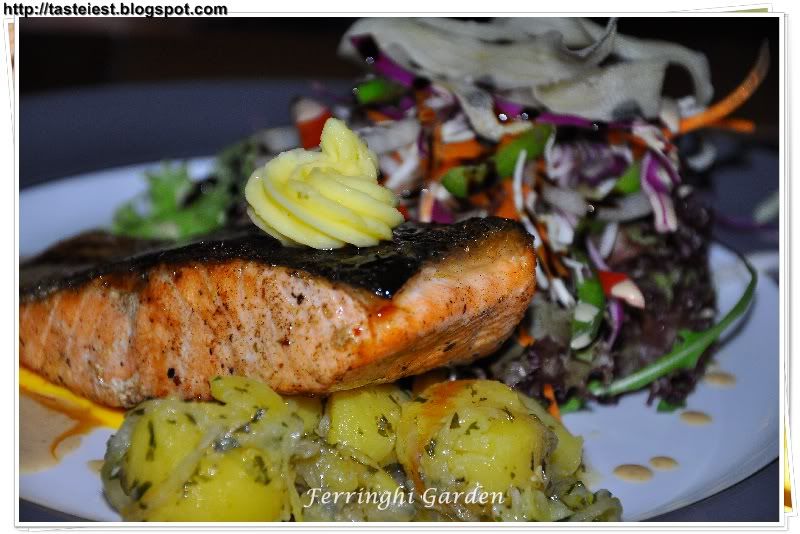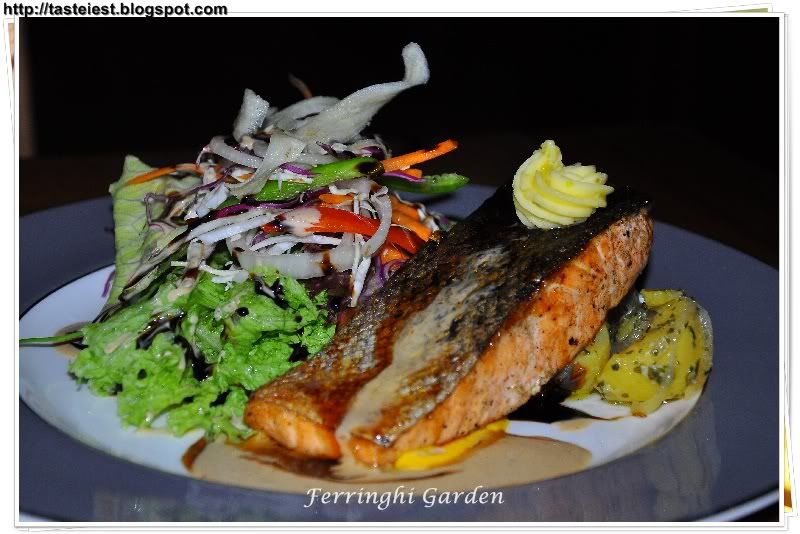 Lamb Shank RM52.80, a big portion of Lamb Shank together with various type of vegetable. Portion is pretty big and the Lamb is tender soft remaining with lamb flavor where some people doesn't like but I really like it very much.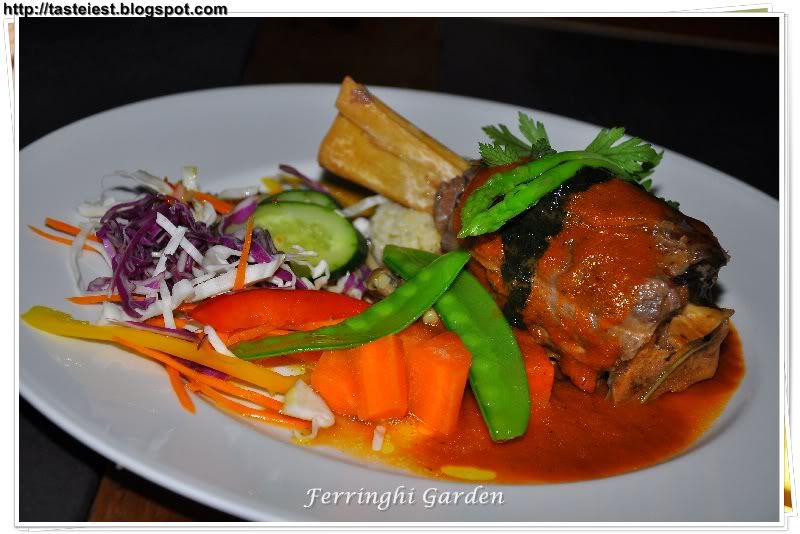 Crème Brulee RM17.80, dessert consisting of a rush custard base topped with a contrasting layer of hard caramel served with one scope of ice cream and some fruits.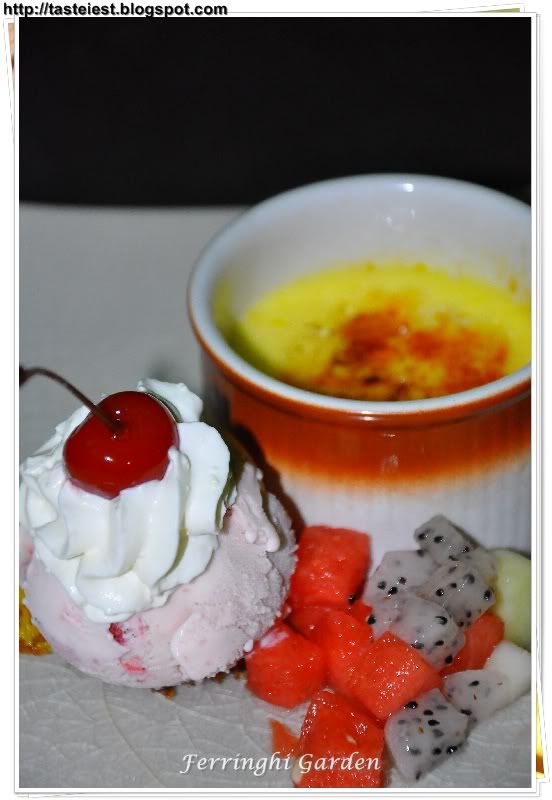 Food is not only beautifully presented but also very delicious, we experience fine dining at this restaurant without paying high price. Even the toilet is very clean with strong lemon grass smell.

Ferringhi Garden
34-C Batu Ferringhi
11100 Penang
2.00 pm till 12.00 am
604-88 111 93
N5 28.234 E100 14.721

View Restaurant Ferringhi Garden in a larger map