*Update: This restaurant has closed down.
Danbo introducing Gelastissimo Ice Cream! Let have a brief introduction of our Danbo, it made in Japan and actually is a cardboard box toy robots, it eye has built in LED that can be turn on, enough introduction of Danbo let get back to Ice Cream.
Gelastissimo located at Gurney Plaza ground floor, a small shop that selling limited taste of Ice Cream but less is always good. Like Baskin Robin and Haagan-Dazs where you can test all variety before decide which one to go for but they has something special which is chocolate ice cream but spicy in flavor, according to them this flavor of ice cream only available at 5 star hotel but no free testing.
I selected the Vanilla flavor which has very strong Vanilla flavor but the portion is quite small. First taste of the Vanilla ice cream, my tongue can tell that how pure the vanilla ice cream is, GREAT!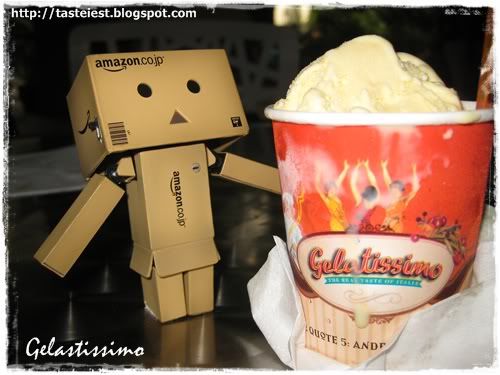 View Gelastissimo in a larger map
Penang, 4 Star, Dessert, Gelastissimo, Ice Cream, Gurney Plaza, Vanilla