Maxim Dim Sum is a very well established company where they has other outlet in Gurney and opposite Queensbay Mall, like their outlet in Gurney and opposite Queensbay Mall where huge range of noodle, rice and side dish available for reasonable price. Back to the Dim Sum here where I did not visit for quite some time, remember the first time I visit was around 3 years back and that time is very crowded where table are stretch across couple of shop lot and now they has even a new shop lot just next door, total up now the Dim Sum restaurant has 4 shop lot just to served Dim Sum.

Pork Stomach cook with black pepper, quite a lot of pork stomach in this small plate of Dim Sum, black pepper flavor is just nice but the pork stomach is not hot enough but overall still taste good.

Char Siew Pao is quite different with other Dim Sum Restaurant, the skin is thin and fluffy while char siew mix with sesame add extra flavor to overall, filling is a lot compare to other as well. Very Delicious.

Deep Fried Prawn Dumpling (Top Left), filling with big fresh prawn and deep fried to golden color, best take with mayonnaise. Not oily and tasty.
Quail Egg wrapped with Fish Paste (Top Right), something new and special where it doesn't exist in other Dim Sum Restaurant, Fish Paste was use to wrapped Quail Egg then steamed with curry sauce, taste good.
Chicken Feet (Bottom), my favorite and all time wanted when visit Dim Sum Restaurant. Taste just normal as it not heated enough causing the sauce to be very sticky.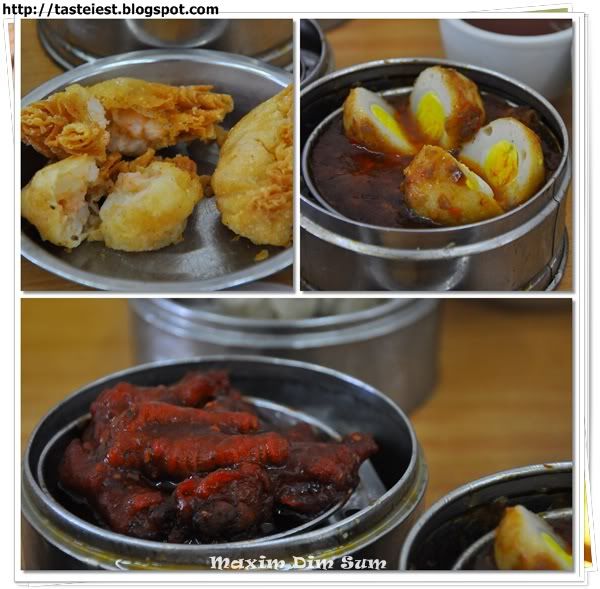 Loh Mai Kai (Left), Glutinous rice was nicely cook and big portion of chicken meat with mushroom and little bit of char siew form the delicious Dim Sum. Chicken meat use was drumstick meat which is soft and tender while the mushroom is delicious, overall taste very good.
Vegetable Mix with Port Mince(Top Right), I not really prefer this Dim Sum as the vegetable with mince pork is not really match.
Deep Fried Bird Nest (Bottom Right), it look like bird nest with fish paste inside, deep fried to golden color and crispy, best take with mayonnaise.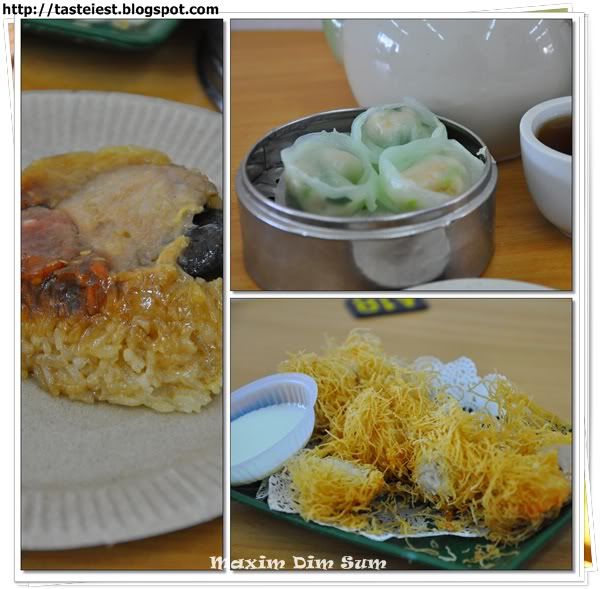 Deep Fried Prawn Roll With Banana, Yes with Banana. It not oily and taste very special but my lovely just cannot accept the creative Dim Sum.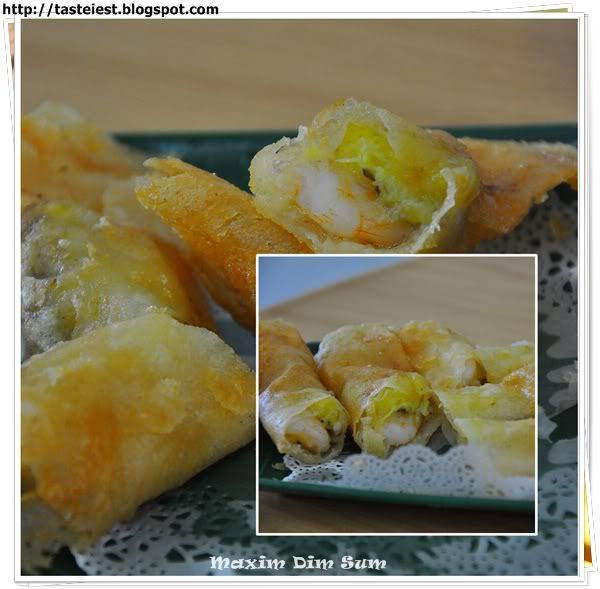 Chee Cheong Fun (Left), stuff with Prawn with soy sauce and chili sambai. Rice noodle is extremely soft and smooth while the prawn is fresh and big.
Razor Clam Siew Mai(Top Right). Claim is a little bit rubbery and cold, hence this Dim Sum taste just normal.
Steamed Port Dumpling(Bottom Right), there is another pan grill version that take with vinegar suppose to be better, this one is quite plain where a bunch of mince pork wrapped and steamed.

Egg Tart, best of the day where a lot of custard inside the crispy crust, you can even use spoon to scoop the custard and finish off the crust later. It not too sweet and full of egg flavor, recommended.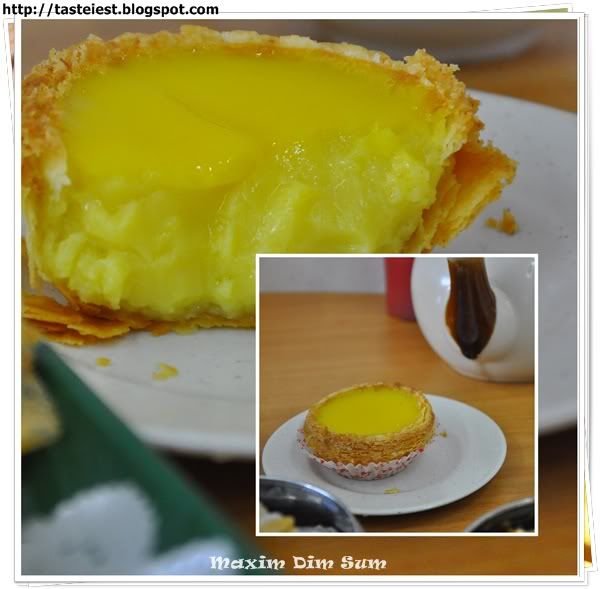 Chai Tao Kueh (Left), steamed white radish mix with dried shrimp then steamed till cooked after that deep fried.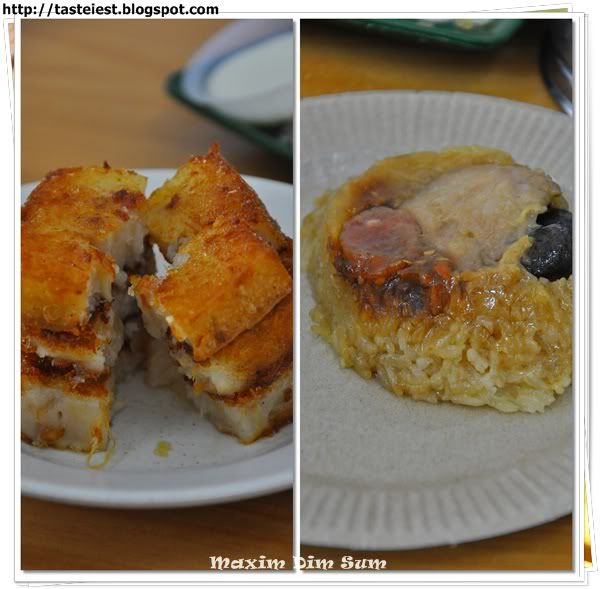 Total expenses was RM40.60, we over ordered end up we have to ta pao some of the dim sum back. Overall taste good and value for money, recommended.

Maxim Dim Sum Restaurant
2-G-11/12, Pekaka Square,
Lebuh Pekaka Satu, Sungai Dua,
11700 Gelugor, Penang.
04-6560915
N05 20.947 E100 17.694

View Maxim Dim Sum Restaurant in a larger map