Since our last reviewed of Kang Beef Koay Teow at Bukit Mertajam some time ago and we started to miss Beef Noodle again and this round we going to reviewed the hawker stall selling Beef Noodle in Penang Island and it located at Sungai Nibong Golden Happy Café, if you recall our last reviewed of Tomyam Mee and Curry Mee in Golden Happy Cafe we did mention that Beef Noodle was closed and we are very disappointed but luck is on our side this round, the shop is finally open. YEAH~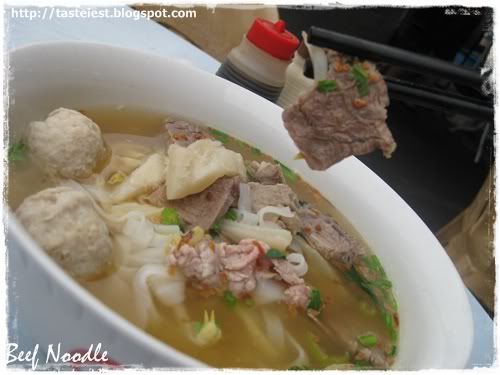 This hawker stall not only selling Beef Kaoy Teow, instead it also have Beef Steamboat and Beef Bah Kut Teh but I cannot imagine the heat to my body if I going to try the Beef Bah Kut Teh, am I going to nose bleed?

We ordered one dry and one soup Beef Koay Teow.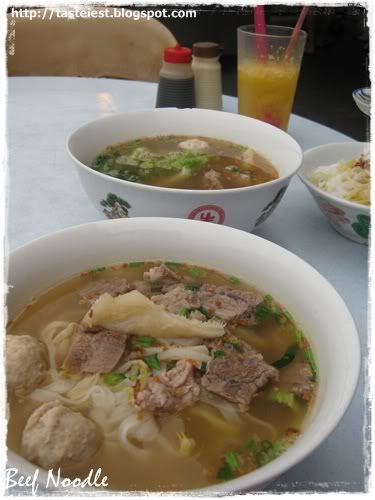 We were quite surprise with the dry Beef Koay Teow as it was different with other that we experience before, it doesn't has any black soy sauce and beef mince instead just a few spoon of deep fried garlic which is pretty plain. It actually no different with the soup koay teow except the soup and koay teow is separated and that all. The soup is not that thick compare to other instead it was acceptable for us and believes to those who don't really like beef flavor as well can accept this. Ingredient was beef ball, beef meat and beef stomach, all is nicely cook and just nice for a bite.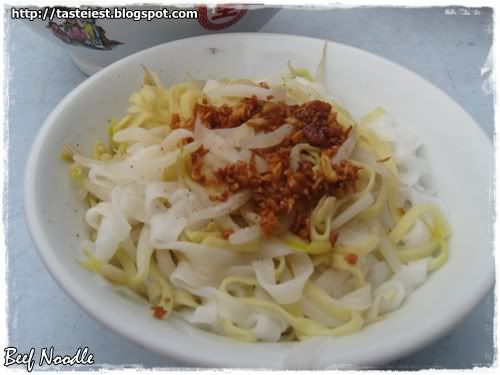 Here is the soup koay teow, it taste exactly the same as the dry kaoy teow.

Noodle use is different from the ordinary yellow noodle instead this noodle is flat and it has better texture.

The chili paste is quite delicious and indeed I was requesting for second plate, perfect to dip the ingredients into this spicy sauce.

Side dishes, Belacan Chicken and Belacan Tofu but both are really disappointed, Belacan Chicken is very oily and totally don't have any belacan flavor at all same goes to the Tofu.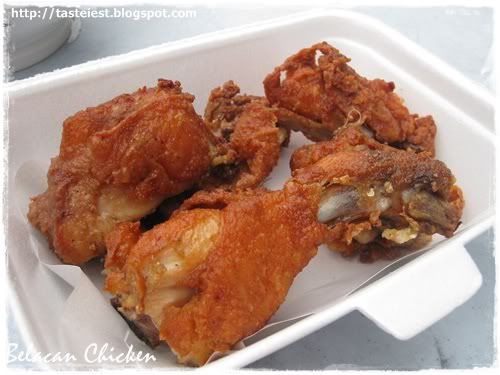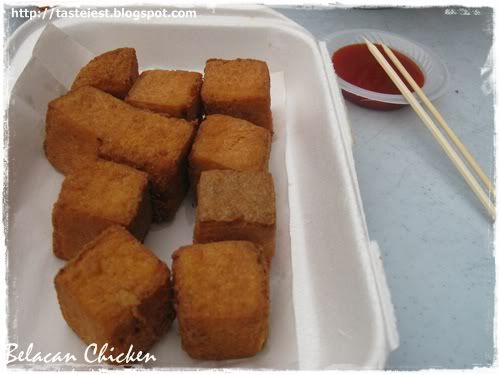 Rating was given to the Beef Koay Teow, going to try out the steamboat next round and hopefully I am healthy enough to try the Bah Kut Teh as well.

Beef Koay Teow at Golden Happy Cafe
749, Jalan Sultan Azan Shah
Sungai Nibong,
11900 Penang.
04-6436371
N5 20.256 E100 17.889

View Golden Happy Cafe in a larger map