Half way dines and we starting to hear a wonderful voice coming out from nowhere, at one point we suspect some background music is played but we are wrong as the voice is coming from the in house performer without using any amplifier. Very entertaining and everyone is so happy to even sing along which created a very happening environment, it really relaxing and enjoying for the performance with a wine in hand.

Is that a lot for the appetizer? I believe if you will to take each of the above then you are out from the league to the rest of the good food because up next is the grilling section where couple of chefs grill on the spot for you to ensure freshness and hot on the plate.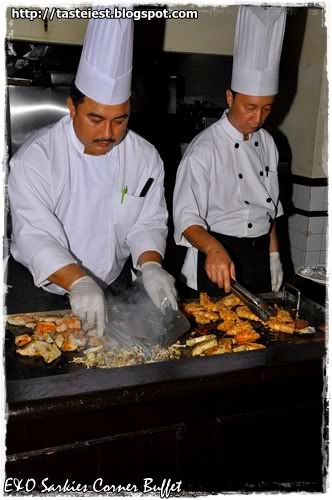 You get to choose Baby Lobster, Oyster, Satay, Lamb, Crab, Sausage, Salmon Head and Big Prawn. Baby Lobster cook with tomato sauce, Oyster cook with Cheese, Lamb;Crab;Sausage pan grill to perfection, Salmon Head and Prawn is kind of deep fried and then pan grill.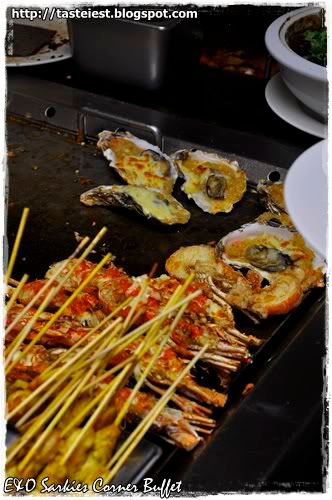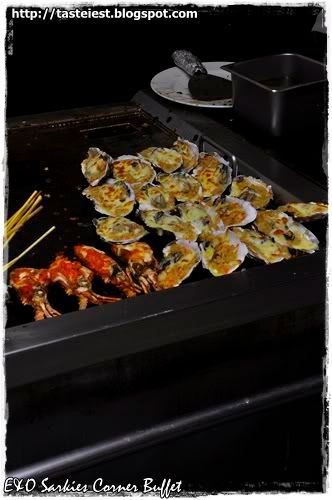 The crab is not really big but it definitely fresh from the sea, I can really taste the sweetness but it just slightly overcook while the sausage is cheese sausage where heavy cheese taste coming into your mouth from first bite and melting out slowly.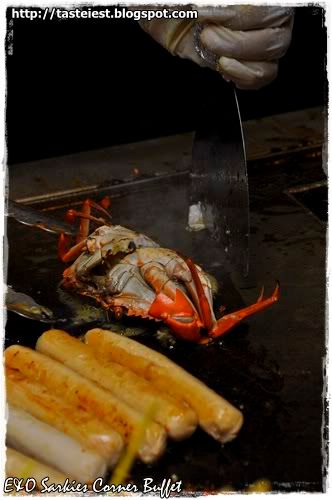 Don't miss out the spaghetti if you are "Italian", various type of Macaroni and Pasta together with different sauce for your selection, just bear in mind to order the smallest plate else this will overkill and fill your quota very fast. It look to be very delicious but sadly we not able to share with you the taste because we plan to take it later but after some other dishes we just give up.

Couple of roast whole duck is so tempting with the down light shooting at the golden color crispy skin, chef will cut into small pieces and you can select which type of sauce to tag along, I selected the original duck sauce which is soya sweet and taste perfect. Roast duck meat is so tender soft while the skin is crispy with layer of far underneath the skin is so wonderful.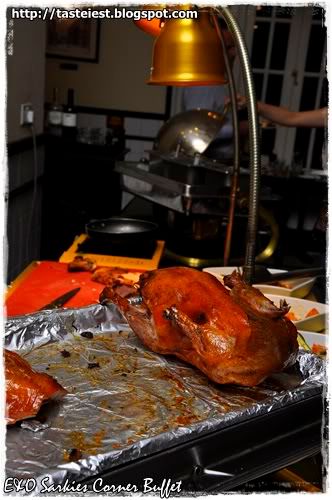 On the same area, available for selection is the meat roll which was roasted with pepper but it was quite tasteless and the meat is quite hard.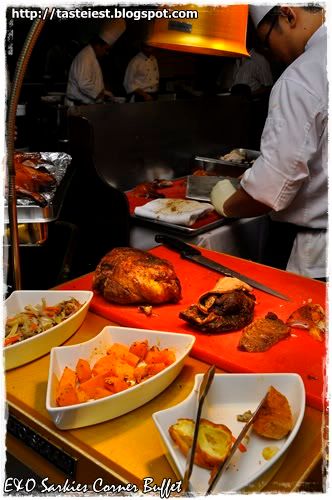 Steamed Whole Fish, the big is way too big and old, the meat is quite hard and taste just normal.

Up next is more to local delicacy, cheese baked with fish meat, potato cheese.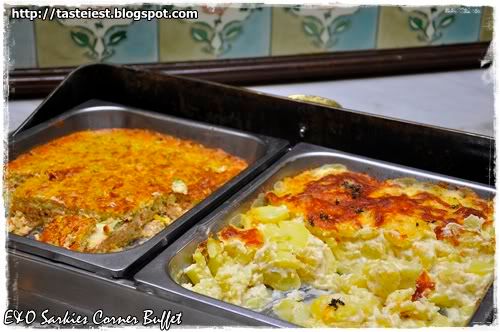 Grill tomato and sweet potato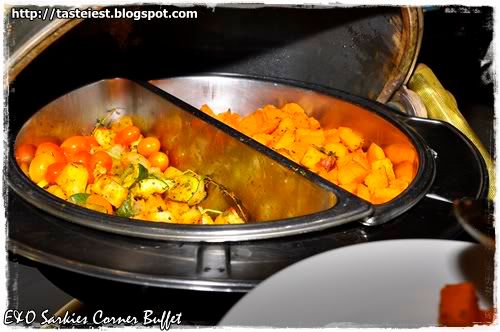 Stew Oxtail and Vegetable Roll

Mushroom cook with Sea Cucumber, I would like to special recognize the sauce, mushroom is fully absorbing the sauce hence created a very delicious mushroom together with the sea cucumber.
Steamed Tau Te, as we all know that Tau Te Fish is very expensive and Yes you saw it correctly, a whole big Tau Te is served uncut and this size of Tau Te if to order in seafood restaurant it should cost at least RM70++ and they just served it, we took half of it and I must tell that this is definitely a wild catch which taste so fresh and good.

Crab cook with Chili and Ostrich

Steamed Chicken

Fried Rice, generous amount of big fresh white prawn use to fried rice but we just can't take much as it really filling. I did miss out certain dish here as well like the fried noodle, steamed rice..etc.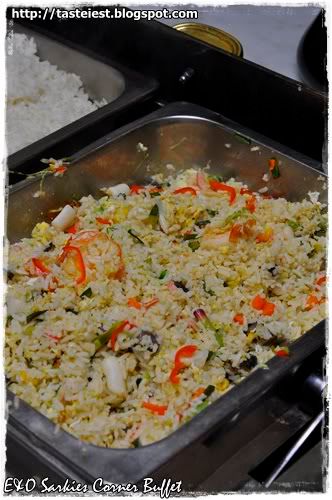 On Deep Fried items, there is six different type of items for you to choose from, various from Mantis Prawn, Squid, Shishamo Fish, Dumpling, Popiah and etc.
Honestly the deep fried items is not up to pal to the rest of the dishes, flour is over use and overlap the tastiness of the ingredients and most of the dishes is overcook like the squid I can't hardly bite it.
Only one thing that I like is the mantis prawn, it really tastes good.

This is a multi page post, please continue to read next post.
E&O Sarkies Corner Buffet Part I : Introduction and Appetizer
E&O Sarkies Corner Buffet Part II : Main Dish
E&O Sarkies Corner Buffet Part III : Dessert