I would like to call the next section as a Kid Corner, where a big Chocolate Fondue is available for kid to dip in either marshmallow or a fresh fruit, Chocolate is very strong in flavor but just a little bit too sweet for us.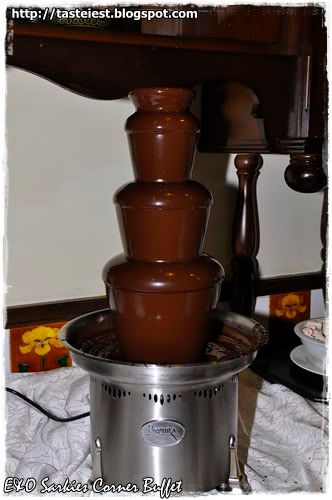 As mention above where you can dip fresh fruit in the Chocolate Fondue, or if like to take the fresh fruit raw then you are up for selection of Strawberries, Grape, Dragon Fruit, Jack Fruit, Honey Dew and etc. I would like to emphasize on the Fresh Strawberries which size is really big and a lot served, as well the best fruit to dip into the chocolate fondue because strawberries is sour and chocolate is sweet which create a very best combination.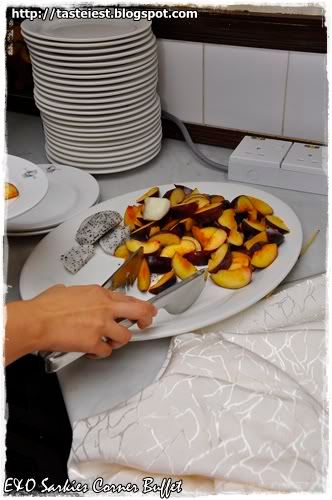 Taste…iest Fruit Selection Plate, Jack Fruit, Honey Dew and a lot of Raw Strawberries and Chocolate Strawberries.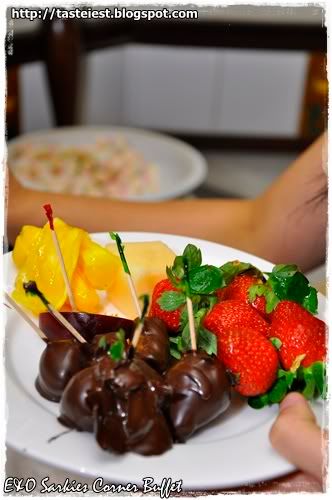 Kid Corner must not operate without a good ice cream and without expectation for high quality ice cream we saw some pink wording with BR written outside of the box and guess what, Baskin Robbins ice cream is served. Total of 6 different taste of ice cream to choose from, we taste all different type of ice cream and I like the green tea ice cream the most while the rest is equally good just that some of the ice cream is starting to melt.

Up next is the ladies heaven where countless type of dessert is presented, totally happy with their dessert availability where nonstop refilling, rarely you can see empty space in the dessert table.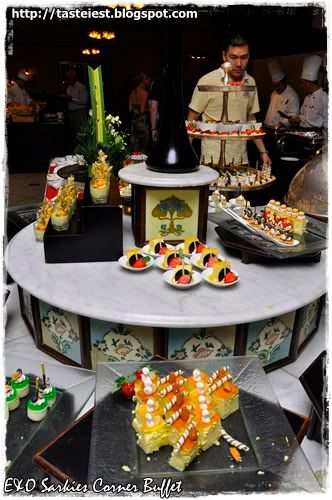 Moose Tart where moose apply on top of the tart.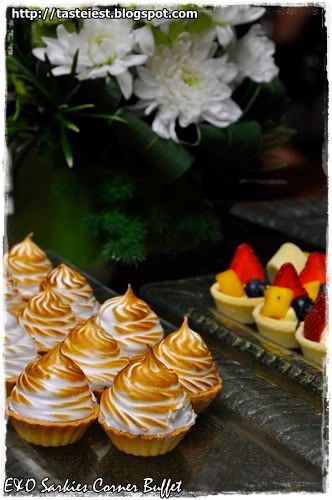 Fruit Tart is the mixture of Strawberry, Peach and Grape form of a small tart.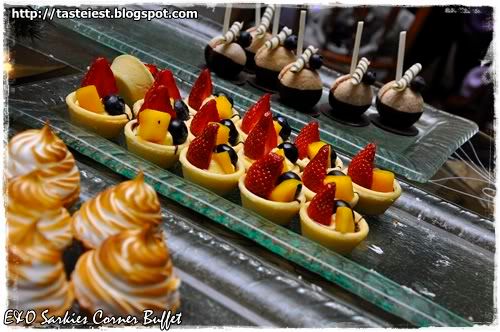 Cream Puff with Chocolate on top, not much flavor with this dessert.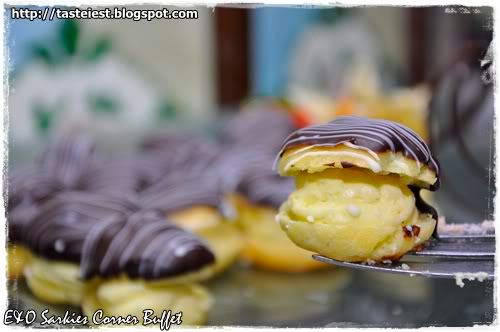 Some other dessert which almost all are very tasty and not too sweet.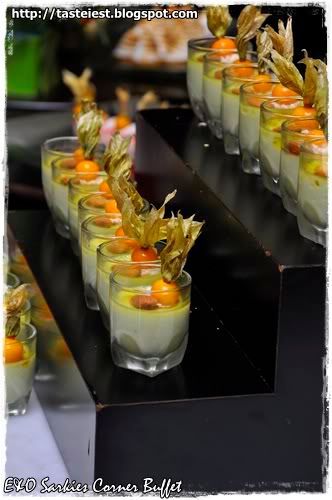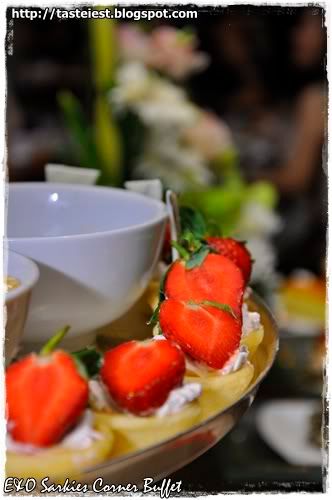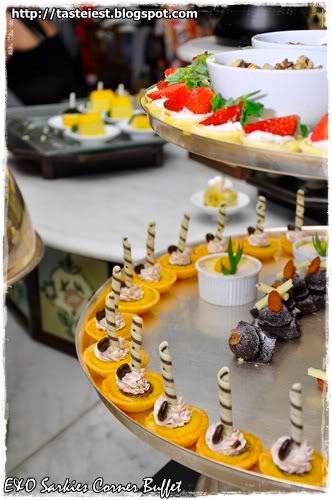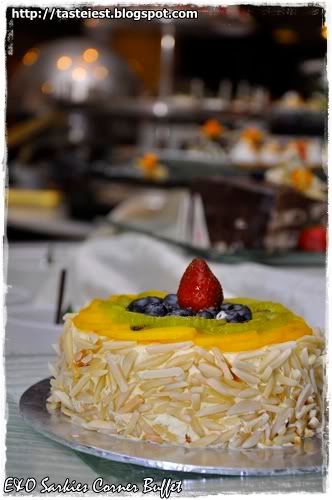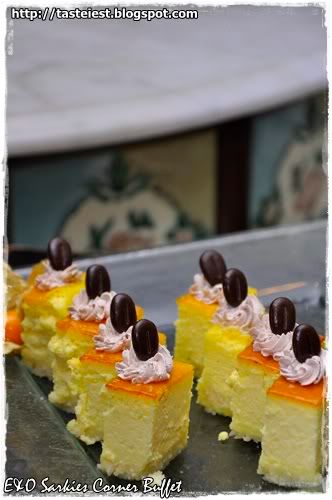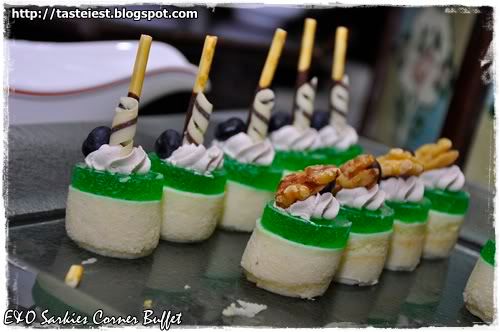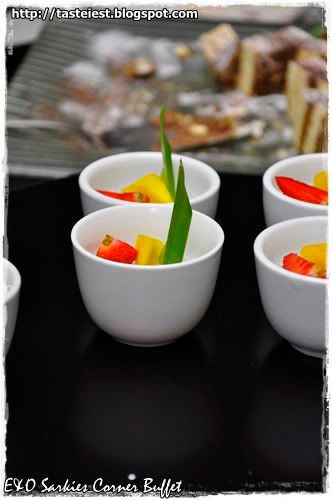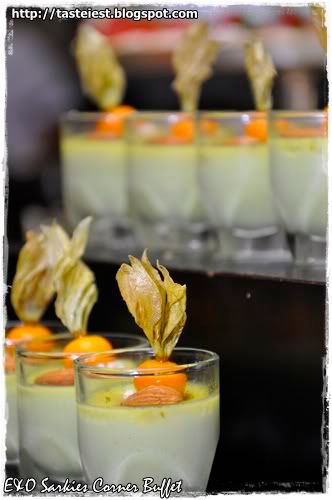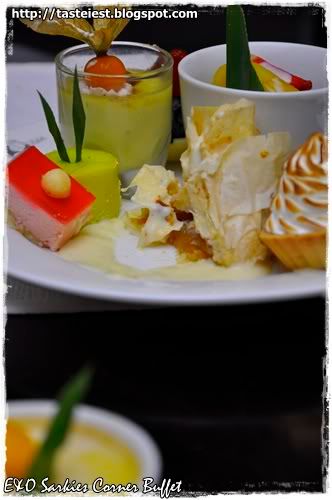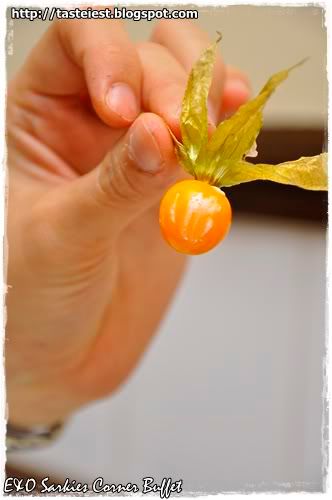 Totally happy with the money spend and well worth the value, definitely will come back for another round in future. Good service, friendly staff and efficient service, our plate is clear every time we stand up for another of food and water/wine refilling, and certainly enjoying the in house performance.
This is a multi page post, please continue to read next post.
E&O Sarkies Corner Buffet Part I : Introduction and Appetizer
E&O Sarkies Corner Buffet Part II : Main Dish
E&O Sarkies Corner Buffet Part III : Dessert
Eastern & Oriental Hotel
10 Lebuh Farquhar, 10200 Penang
Tel: +604 - 222 2000
Fax :+604 - 261 6333
N5 25.408 E100 20.161

View E&O Sarkies Corner Buffet in a larger map