Starting our day trip to Taiping, a town located in northern of Perak which is second largest town in Perak after Ipoh. Obviously Perak has a lot good food just anywhere, from our last visit to IpohMing Court Hong Kong Tim Sum, Kedai Makanan Rasa Lain, Onn Kee Bean Sprouts Chicken and Yoke Fook Moon all are very good food and create a good memory back in our head. Did some research before going to Taiping but limited review available, hopefully my review able to help other that plan to go Taiping for stomach building. Yut Onn, Wan Li, Lighthouse Seafood, Ashari Cendor, Xin Kuala Sepatang Seafood and Kok Beng Chicken Rice was all shortlisted for our day trip but just two of us only so impossible for us to consume all food so we kept some for next round visit.
We reach Taiping around 1.30pm which is quite late and a lot of shop is close, believe they operate in morning session. Our first stop suppose to be Yut Onn but sadly they already closed, we drive down a little bit and saw Restoran KaKa and this name cross my mind which I did read it during my research, without any waiting we decided to dine here and start our first makan makan in Taiping.

Restoran Kakak serving various types of noodle in clear soup and dry, but sadly their famous Chicken is finish hence we just left with plain noodle with soup and fish ball.
Ordered Hor Fun Soup and Wan Tan Mee Dry, Penang Koay Teow is actually Taiping Hor Fun so actually the Hor Fun is Kaoy Teow while the Wan Tan Mee not really tastes like Penang Wan Tan Mee as well.
Hor Fun Soup served with Fish Ball and Pork Ball, soup is clear and flavorful and the Hor Fun is very smooth.

Sambai is extremely delicious, spicy and strong belacan flavor, great to be taken with the Hor Fun and Mee together or a big spoon of Sambai into clear soup to make it red and spicy flavor is another way to enjoy the delicious spicy soup but if you not spicy lover then little will do else it will be over spicy and spoil the original flavor of the soup.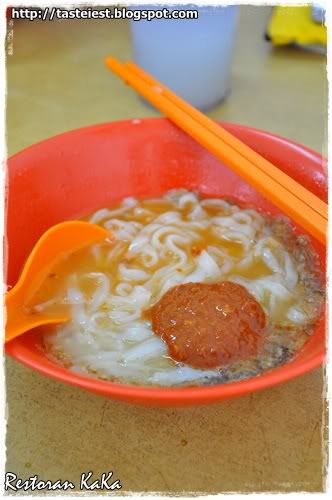 Reasonable price at RM7.40 including drink for two, but too bad chicken finish so early.
RESTORAN KAKAK
111, Jalan Pasar, 34000 Taiping, Perak, Malaysia.
6.00am until 1.00pm.
Closed on Mondays.
N4 51.131 E100 44.434

View Restaurant Kakak Taiping in a larger map