This article link from Penang Gurney Plaza Dining Guide
Undecided where to grab a nice food for our stomach during a non dining hour that is around 3pm, searching around Juru Auto City and finally decided to go for The Manhattan Fish Market since our last visit was 2 years back at KL.

Currently Manhattan Fish Market having Christmas promotion for "Mister Claw's Holiday" which cost RM85.90 and included of Alaskan Snow Crab Leg, Fried Oyster, Fried Calamari, Signature dish Flaming Prawn with sides of broccoli, carrots, corns over a bed of famous Garlic Herb Rice and Chips, Served with 2 mushroom soup and 2 Ice Lemon Tea. Without thinking much, we straight away ordered the Alaskan Snow Crab platter even though we just eat crabs few days back but it was too tempting over the picture.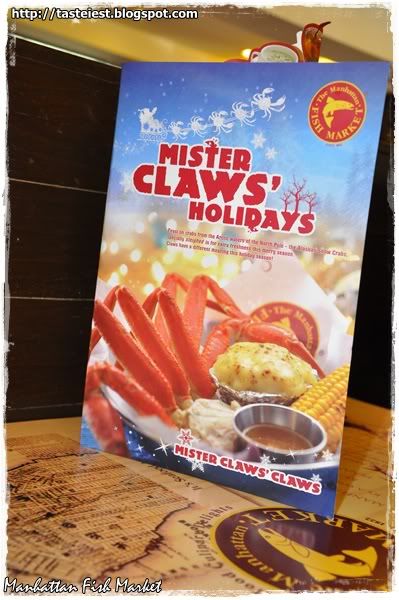 Mushroom soup was served, it was very creamy and strong cheese flavor with slice of mushroom inside the soup. This is the second best mushroom soup I ever have, the best I ate before was at BJ Italian shop but sadly that shop has close down. Not only button mushroom was included instead some other type of mushroom was added to create different texture which further enrich mushroom flavor on the tasty mushroom soup.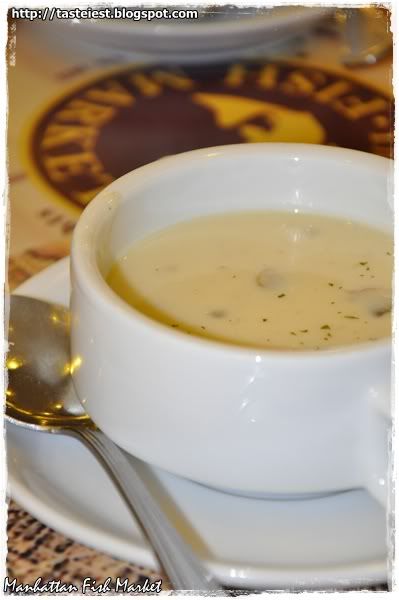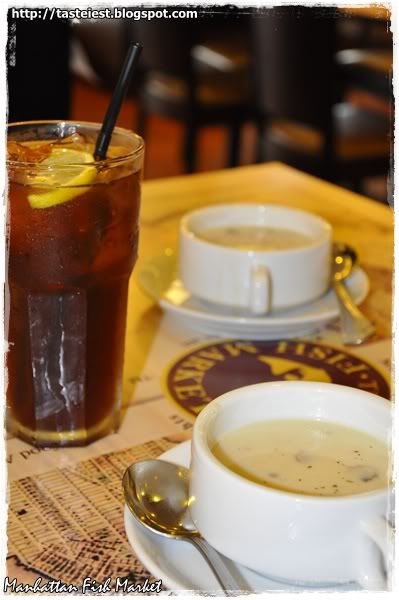 The platter was served in big square silver shiny square plate, inside the platter it does include the Alaskan Snow Crab, Fried Oyster, Fried Calamari, Signature dish Flaming Prawn with sides of broccoli, carrots, corns over a bed of famous Garlic Herb Rice and Chips, on top of that 2 mushroom soup and 2 ice lemon tea is included. As usual a nice flaming action will be carry out to heat up the prawn next to your table before serving, burning aroma is so attractive and make the food even better.

Underneath the seafood is Garlic Herb Rice and Chips, a lot of Chips. Sadly the portion is way too big for two persons hence we wasted almost all the chips, the chips is actually very tasty compare to McD.

Let start with the star Alaskan Snow Crab, this is the second time I have big crab like this and the first time I have was quite some time ago at Ah Keat Seafood Restaurant. Alaskan Snow Crab also name as opilio snow crab harvested in the deep icey water of the bearing sea. Alaskan Snow Crab cut into half and steamed to perfection, not overcook to remain the sweetness from the meat, even though we know it was a frozen Snow Crab else it won't be so cheap but I can guarantee my plate of snow crab sweetness and freshness is like a live crab which is awesome.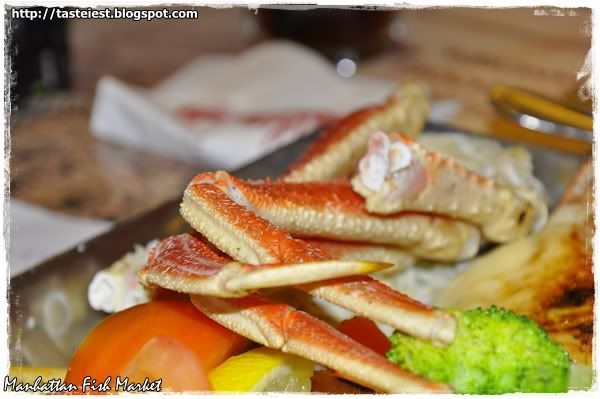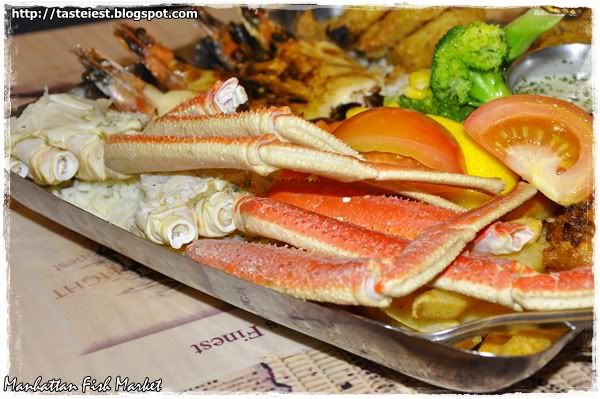 Close up for the crab meat.

Move next to the Flaming Prawn as well as their signature dish, it is indeed a tiger prawn with some creamy cheese on top which taste a little bit of cheese flavor, sour and sweet. It taste very strong and best to take with the Garlic Herb Rice, rice itself was cook with Garlic and Herb which create a special flavor instead of ordinary white rice, not mushy and not too hard just nice for a bite.

Fried Calamari is the next best thing that we like very much, Calamari or we called it as Squid was deep fried in special Manhattan made flour which the flour itself has some flavor. Big round Calamari Ring taste excellent, it not chewy and it can be bite off easily, if you prefer to have some soup taste then dipping into the mayonnaise will best suit your choice but we prefer to eat the crunchy deep fried calamari ring.

Finishing our meal with a Tiramisu Dessert, Tiramisu was served in a small cup with nice decoration. A lot of cheese was used to create this cup of Tiramisu but sadly the chocolate on top is not really strong in flavor.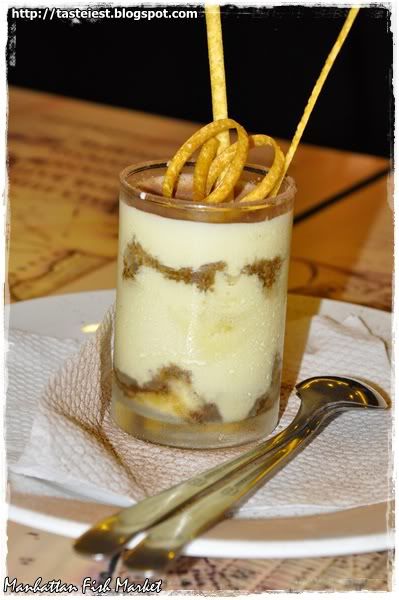 All the "empty" crab leg!

Overall, we are so delight with the excellent platter, recommended for 3 person instead of 2 because the portion is very big.
Take note that promotion end at 2nd January 2011.
1825-G1 Jalan Perusahaan,
Auto-City North-South Highway Juru Interchange,
13600 Prai, Penang, Malaysia.
04-5018688
04-5018686
fredie@manhattanfishmarket.com.my
www.manhattanfishmarket.com