Ho Ping Kopitiam is an old traditional coffee shop that located in the heart of Georgetwon, there is a hidden dragon inside the infamous Kopitiam which is the Beef Ball Noodle Soup that has been operated since long time ago.

Beef Ball Noodle Soup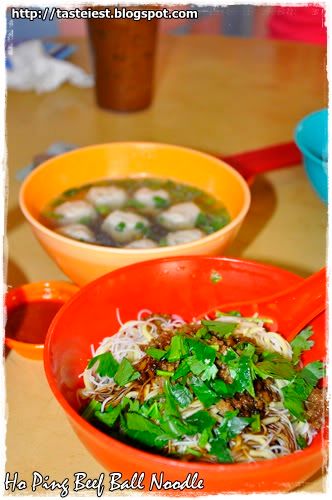 The stall also look quite old, really a good combination with the Kopitiam itself.

Why get an expensive coffee from Old Town while you can really enjoy the originality of coffee from old shop like this with the traditional look cup, the cup really recall the old time memory.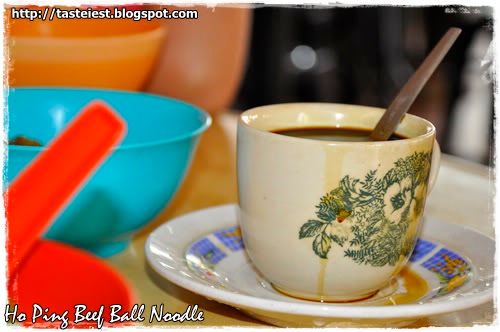 Two choice available for the noodle either in soup or dry. We ordered the dry version which came separately the noodle and the beef ball soup, noodle top with minced beef and black sauce which make the plain noodle rich with flavor.

No doubt the beef ball is one of the very best I ever eaten before, it was very tender and soft which rich of beef flavor.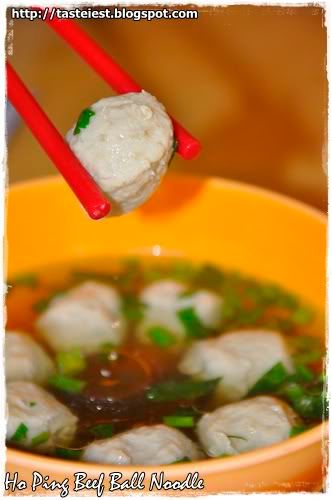 Side ordered Lobak, the Lobak is really different from ordinary Lobak where the meat is smooth and soft. It really tasty and best to eat together with the noodle soup.

It a 4 Star Beef Ball Noodle Soup, it taste really good.

Beef Ball Noodle at Ho Ping Kopitiam
Kampung Malabar (Off Penang Road)
N5 25.157 E100 19.931
Lunch Only

View Beef Ball Noodle at Ho Ping Kopitiam in a larger map