Rojak is a bowl of fruit and vegetable mix together with prawn paste is commonly found anywhere in Penang and the famous Rojak in Penang is no doubt the tree stalls in Bukit Mertajam, within a T-Junction there is tree stalls and three of them has almost the same name, White, Black and White Black Rojak it really a competitive market in BM for Rojak.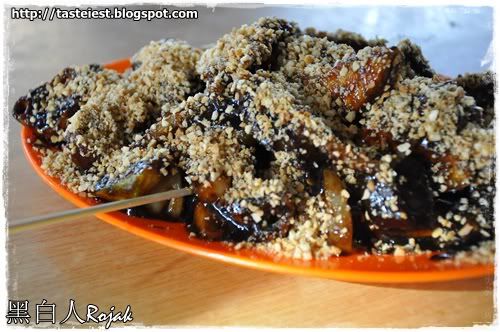 We selected Rojak Orang Hitam Putih黑白人, the reason because reviews across the net mention this is the best and biggest portion compare to the other two.
Ordered the smallest portion which cost RM3 but we will really surprise by the ingredients given and portion served, even for RM3 they did give cuttlefish and whole lot of fruit and vegetable such as cucumber, pineapple, mangoes, turnip..etc. Dressing is definitely the famous Hae Ko (Shrimp Paste) and top with peanut, fruit is fresh but the Hae Ko is rather disappointed as the main character for a good Rojak is definitely the delicious Hae Ko but this stall Hae Ko is not the type of Hae Ko that has strong flavor.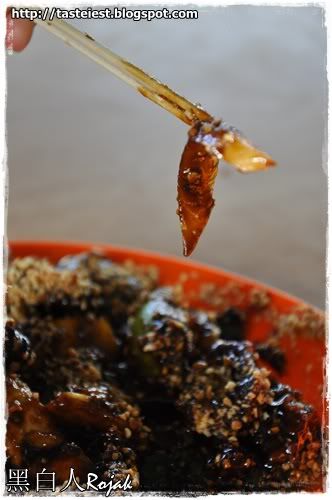 The shop is small and operates by an aunty, beside the stall is Poh Piah which we don't get a chance to try because it was sold out. It must be very delicious because during the dining time of 15minute we can see a lot people come and ordered.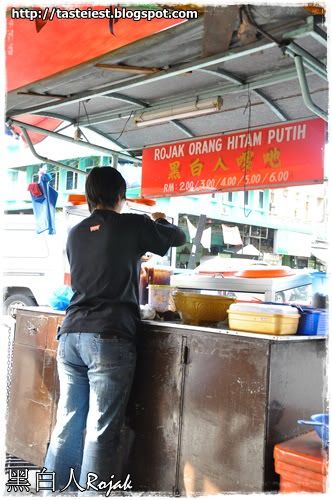 Overall the portion is big and well worth the money but not the Hae Ko, next visit going to try the Hai Ren Rojak.

Rojak Orang Putih Hitam
Jalan Pasar, Bukit Mertajam
N5 21.763 E100 27.648

View Rojak Orang Putik Hitam (黑白人Rojak) in a larger map