Get to know Post Café from newspaper where a full page of advertising of the newly open restaurant, it located at Carnarvon Street which is the road beside the big market. It was quite hard to get a parking lot during dinner time because parking space is really limited in that area, best is to park around market and has some walking to the café.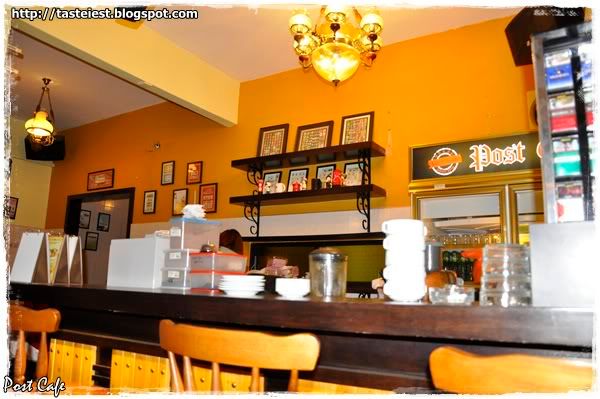 We ordered two Set Meal and one of set Daily Special, set meal is Chicken Gordon Bleu and Grilled Norwegian Salmon while Daily Special on Sunday is Jumbo Sausage.
Wheatgrass was served in a small "jug" cup, the taste is not really wheatgrass instead we can sense the flavor is more toward green tea but nevertheless it taste good and the cup is quite big as well.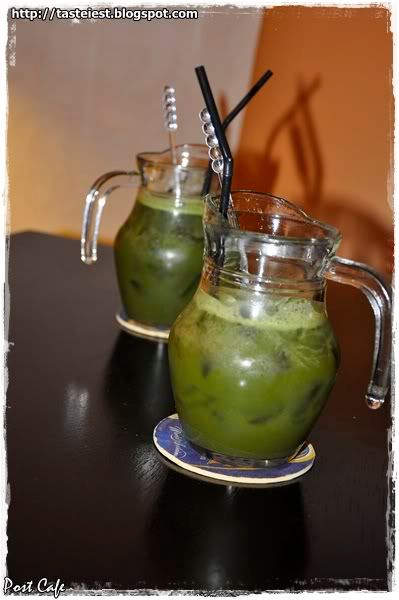 Soup of the day, the soup is very rich and flavorful.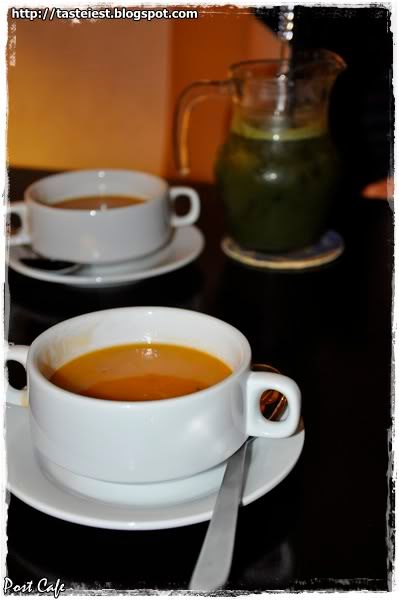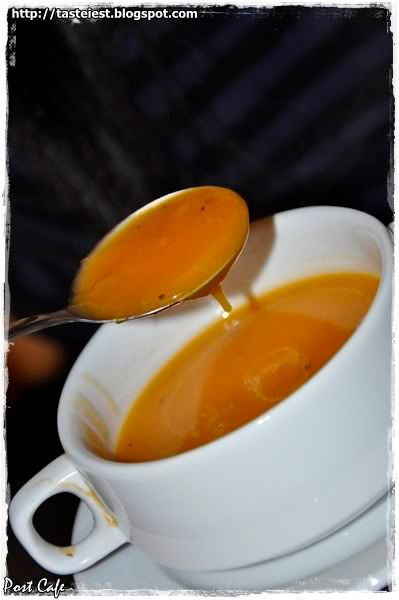 Garlic Bread is rather disappointed, the amount of garlic and butter is too less.

Grilled Norwegian Salmon Set meal RM23.90 come with Garlic Bread, Soup of the Day, coffee or wheatgrass and dessert. Salmon is quite a big piece and grill to perfection, it would be best if some sauce are provided as the grilled salmon is quite plain, it was not fair if I will to compare it with Ferringhi Garden Grilled Salmon due to the price different but just to share with you all for reference.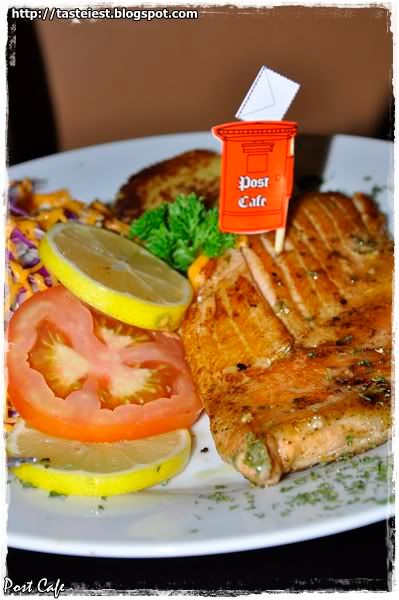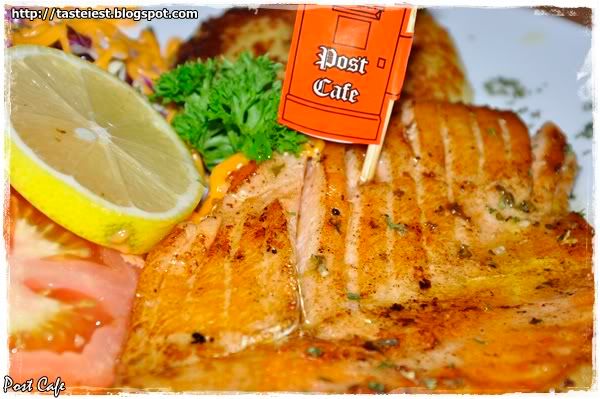 Chicken Gordon Bleu Set Meal RM18.90 comes with Garlic Bread, Soup of the Day, coffee or wheatgrass and dessert. The way Post Café cook Chicken Gordon Bleu is very different from the old style where ham and cheese are stuff inside drumstick and then deep fried, instead they pan fried the chicken drumstick and top with ham and cheese. It was creative and the different texture it really a success to the new era of Chicken Gordon Bleu where no deep fried and less oily. Other than the special Chicken Gordon Bleu, the mash potato is another special made where a bunch of mash potato shape up and pan fried which further enrich the flavor.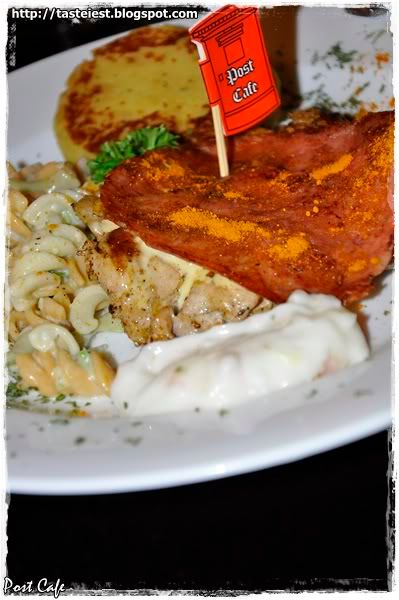 Daily Special Jumbo Sausage RM9.90, two Jumbo Sausage with salad and chips for just RM9.90, Jumbo Sausage is really delicious but you must finish as served else it will become a little bit hard due to the cold air conditioning. Daily Special set is really worth the value as the portion is big and delicious.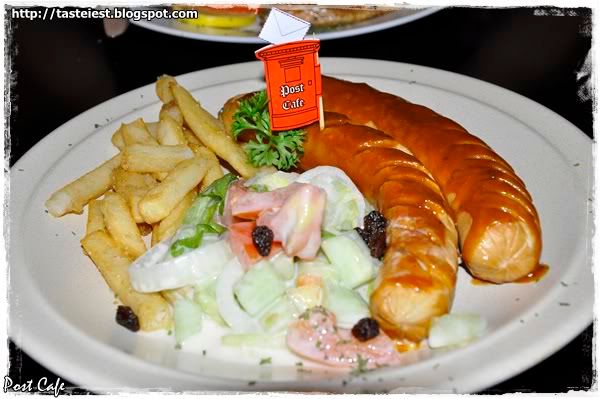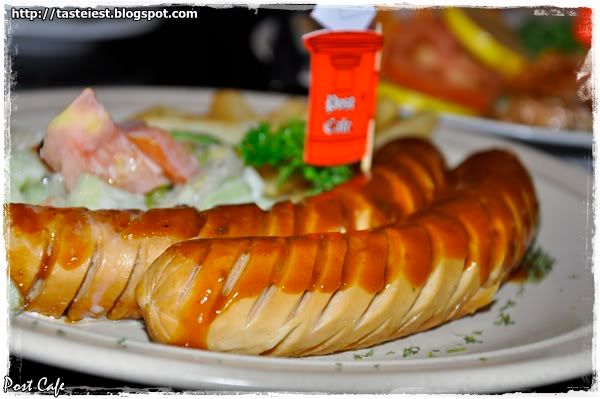 Dessert is a scoop of Ice Cream, taste is rather normal as we were expect something special since they has some creativity on food but not on dessert.

Well, if you notice on every set there is a small flag with an envelope on top and this is the lucky draw, you stand an opportunity to win Beer, Set Meal, Drink…etc. Out of the 3 envelope that we have, we are lucky to get our self one congratulation with a win of set meal of Black Pepper Chicken, so you might see the next review very soon.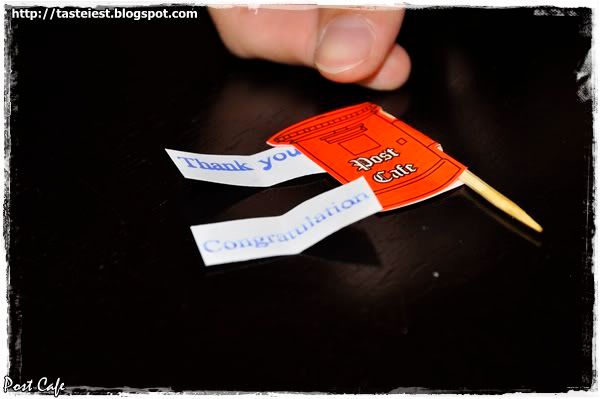 Post Café
3 & 5, Carnarvon Street, 10200 Georgetown, PULAU PINANG, Malaysia
+60 16-442 0812 – +60 4-261 4595 ‎
www. depostcafe.com
N5 25.055 E100 20.169

View Post Cafe in a larger map