This article link from Penang Gurney Plaza Dining Guide
Chilli's Grill & Bar Restaurant at Gurney Plaza, I should say it located at G Hotel because it actually attach to G Hotel building instead but that doesn't matter because this is a food blog and not wiki map. Let get myself back to the food review, this is the second time I visit Chilli's Grill & Bar Restaurant where the first time is when they newly open which is quite some time back, in my memory they did serve good food and friendly service that time but lately I heard a lot complain on their service, which prove to be very true and I going to share with you later.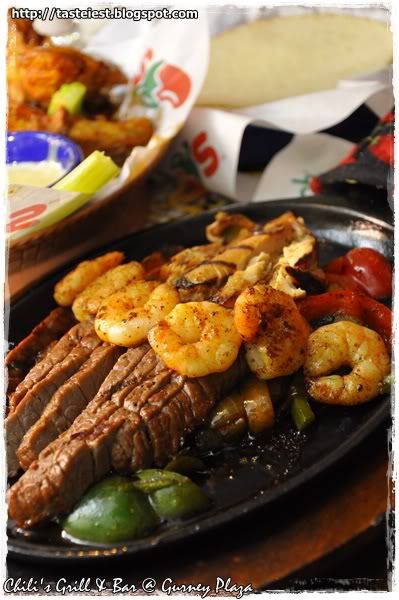 Appetizers started with Triple Dipper and Wings over Buffalo, Triple Dipper included of Chicken Wings (aka Buffalo Wing), Deep Fried Chicken Meat and Deep Fried Mix roll, deep fried chicken meat is totally tasteless and you can only get some taste by dipping into the sauce provided.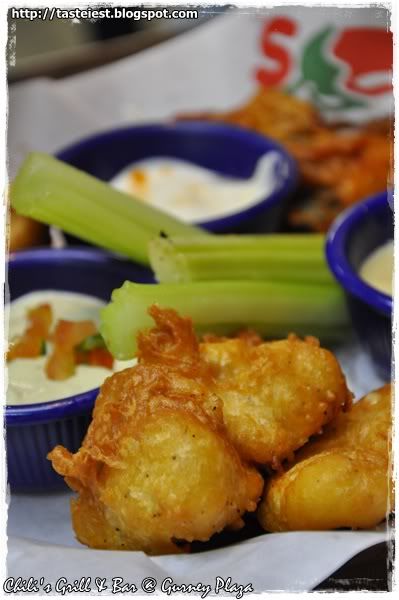 Wings Over Buffalo, actually the same as the Triple Dipper Chicken Wing, a little bit of spicy taste and it just normal but slightly better than TGIF.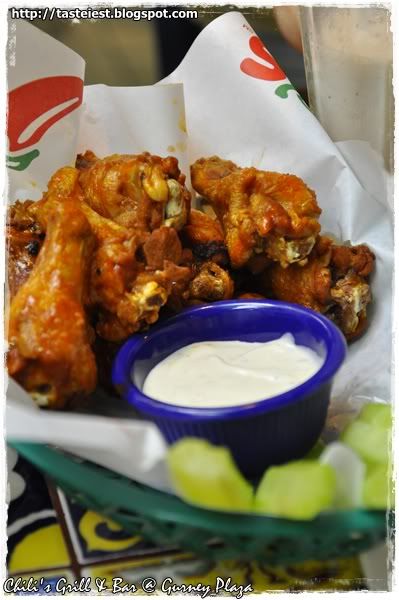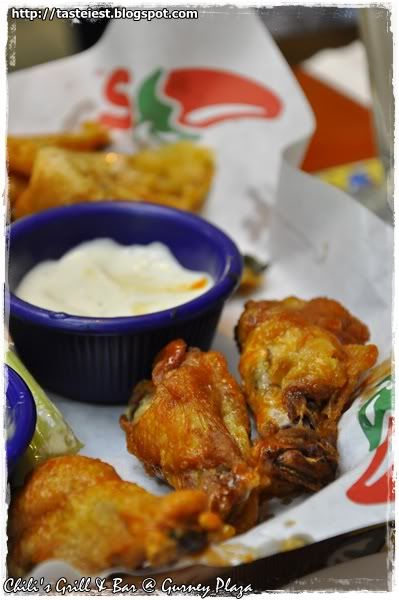 Fajitas Trio, Grilled Steak, Chicken, and Shrimp. Beef, Chicken and Shrimp served in sizzling hot plate, it was nice to have a hot food but the meat is way too salty and chewy especially the beef which is totally overcook. Only the shrimp that I can taste the freshness and this is one of the very rare that I can't finish my own meal.

Come together with the Fajitas Trio is a plate of vegetable with some cheese, I manage to melt the cheese with the sizzling plate and taken it together with the vegetable to reduce the saltiness of steak.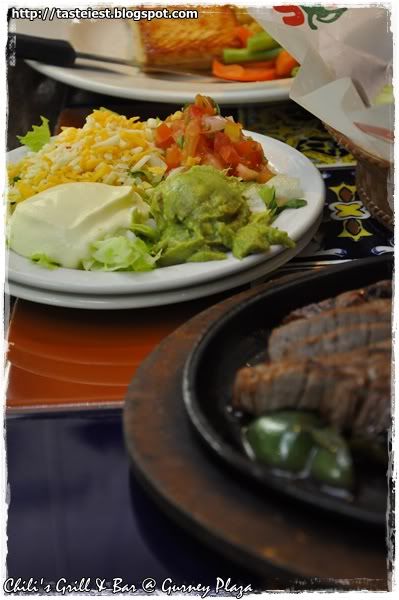 Dessert is a normal cheese cake, other than the cheese cake I don't found any other interesting dessert in the menu. Well the cheese cake is just very normal.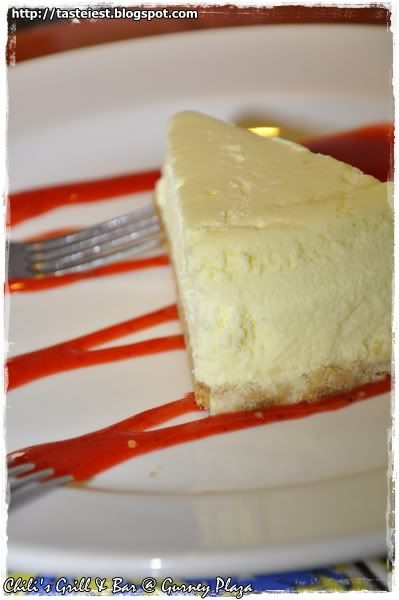 While dinning we will ordered too much because we have a total of 10 persons, for sure the small table just doesn't enough for our food and drink so we ask for another table just to put our food and drink but we get a stupid reply from the waitress that we are not allow to use another table for no reason, we will surprise by the respond because that time isn't much customer and a lot of free table around. Well this proven again that bad service and bad food served in Chili's Grill & Bar, hope it doesn't happen to your visit and what we can do is blame our self for no luck and this definitely my last visit.
Chili's Grill & Bar
3 (G-5) G-Hotel, 168A Persiaran Gurney, 10250, Penang.
604 210 1100
Business Hours:
Sun – Thu: 11am – 11pm
Fri – Sat: 11am – 12 midnight
N5 26.262 E100 18.622

View Chili's Grill & Bar Gurney Plaza in a larger map