So Young Café located around Jelutong, just next to the main road side where a famous chicken rice was held and not only that there is other hawker stall that selling nice food such as Hokkien Mee, Wantan Mee, Cha Koay Teow..etc.

While waiting for our chicken rice to served, we ordered Malaysia famous Indian delicacy, a flatbread call Roti Canai which made from dough that twirl until very thin and fold on to form multilayer circular shape and then grilled with oil, served with curry and my personal preference is to add some sugar with it.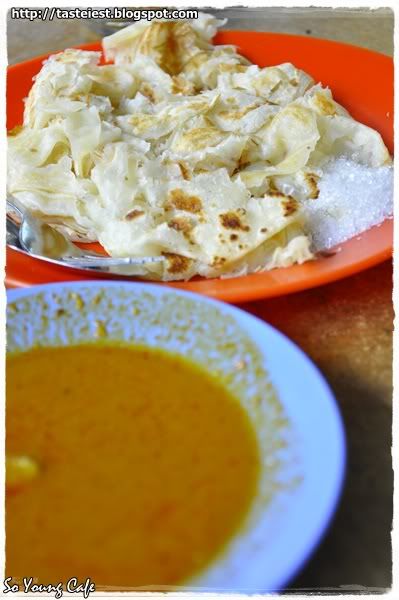 Another way to increase the tastiness of Roti Canai is to punch it hard and tear it into small pieces, remember do not ask to cut it because the texture is not as nice as tearing. Eat with hand, holding a small pieces of Roti Canai with little bit of sugar then dip into the curry, the fragrance of Roti Canai with little spicy and sweetness is so tasty.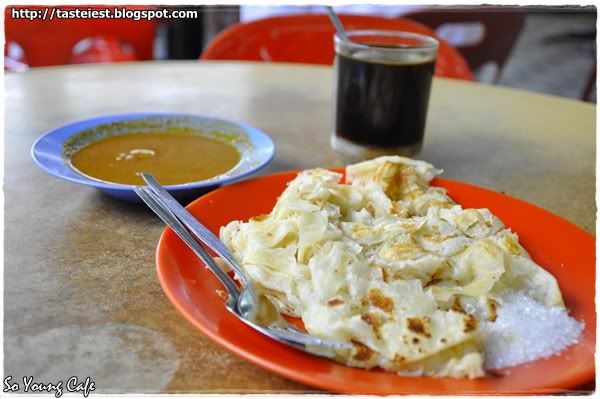 Chicken Rice, notice the different on the sauce which is thicker than usual and it not dark in color, that what make it different from ordinary Chicken Rice. Just because of the sauce it make the chicken taste so nice while the skill to nicely control deep-frying time make the chicken meat tender soft.

Chicken rice chili is another important aspect, never disappointed us with the sour and spicy sauce.

Add on a bowl of sour soup or we call it "Chai Bui" which is a combination of leftover food with vegetable cook together with Assam, very appetizing sour and spicy soup.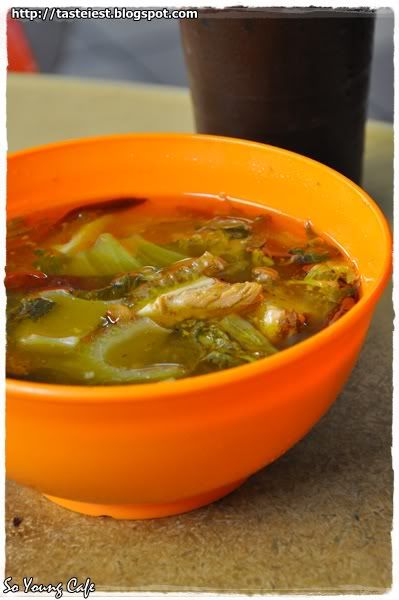 So Young Café
N5 23.539 E100 18.443

View So Young Cafe in a larger map