Hokkien Mee 888 is located very near to 1st Avenue, we are patrolling around looking for food and crowd attract us to a small coffee shop with only one stall selling Hokkien Mee, without thinking much we decided this should be our dinner. Operated on dinner time and it has various side dish for you to add such as Chao Siew, Braised Egg..etc
Hokkien Mee also call as prawn noodle because of the main ingredient for the delicious soup is the essence from prawn, the soup is tasty and the extra Cha Siew really help to bring extra flavor to the delicious bowl of noodle.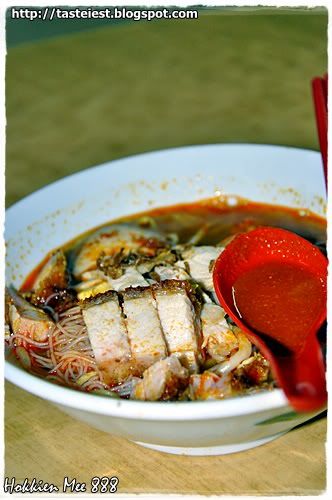 Another way of eating Hokkien Mee is to mix with Loh, or only with the Loh is what we call as Loh Mee here with a thick starchy gravy. The combination of Loh Mee and Hokkien Mee is another way of eating the delicious noodle. Lot of chili added help to increase the flavor of overall bowl of noodle, the spiciness and tastiness of soup is so delicious.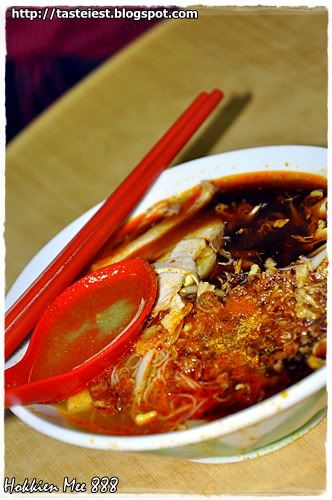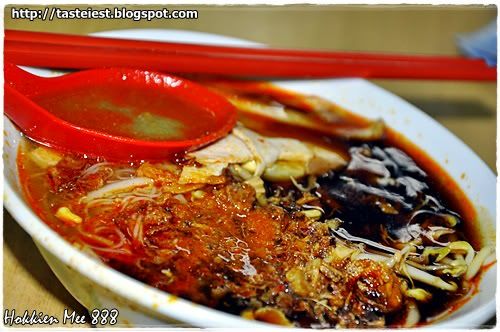 Hokkien Mee 888
67A Lebuh Presgrave, 10300 Penang
Dinner
N5 24.665 E100 19.844

View Hokkien Mee 888 in a larger map