Another visit to Red Garden since our last visit for Tua Yi Curry Fish Head and Sushi Meet Salmon at East Meet West month back. Supposingly our plan is to go for Soul Kitchen but the shop was close on that day so we have no choice but to walk to the nearest hawker stall Red Garden.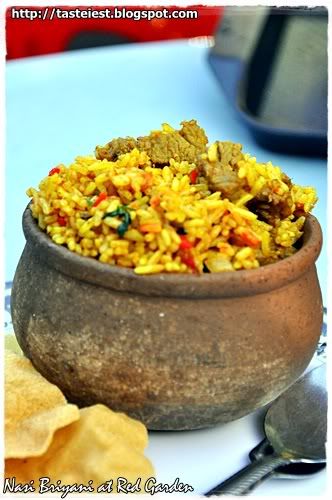 Briyani Stall, it does sell various type of Briyani rice such as Vegetable, Egg, Fish, Cuttlefish, Chicken, Mutton, Prawn or Mix Seafood, price range between RM4.50 to RM8.00.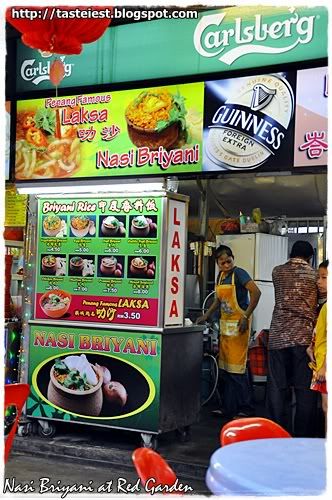 I ordered Briyani Mutton RM7, Briyani rice is made with few types spices and accompanied with mutton. It served in a small pot with Briyani rice and mutton all squeeze into it, it look to be very small portion but in actual fact it was quite big and well enough for one person consumption. Even though there is chili in it but it doesn't taste spicy instead it rich spices flavor is really making the rice delicious, mutton is tender and soft.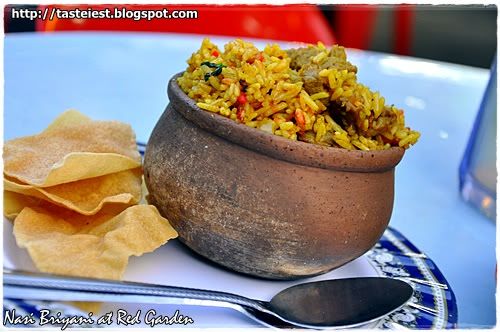 Pan Mee, literally translate to flat flour noodle where a chunk of dough is kneaded using machine into flat strips. We as well call Pan Mee as Sick People eat noodle because it was plain and healthy, and it doesn't have strong taste as well, same goes to this plate of Pan Mee which taste healthy and normal.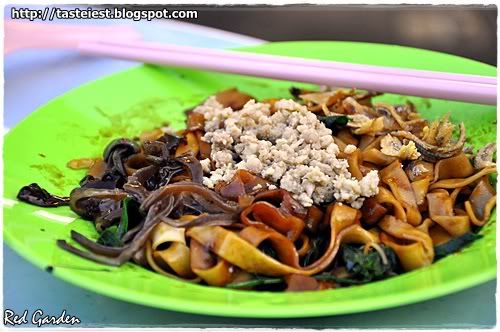 Red Garden Food Paradise
20 Leith Street, 1000 Penang
604-262 3767
www.redgarden-food.com
Dinner only
N5 25.273 E100 20.059

View Red Garden Food Paradise in a larger map