Shinjuku Japanese Restaurant is located at somewhere you will not pass by because it was so hidden in a small road, we get to know this restaurant from the purchase of voucher from EziVoucher, I bought 3 voucher which cost RM28.80 each and each voucher is enough to cater for 2 person. The restaurant is along Jalan Chow Thye converted from a terrace house, with limited space in restaurant.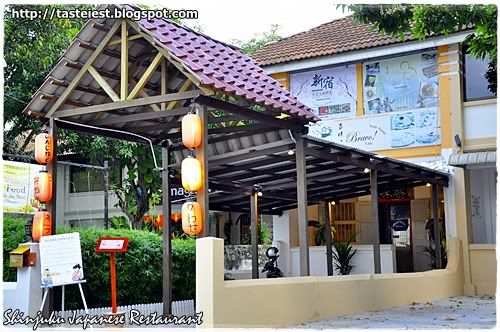 While waiting for our food to be served, below is some picture taken showing the nice looking chopstick holder.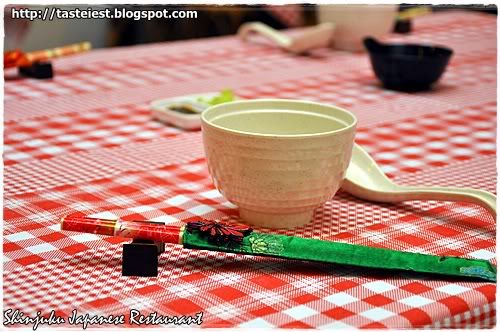 Edamame, green soybeans sprinkled with salt.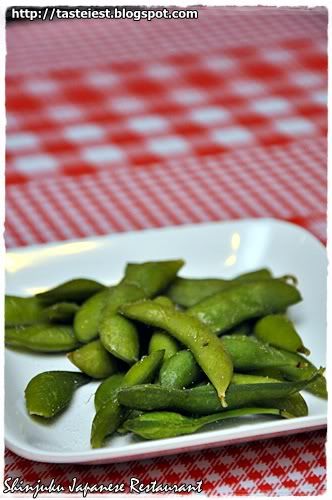 Sushi is served on chopping board, various type of sushi such as Egg Mayo Gunkan, Kani Maki, Tuna Mayo, Ebikko Inari, Iyo Unagi..etc. Sushi rice is a little bit hard and lack of vinegar taste, as sushi rice suppose to have mild vinegar taste and soft sushi rice to make all stick together, sushi rice look to be easy cook but it actually need skill to maintain the right level vinegar and not overcook the rice which make it mushy.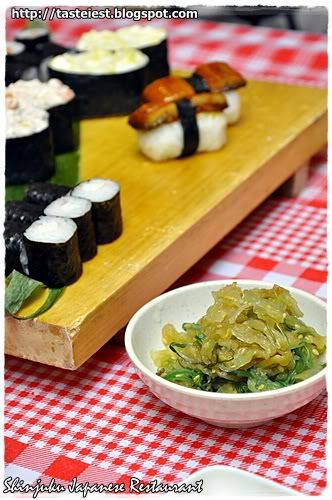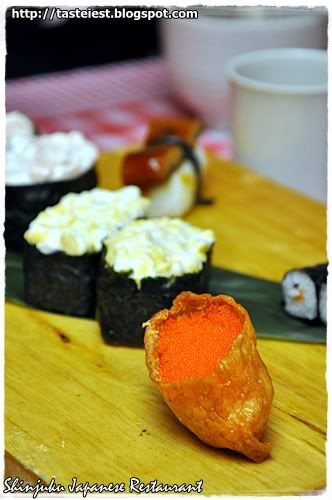 Iyo Unagi, the piece of Unagi is great but the sauce is not taste good, it not like ordinary Unagi sauce which is sweet and smooth instead this is sweet but too sticky.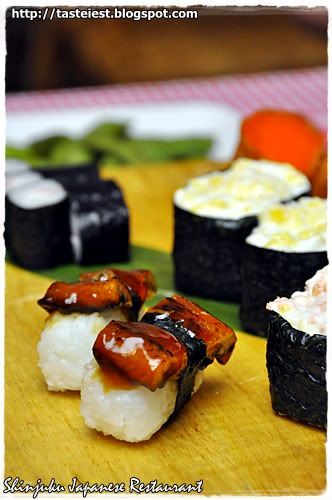 Hotate Kushiyaki, scallops grilled with teriyaki sauce. It so HARD that my parents can't even bite it and the scallops is even smaller than 10cents coin.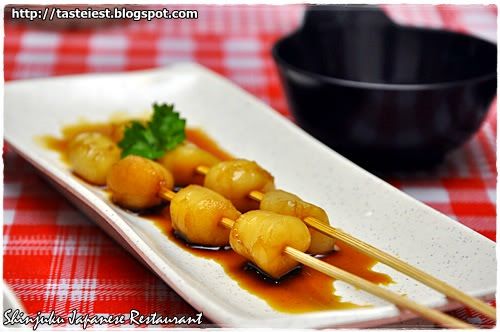 Shishamo, is deep fried with full of eggs, it taste not bad but quite oily.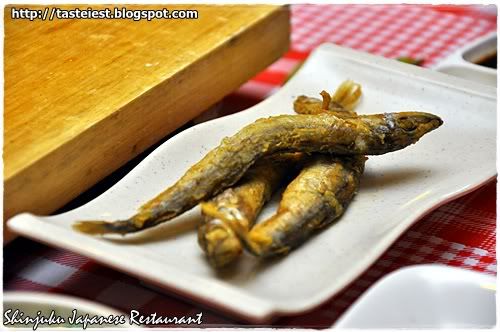 Salmon Sashimi, salmon is at least fresh and nicely decorated to a shape of flower.

Tempura, prawn and assorted vegetable tempura. Deep fried item seem to be not their expert area as the tempura is so oily and the prawn is so small (tiny I should say)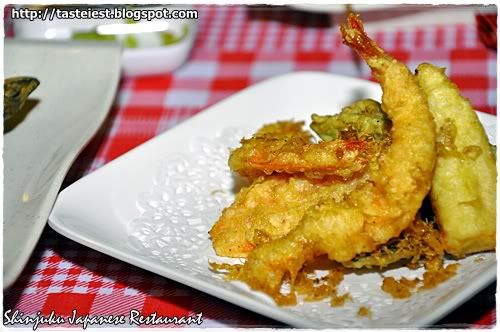 Chicken Sukiyaki, sliced chicken with assorted vegetable in soup of Kimuchi, Miso and Soy-Base. Since we have 3 voucher so we ordered all three soup which came out to be a surprise small and only the Soy-Base soup is taste good, the rest is just normal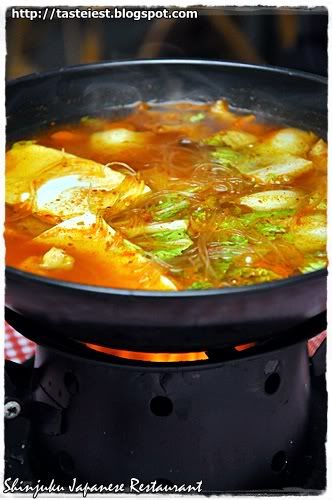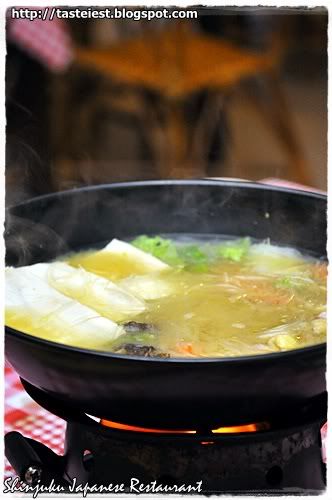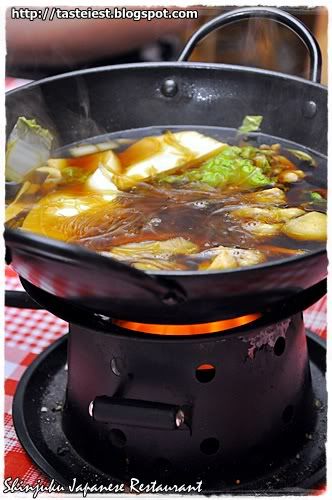 Egg is provided for each hot bowl but it taste weird when we add it to Kimuchi soup (aka Kimchi)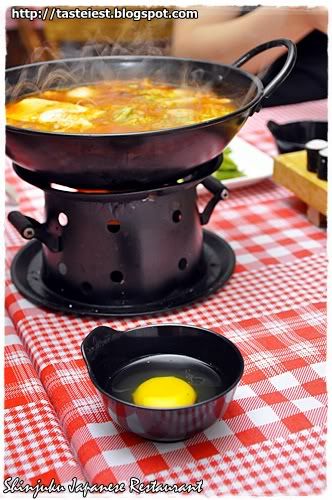 We did ordered extra Salmon and Chicken Teriyaki set, the chicken teriyaki is good and tender soft but the salmon is quick hard and small pieces.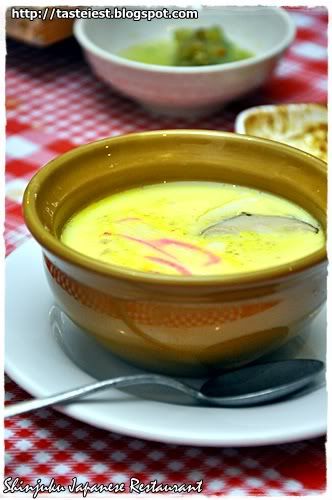 Steamed Egg, taste just normal.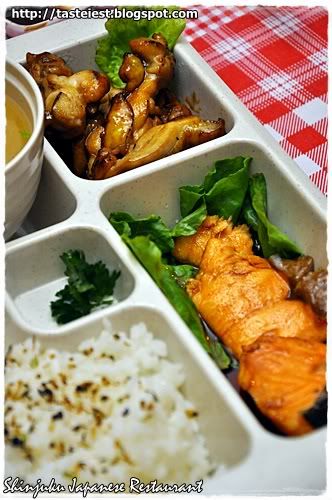 Overall it taste below average for the price given (3xRM28.80) we rather to pay more for Sushi King which is much more acceptable for their quality of food.

Shinjuku Japanese Restaurant
36C Jalan Chow Thye, 10050 Penang
Monday- Sunday : 6:00pm-10:00pm
Mr Sang Wei: 04-2287909, 016-4921592
N5 25.535 E100 19.272

View Shinjuku Japanese Restaurant in a larger map