Che Go Korean BBQ Restaurant located at AEON Seberang Perai where we always have our sweet time enjoying Wednesday cheap ticket RM5 at TGV Cinema, but since we move back to Penang Island so we no longer go there. Never know this restaurant until my sister share with me that she has a good dining experience and wish to brought us there.
Che Go Korean BBQ Restaurant is nicely decorated and spaces, special made table with small grill in between and cooker hood hide underneath table which suck oily smoke out. Korean style design with hanging lantern on top as decoration light and look through window, give a great feeling to have my dinner inside.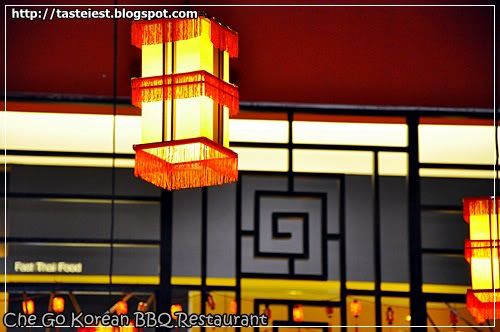 Korean Citron Honey Tea RM9, is a Korean traditional tea where citron is a fragrant citrus fruit thinly slice with its peel and combined with sugar and honey. A small cup of Yujacha (Citron Tea) is given with small tea pot and two cup, a tea spoon of Yujacha into pot and let it heat up and pour into small cup, it give a sour, sweet and little bitter taste. Yujacha is very good to used as herbal remedy for cold.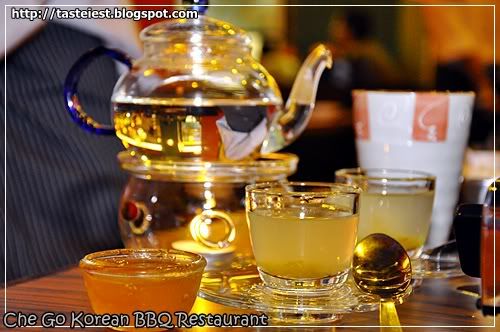 We selected 6 person chicken set RM138, which included 8 dishes but without drinks.
Complement small dishes that can be refill, all are rich in seasoning and spices. Famous Korean food is definitely Kimchi which is cabbage pickled with red pepper and salt, marinated for long time which can up to month or year.
Some side dish is localized like the stir fried vegetable which taste very normal, I prefer the Kimchi which really taste good.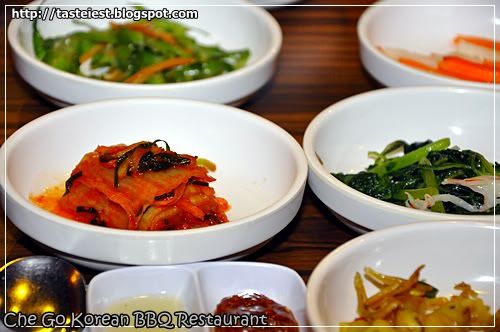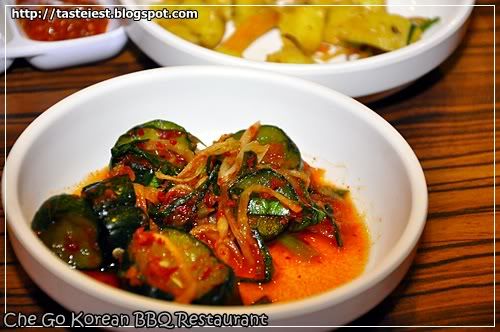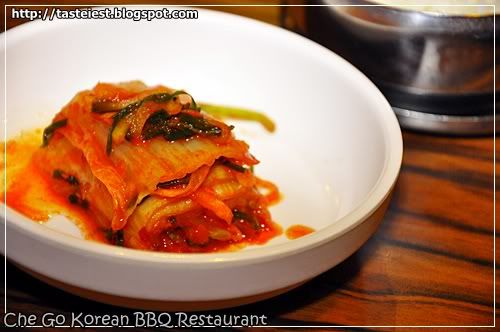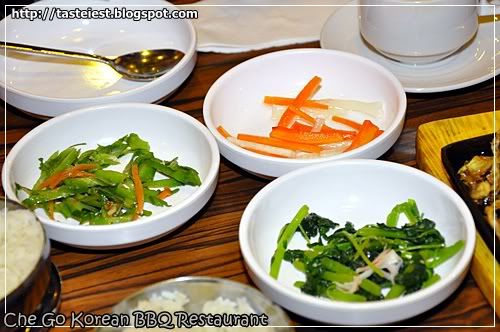 Teppanyaki Chicken With Kimchi, chicken grill with Teppanyaki sauce which was known for sweet soy sauce. Chicken meat is tender and soft, Kimchi is somehow extra as it was two different flavor with the Teppanyaki sauce.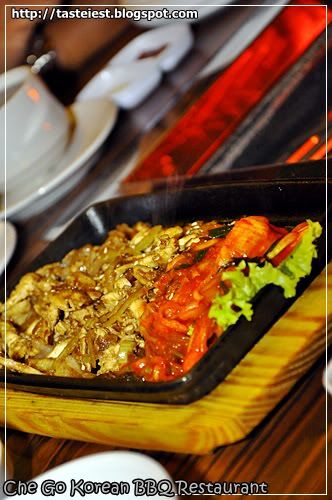 Korean Barbeque Chicken or in Korean they call it "Bulgogi", is a famous dish where meat is marinated in soy sauce, spices and other seasonings. Chicken meat given is drumstick and the portion is quite big.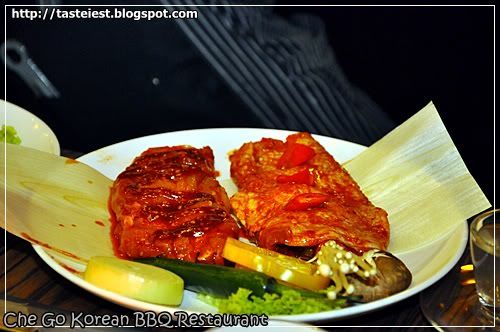 They will cook it for you, if you worry about the oily smoke you may request them to cook it before served but we enjoy looking at how they cook it. Grill will be heated and Chicken meat will be put on top and then grilled, it took sometime before the meat is cook.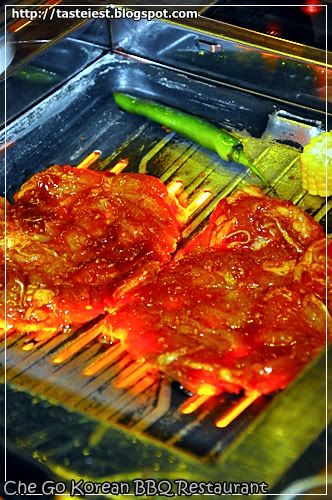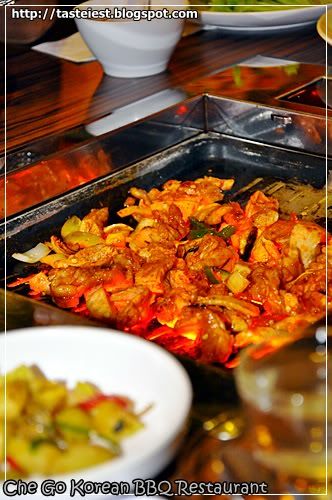 Seafood Rice Cake, traditional rice cake is cut into small pieces and cook with various seafood in curry sauce. The flavor is more toward sweetness and glass noodle is absorbing, taken the glass noodle with rice cake is so delicious.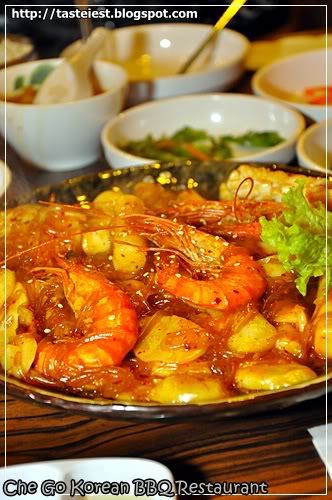 Korean Pancake aka "Pajeon" which is a pancake made of egg, flour, rice flour and green onions. I would rather call this vegetable pancake as most of the ingredient is vegetable, thin pancake with crispy at side, best to dip with the sweet sauce provided.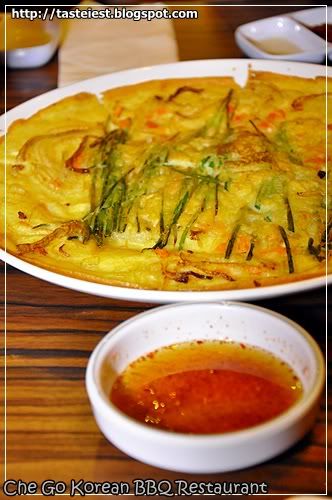 Home Made Suace with Baby Scallop, it was indeed Baby Scallop as it was too small that we hardly can find it. I would rather call it mushroom scallop shell as what we can see is mushroom and mushroom. It taste strong mushroom but not on scallop.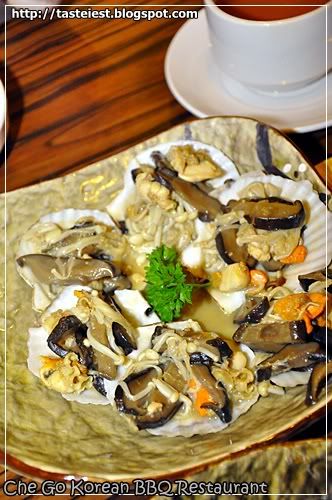 Korean Chicken Ginseng Soup, the soup is more toward spice flavor instead of Ginseng. The taste is just normal.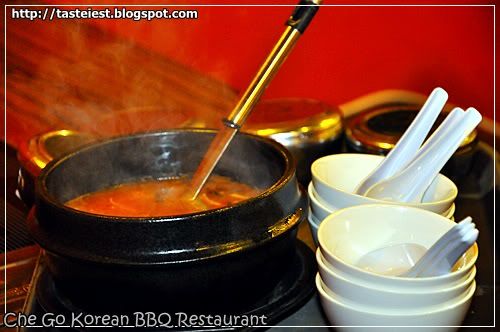 Deep Fried Squid, crispy and not oily, dip with sweet sauce provided is good.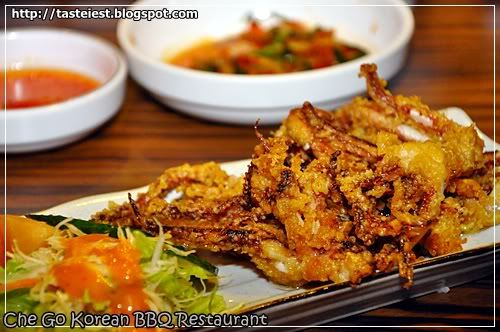 Fruit provided is rather small as only thin slice of watermelon was given.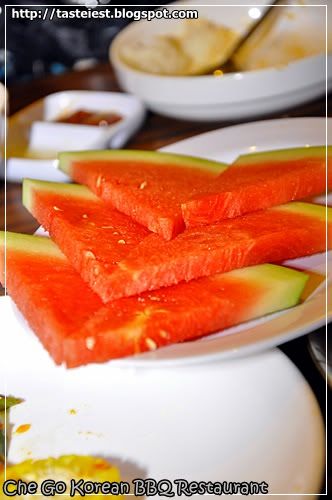 On the spot cook glass noodle with vegetable, the soup is very sweet from the sweetness of cabbage.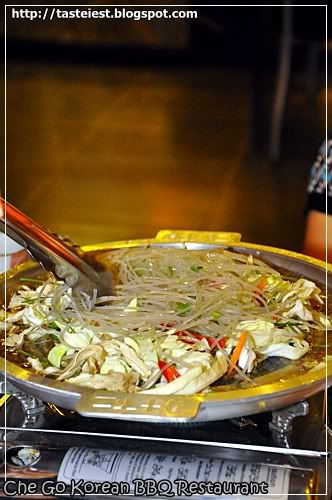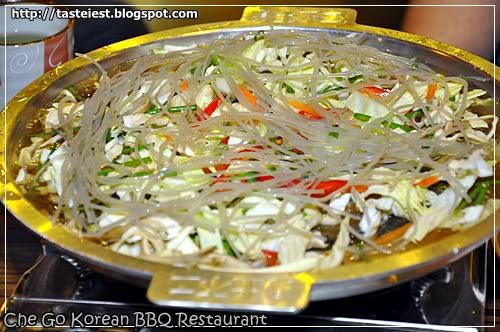 Hot Pot Chicken Bibim Ban RM15, the pot is really hot and it keep the rice heat till the last rice we have. Rice with Chicken meat and vegetable topping with one egg, mix up the rice together with the egg and eat while it hot.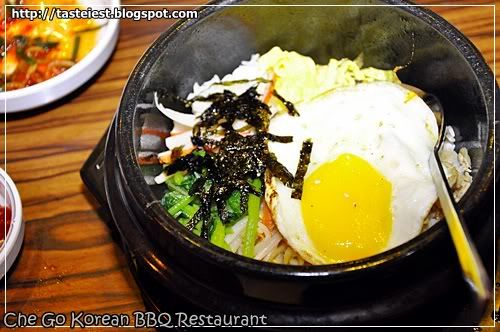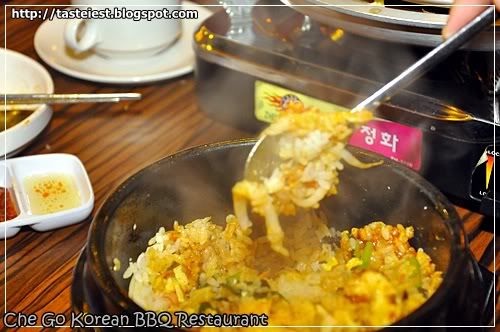 It will end up to be like this, look like fried rice but indeed it taste very Korean and nice.

Each person will be given a Ginseng sweet, which really taste strong Ginseng.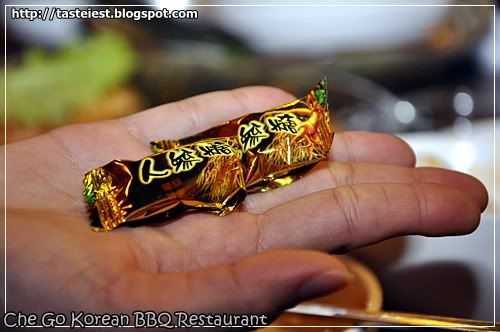 Overall it taste good but just slightly expensive.

Lot 66, AEON Seberang Prai City Shopping Centre, Perdana Mall, Jalan Perda Timur,Bukit Mertajam, Seberang Prai
Tengah 14000, Penang.
04-538 4199
N5 22.201 E100 26.414