*This restaurant is listed in Top Japanese Restaurant in Penang
2012/03/29 Update
Nippon Yataimura Burma Road has been closed down, you can find another branch in Queensbay Mall.
This is our second time to visit Nippon YataiMura which located at Burma road, on our first visit we never know that they are famous for Spicy Soup Ramen which you can choose different level of spiciness. Nippon YataiMura has gone through a series of renovation as previously they have table partition but seem like that has been taken down and move toward open space, we did actually prefer an open space as it make the restaurant look more spaces.
If you are Pikachu lover then the conveyor belt will eye-catching for you, which has ton of Pikachu moving toward you.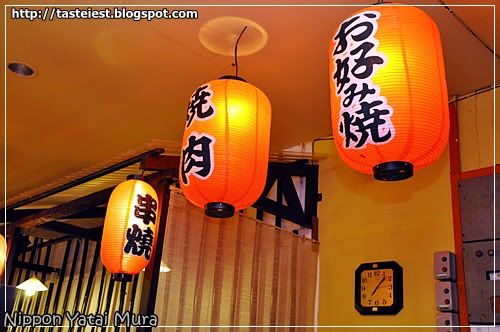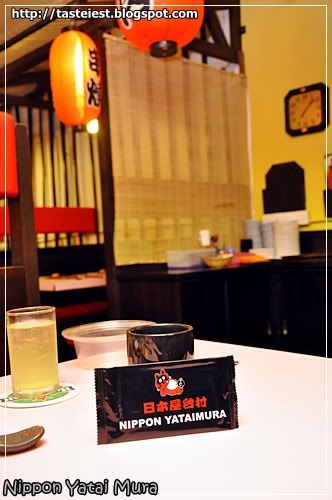 Soft Shell Crab Temaki RM8 and California Temaki RM4 served in a very nice design stand that allow the Temaki to be sit on. Soft Shell Crab is crispy with crunchy vegetable and seaweed same goes to the California Temaki, both is fresh and tasty with the right level of Japanese Rice in it.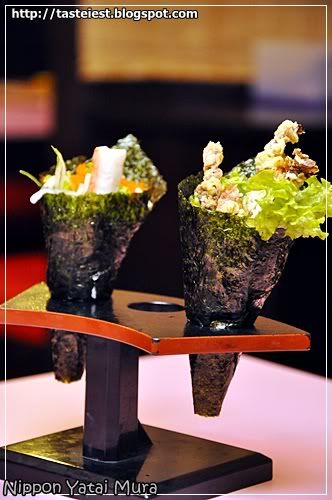 Salmon Sushi RM4 which is quite cheap as it almost the same price as Sushi King, Salmon is fresh and the sushi rice is what really make it different as the handmade Sushi Rice taste much more better as pressure use to wrap the rice is just nice which is not too lose nor over concentrated.

Gekikara Ramen RM16 with spicy level 3, well it was our first time and we are recommended for this level. I even heard of people having level 10 with sweat over the whole body after eating and I am curios on what is the maximum level they offer, any idea? Feel free to share with us with below comment box.
Gekikara Ramen come with ingredients of Prawn, Squid..et in spicy soup, the spicy soup is not just plain spicy instead it had sweetness from seafood, the soup is so tasty that I almost finish the whole bowl.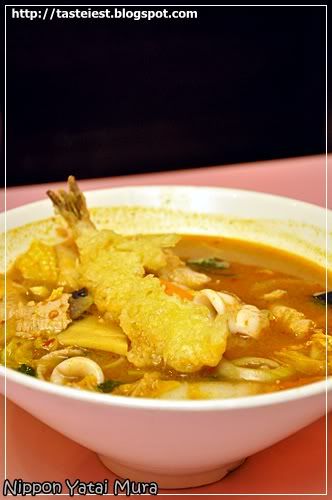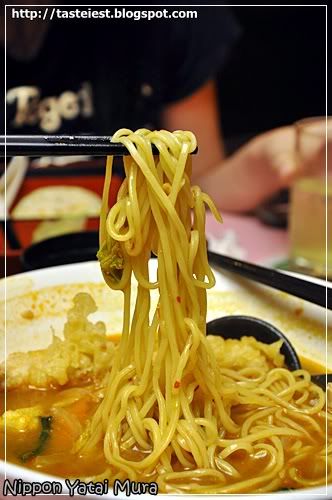 Set Meal RM18 with add on Miso Soup RM3, tempura vegetable, deep fried chicken, mash potato with fried rice. We like the deep fried chicken very much as it was very soft and delicious while the tempura is really crunchy.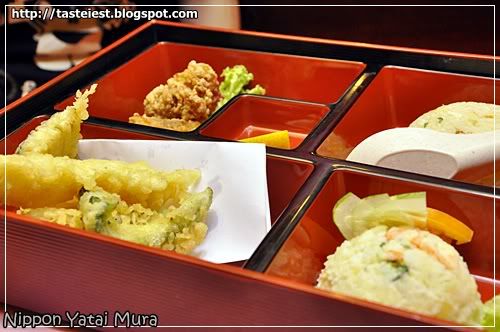 Thin slice of cucumber, good skill shown by the chef, it was so thin that can be seen through.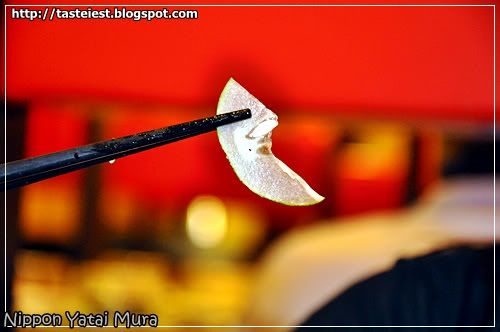 Overall we enjoy dinner here at Nippon Yatai Mura, it was so delicious and we will be back to challenge higher level of spicy level for the Gekikara Ramen.

403-A, Ground floor, Jalan Burmah, Penang, Malaysia
604-226 6018
N5 25.912 E100 18.667
LG-83A, 100 Persiaran Bayan Indah, Queensbay Mall, Bayan Lepas
11900 Pulau Pinang
04-646 8763

View Nippon Yatai Mura in a larger map