Our second visit to Sea Palace Restaurant, Sea Palace Restaurant has become our first choice restaurant due to our great dining experience here before.
Hope our beloved reader don't misundestand and ask why we eat Lou Shang after Chinese New Year, this meal was sometime back where it still day on Chinese New Year just that we are too busy to write the review. Hope the late publish will benefit you on next Chinese New Year gathering for Yee Sang(捞生).
Wet tissue with great packaging, really cute and nice packaging with four different design.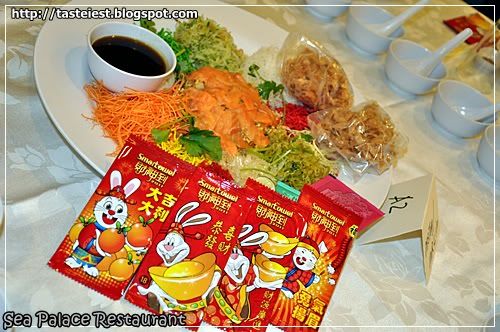 Yee Sang started, pouring in the sweet sauce into the various color vegetable with salmon fish, toss it high into the air and saying out loud wishes, the louder and higher the better and wish come faster.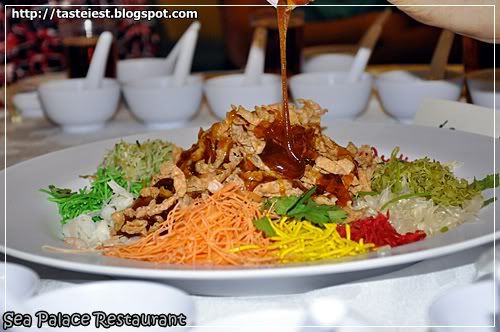 After tossing and wishes, finish up the Yee Sang. Yee Sang taste normal only as the Salmon is not fresh.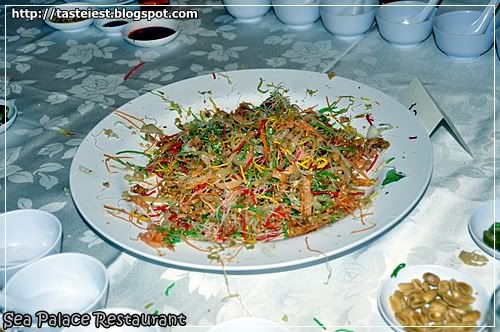 Pork Knuckle with Mushroom, braised pork knuckle cook with mushroom and vegetable, it had mild herbal flavor but the pork knuckle is extremely soft and delicious.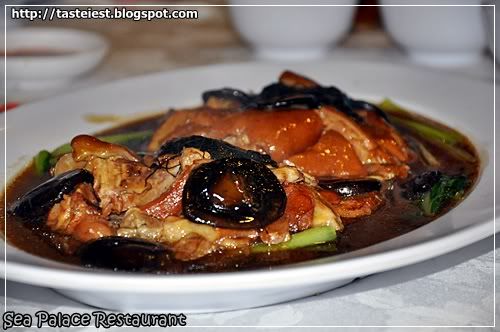 Sweet and Sour Chicken, deep fried crispy chicken served with sweet and sour sauce.

Shark Fin Soup, we regret to take this photo as we has strong support to avoid shark fin as much as possible due to the cruel way obtaining the ingredients. Amitobha!

Chinese New Year Dish, Fat Choy is the most important ingredient for Chinese during Chinese New Year as it symptom wealth. Fat Choy cook with vegetable and mushroom.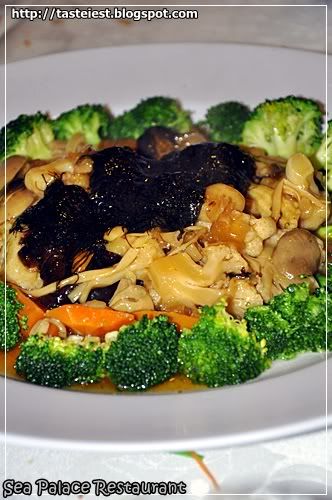 Assam Prawn, it was so fresh and the Assam flavor is very delicious.

Steam Fish with Soy Sauce, the most important is the freshness of fish and they do provide a fresh fish with delicious soy sauce.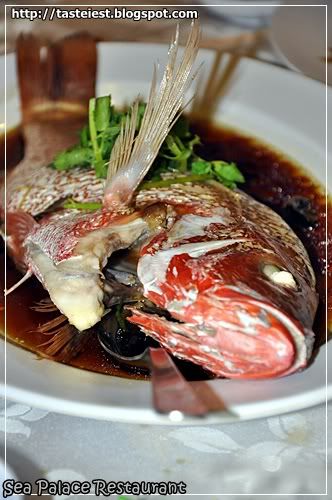 Lotus Leaf Rice, another wedding dinner or we call it ending dish which make sure you don't feel hungry ending this meal. Fried Rice is delicious with strong flavor from dry shrimp and black sauce, while the lotus leaf giving some extra flavor to make it taste even better.

Sea Palace Restaurant is really our top choice, we have no regret to eat here and definitely will come back again for other food.

Taman Pekaka, Penang
2-1-9 1st Floor, Bangunan Lip Sin, Lebuh Pekaka 1
Sungai Dua, 11700 Gelugor, Penang.
04-6593826, 6593827
N5 20.942 E100 17.709

View Sea Palace Restaurant in a larger map