Update: This shop closed. 
Strada Cafee Bayan Lepas is open on Year 2010 and lately we grab some promotion voucher from EziVoucher for RM9.90 4 course meal which included of main dish, soup, dessert and drinks. First question that cross our mind when saw this promotion is whether this Strada is the Strada we like in Pulau Tikus? but the answer is NO. It was not really dissapointed as we got a chance to try the "New" Strada Cafee in Bayan Lepas.
Mushroom soup is part of the voucher promotion as well, mushroom soup quite thick but sadly not much mushroom in it nevertheless it still taste good.
Traditional Jumbo Sausage, the sausage is like normal sausage which taste like Ayamas sausage accompany with curly fries and pickles. It taste above average and not oily.
Chicken Fillet Rice, deep fried crispy chicken fillet served with rice and fried egg. Chicken fillet taste good and tender soft but the overall is a bit too dry as no soup was provided.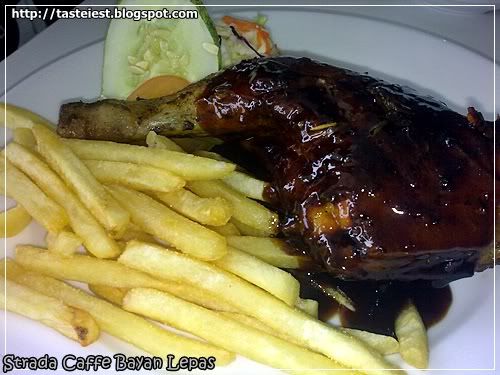 Dessert is few pieces of Watermelon.
Strada Caffe Restaurant in a larger map