Purchase our self another set of voucher from EziVoucher promotion for Bella Marino Ristorante (Straits Quay) RM18 per/pax with a Soup of the Day, Dessert and main dish, main dish choice of Panfried Haliput, Grilled Lemon Sole and Liguine Alla Connovatta.
Bella Marino Ristorante serving Italian food such as pasta, pizza and dessert, it located at Strait Quay once of the most happening place in Penang nowadays.
Hop over to Charlie Brown review which located at Strait Quay as well.

First impression the restaurant give us is very organize, table is well arrange with green and red table top design.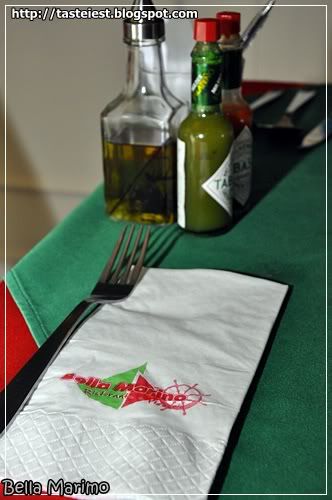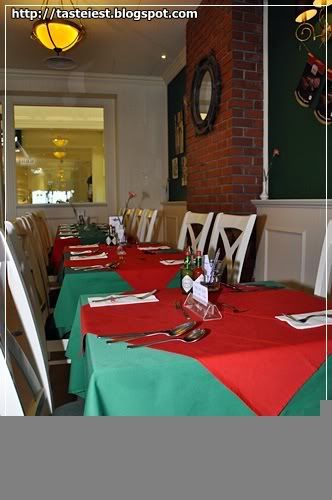 Our drink which doesn't include in the voucher, both drink is well presented and refreshing.

Soup of the day is mushroom soup, taste very good, it has strong mushroom flavor.

Linguine Alla Connovatta (Seafood pasta) cooked with prawns and scallops in tomato cream sauce, pasta isn't the normal round pasta instead it shape like flat noodle (Pan Mee) but taste like pasta. Tomato cream sauce is very delicious and it just right go eat with the pasta. Prawn and Scallop is quite small but the overall portion is pretty big.

Grilled Lemon Sole (imported fish) with tomato and capers fondue served with potatoes and boiled vegetables, sole fish or we call it one side fish which rarely consume by Asian instead it very popular in western country.
Deep fried fish meat is very soft and melt easily in mouth, accompany with tomato sauce is so delicious.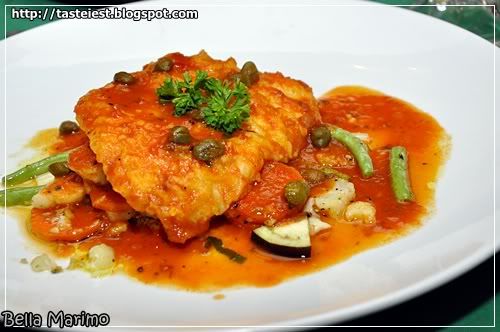 Tiramisu Alla Bella Marino- Sponge cake layered with coffee and mascarpone cheese, honestly this might well be the best Tiramisu we ever had, portion is pretty small but even they served with a plate big size we will never enough because it taste too good, coffee on top is a little bit bitter taste and the Tiramisu is sweet, what a great combination.
Tiramisu is melt straight away on your tongue.

Bella Marino is definitely good for Italian food and we definitely will be back for other dishes such as Pizza.

Bella Marino
Lot No 3A-G-11 Straits Quay, Jalan Seri Tanjung Pinang,
Tanjung Tokong, 10470 Penang
Tel: +604-899 0277
Fax: +604-890 9277
Lunch: 11am to 3pm
Dinner: 6pm to 11pm
N5 27.477 E100 18.805
Visit other restaurant review in Strait Quay
Ding Charcoal BBQ & Steamboat Buffet
Paella Cookout at Agua Straits Quay
Mad Sally Return for Weissbrau Anniversary Party
Nasi Lemak RICE Straits Quay
Spasso Milano Penang Straits Quay
Weissbrau German Bistro & Bar
Fruuze Frozen Yogurt at Strait Quay
Strait Quay Bella Marino Ristorante Italian Food
Charlie Brown at Straits Quay

View Bella Marino in a larger map