*Update: This restaurant has closed down.
Rendezvous serving authentic Arabic and Mediterranean cuisine and with RM39 we got a deal from Qmurate on 5 course meal with original price of RM87. We been told Paella Rice is big enough to serve two person hence RM39 is a great deal then but it seem like not that case, we going to share with you in a short while.
Rendezvous located near to Esplanade inside a

Ice Lemon Tea is free flow.

Apple Salad served in a nice small shaped cup, apple cut into small pieces mix with mayonnaise and additional tomato on top for great presentation. No doubt the sweet and sour apple is very appetite and refreshing.

Fresh Cream of Mushroom Soup, various type of wild mushroom cut into small pieces and cook together to create a flavorful dishes. It doesn't take like normal mushroom soup that taste toward can mushroom soup instead it has own natural mushroom flavor. Good tasting dish.

Paella Rice is their signature dish, quote to be sufficient for two persons but in actual fact it is quite a small plate, it came with two big white prawn and few muscle.
Seafood Paella is a heavy season food with different type of spice, it taste a little bit sour and savory.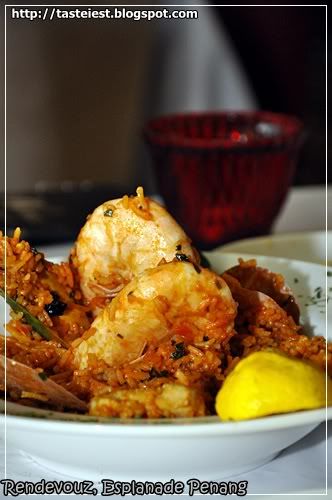 Hamuss & Arab Bread, blended chickpeas with olive oil and tahinia cream, once of the most famous dips. The Hamuss taste like sesame with strong olive oil, Arab Bread is like flat bread which doesn't have any flavor, dipping the Arab Bread into the Hamuss and it give the sesame and olive oil flavor. This is a middle eastern food and I believe not much local people appreciate it even our self but it definitely a good try. Did search some keyword and I believe this help you to have better understanding of the dish.
Chickpea is a type of bean that normally you can found it at roti canai dipping sauce "dhal", Chickpea is high in protein and healthy.
Tahinia or known as Tahini is a paste of ground sesame seeds used in cooking

Ice Cream of the day is rather disappointing as we expect some special homemade middle east dessert such as Keleij, Sfouf, Mafruka or Umm Ali, which can really demonstrated a Arabic restaurant.

Rendezvous is a very high class restaurant and definitely a place for unique Arabic food, it a fresh sense of taste.

1 Green Hall 10200 Georgetown Penang
04-2505066/68
Lunch : 11 am –2pm
Dinner : 7pm –11pm
N5 25.271 E100 20.386

View Rendezvous in a larger map