Update: This shop closed.
Again we bought some discount voucher from MyDeal and the deal is for Young Heart Restaurant, Young Heart Restaurant strongly emphasize on healthy where they server healthy and rustic food in a relax and comfortable environment like home. Specialties in traditional Chinese dumpling, hand-made noodles, old school dishes and healthy drinks.
Our voucher cost RM11.90 for 3 course meal + free homemade Chinese dumpling (4pcs), it a steal for such healthy meal and great environments.
Drink we ordered is Honey Lemon Aloe Vera and Honey Lemon Sea Coconut, very refreshing and not too sweet which just at the right level of sweetness with additional acid from lemon making the drink taste good.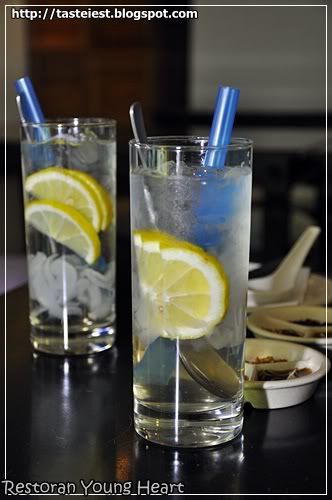 Sichuan Hot & Sour Soup given sour and spicy taste, it indeed very appetite to start with. I keep on scoop the soup till finish, it taste real good. While the Soup of the day is just average, doesn't has strong flavor and quite bland.

Ingredients such as crab role, vegetable and egg is what form this bowl of soup.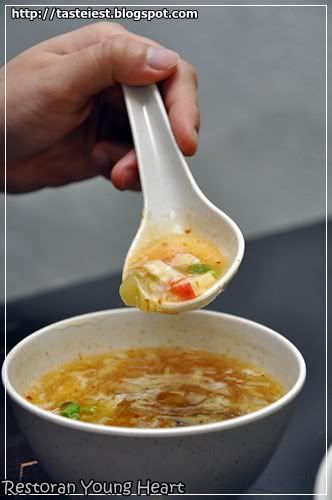 Seafood Fried Noodle, visually look to be bland but it give some wow effect on first taste, flavor is quite strong and it give fresh flavor even though the seafood use is quite less but the noodle is really lovely, great texture and absorbing the sauce is so tasty.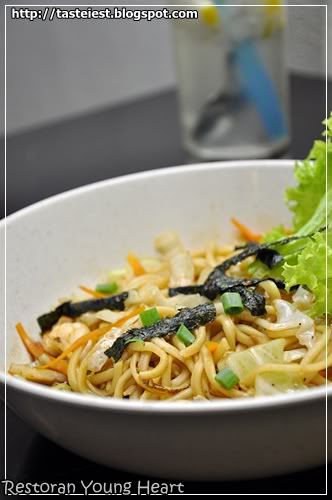 Mix Mushroom Fried Noodle as well a vegetarian food which came with ingredients of mushroom and vegetable, it as well as the strong flavor as Seafood Fried Noodle, it both taste quite the same which is delicious.

Golden Mushroom mix with the noodle given extra chewy texture to overall bite.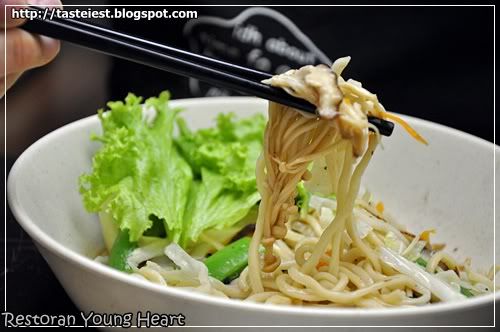 Dipping sauce served are vinegar with ginger, chili flake and deep fried garlic, companion for homemade dumpling.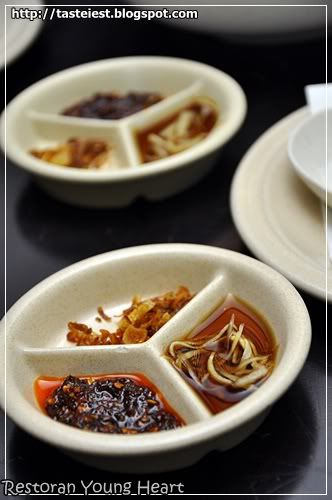 We had Pork & Cabbage Dumpling and Mushroom & Mix vegetable Dumpling, skin is a little bit too thick and it cold down very fast which then create a harder skin. Ingredient fill inside is rather dry and doesn't have strong flavor but dipping into the vinegar provided did help to bring some flavor out.

Side ordered braised egg which taste just normal as the egg is not absorbing much flavor from the braised soup.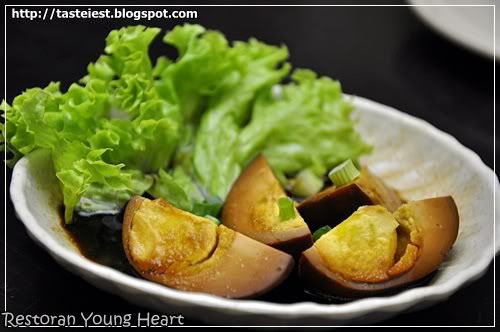 Extra ordered of Dessert, mango, coconut, sago and aloe vera, it taste real good with the pure blended of mango with no additional water, it really thick and taste good.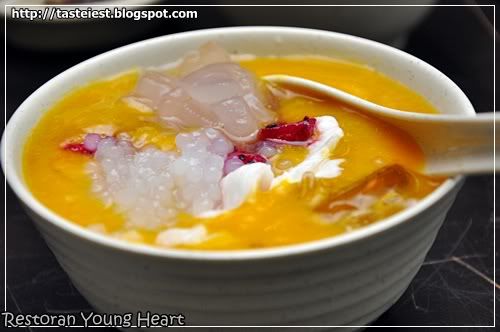 Young Heart located near to wet market where people going for LokLok at night.

We had a great dining experience in Young Heart Restaurant and their food is great.

44A, Jalan Cantonment, 10350 Penang, Malaysia.
12.00noon-10.00pm (Closed on Monday)
604-228 8084
N5 25.810 E100 18.680

View Restoran Young Heart in a larger map