Santorini Café 爱琴海partnering with EziVoucher for 5 course meal promotion for only RM8, what a deal! RM8 is like a meal for economy rice without drink but we are getting 5 course meal in air-con restaurant.
Santorini Café just located next to Chow Thean Yeang Aquarium along Jalan Burma, it not easy to get parking lot but you may park inside Chow Thean Yeang Aquarium and redeem back.
Interior design mainly on sky blue painting with a side wall full with hand drawn tile, some are so cute.

Potato Salad, boiled potato top with mayonnaise where you can taste the original taste of potato with mild sour taste from mayonnaise.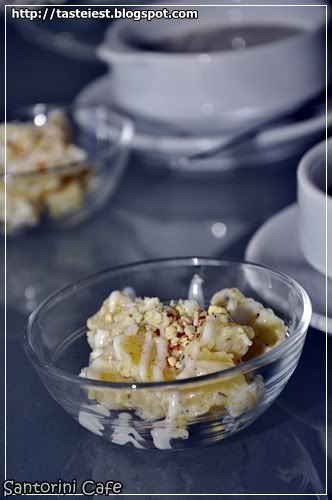 Homemade mushroom soup taste good with strong mushroom flavor in the thick soup, flavor rich.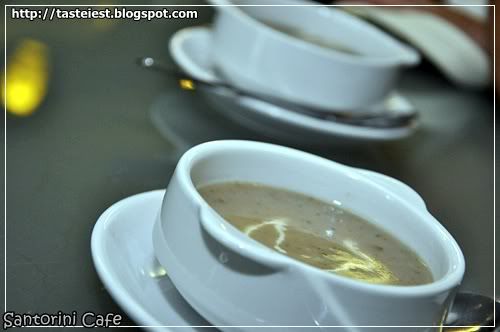 Grilled Fish with Lemon sauce accompany with fried and salad, portion of the fish is rather small but well grilled to crispy skin and season with sweet and sour lemon sauce. Overall taste is good as the sauce is tasty and not too strong covering the fish freshness.

Grilled Chicken with Mango sauce plate with fried and salad, sauce on top of the perfectly grill chicken is not really the Mango sauce as it doesn't flavor much on Mango instead it a little bit sour and spicy, more toward Thai sauce, it indeed taste quite good.

Coffee is just normal coffee without strong coffee aroma.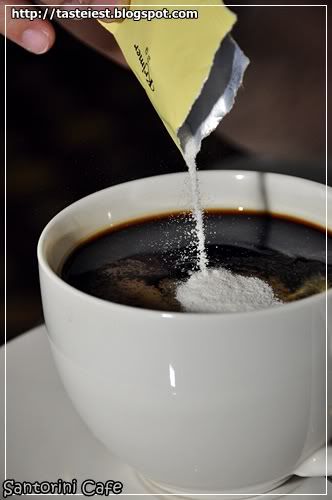 Home Desert is rather disappointing as it on the shelf ice cream without any topping, rather bland and taste just normal.

Well, the food is good and the price is extremely cheap for promotion voucher.

94 , Jalan Burma , Georgetown , Penang, 10050 (next to Chew Thean Yang)
04-2292776
N5 25.145 E100 19.656

View Santorini Cafe in a larger map