Goh Huat Seng Steamboat is on the same street as Kimberley Street Famous Koay Chiap, it has been around since my parent generation. Famous for its charcoal burning steamboat where nowadays not much people use and new generation might not even know what is charcoal. The great thing about charcoal is it intense temperature and consistency which keep the broth in high degree.


Nut will be served while waiting for the steamboat to get ready, normally it took around 30minute for them to prepare. It was quite a long wait but worth the wait.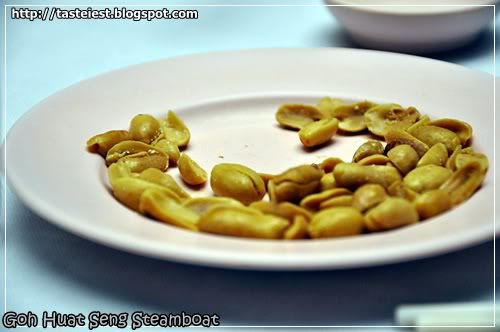 We ordered chrysanthemum tea, sugar provide separately so that you can add on your desirable sweet level.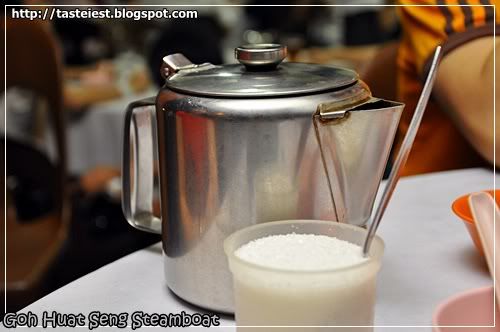 Various range of steamboat available for selection, from price of RM30 up to RM120 depend on the size of steamboat and ingredients selection.
A very traditional steamboat pot with extra long chimney, the long chimney did help to channel ash away from the food.
If you have never use this type of steamboat pot before then let know share with you how it works, charcoal will be burn and place inside the chimney while a small fan will blow from the bottom, with the burning charcoal in center surrounding soup will be heated up and boil.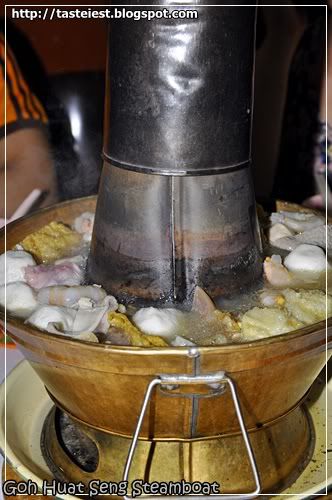 It not like those buffet steamboat restaurant where plain soup provided instead their soup is what make it really famous, deep fried fish meat, air bladder, vegetable and other ingredient to enrich the soup. The soup itself is really delicious.

Various type of ingredients are available for selection, it actually come in package but if some ingredients you don't like you may ask to change or top up.
Fish ball and Pork ball

Fish Ball Dumpling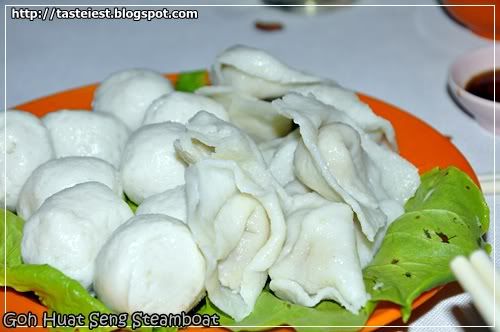 Pork meat and internal part

Chicken Meat, dried bean curd crust

Prawn and Fish Meat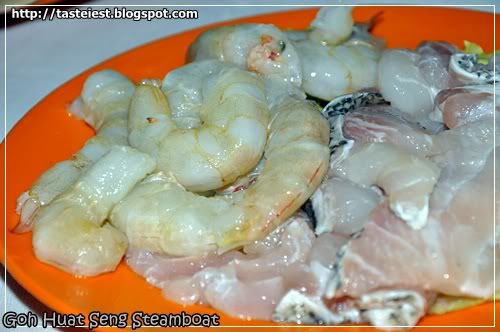 Squid and Cuttlefish

Whole lot of ingredients prepare to be cook

External look of the restaurant, an old and plain design signboard.

Goh Huat Seng is no doubt our favorite and best steamboat restaurant.

Goh Huat Seng Restaurant(吴发成菜馆)
59-A, Kimberly Street, 10100 Penang.
10:30am-3:30pm(Lunch); 5:30pm=9:30pm(Dinner)
Mr. Goh Seow Boo 04 2615811, 04 2615646
N5 24.959 E100 19.995

View Goh Huat Seng Restaurant(吴发成菜馆) in a larger map