Another invited review organize by Qyzzy and Criz, it was a great moment to enjoy food with all great food blogger, their blog is on the left side of my blog page.
We will invited to review Good Friend Restaurant, is the name sound familiar? Yes, it is the same shop as what you been before at Teluk Kumbar and they has open another shop at Bayan Lepas so you can save the hassle to drive far for good seafood.
Good Friend Seafood is not just serving seafood at dinner time instead they do offer outdoor delivery during lunch time to Bayan Lepas area with minimum order of 10 packs at RM6.50 (3 Dishes + Rice) and also catering service with minimum of 60persons.
Behind the restaurant has great amount of parking lot available for RM1 between 8am – 5pm and free after 5pm.
Chicken Satay沙爹鸡串 - RM0.80/stick
If you been to Teluk Kumbar before then you sure know the famous Satay, they are getting from the same vendor but cook it on the shop with some extra flavor added. A good Chinese way of starter while waiting for the main dish.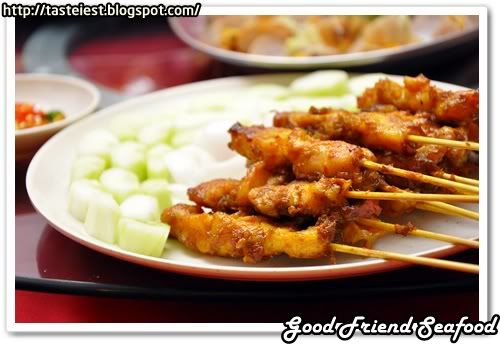 Steam Grouper 石斑清蒸(吊) - RM80/kg
We are lucky to savor the wild catch grouper, it significantly different between wild catch and feed type, the meat is much more smooth and sweet. According to Lum (owner) the fish will taste better if it serve whole without cutting into half, the reason cutting into half is to allow us taking better photo. Grouper cook with soy sauce to remain the natural sweetness.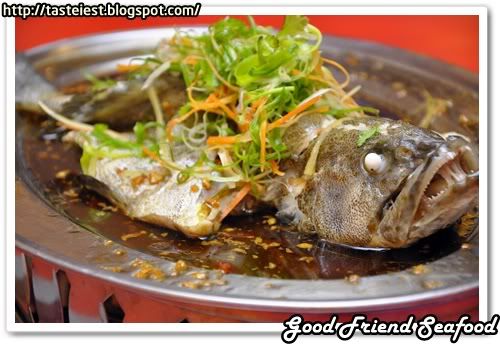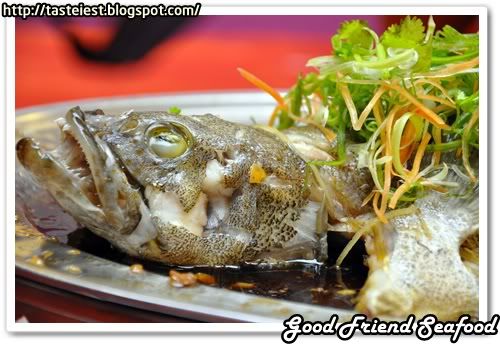 Tri Flavour Red Snapper 红狮三味 - RM25/pcs
Always remember to ask if the grouper is wild catch or feed type, else I would recommend you to try Red Snapper as fresh Red Snapper is equivalence tasty to feed type grouper, what we had here is the sweet, spicy and sour Tri Flavor Red Snapper. Red Snapper is deep fried to golden color to create a crispy skin and top with Tri Flavor sauce, fish is nicely cook with no sign of overcook, it retain the soft texture of fish meat while create the crispy skin.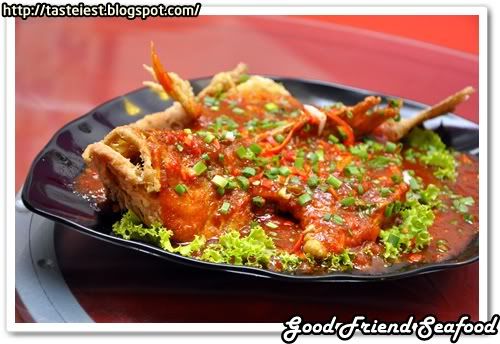 Steam Clam 花芭蒸 - RM18
Clam or best known to be Kampa or Lala steamed with garlic and mild lime juice, the soup taste a little bit sour and natural sweetness from clam. It best to take immediately as the clam will become hard once it get cold, what we had here is a little bit hard as some time took for photo session hence it taste not as good.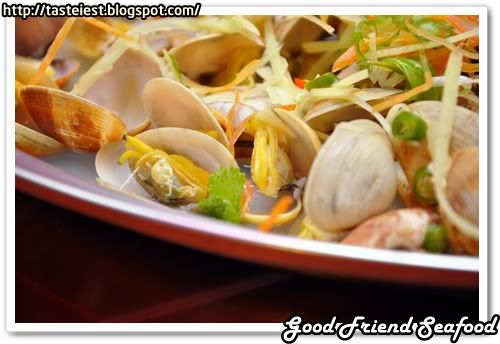 Nestum Chicken - RM38 and Sour Plum Chicken 麦香鸡与酸梅鸡 - RM38
It both come into a plate, you may order for small portion with dual flavor as well.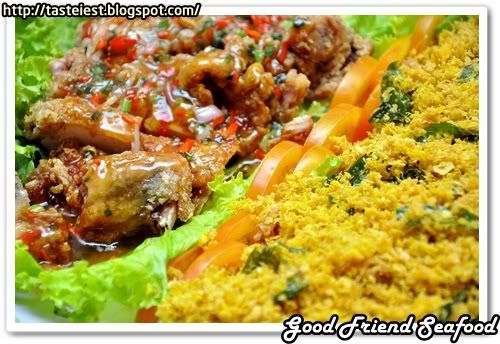 Broccoli Scallop 西兰花带子 - RM38
Broccoli, Scallop and Mushroom cook together with oyster sauce, I personally think the scallop is too small even though the amount is a lot, I think it would be great idea to give less but bigger size scallop.

Good Friend Pork Knuckle 好友猪手 - RM32/pcs
The owner is kind enough to allow us take photo before it was cut into pieces, Pork knuckle was deep friend to golden color, crispy skin but a little bit too dry on the meat.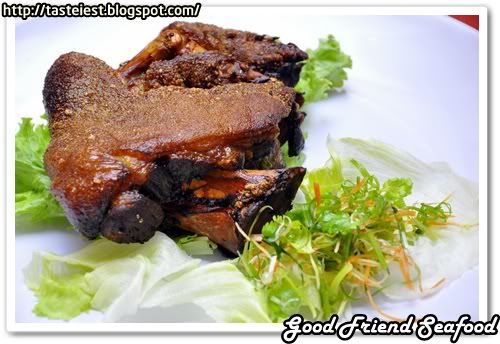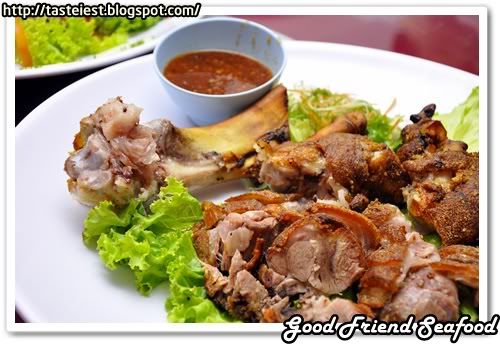 Crispy Tofu 脆香豆腐 - RM20
Is their homemade seafood Tofu, Tofu was cut into square shape and deep fried with flour.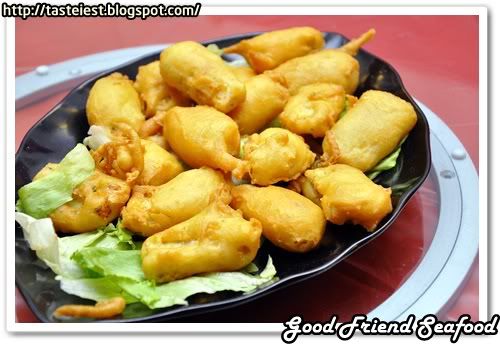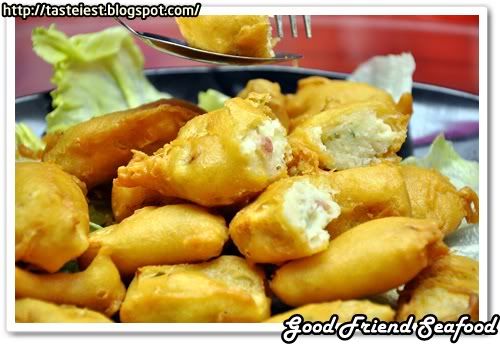 Kum Heong Prawn 甘香虾 - RM80/kg
Kum Heong is a complicate sauce but it taste very good with the combination of dry prawn, curry leave, red onion, garlic and various sauce. It create a sweet and mild spicy taste and best to cook with any type of seafood, we had here is Kum Heong cook with prawn, prawn is fresh and big but the sauce is not strong enough and slightly lack of dried prawn else it would be taste better.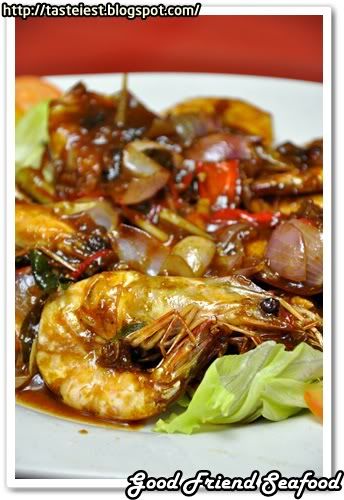 Cheese Mantis Prawn 芝司螳螂虾 - Price vary according to size (Big RM28/pcs, Small RM15/pcs)
RM28 per pieces of Mantis Prawn is not cheap but the most important is the freshness, as you can see below the first and second photo once of the mantis prawn is making some action to prove it freshness.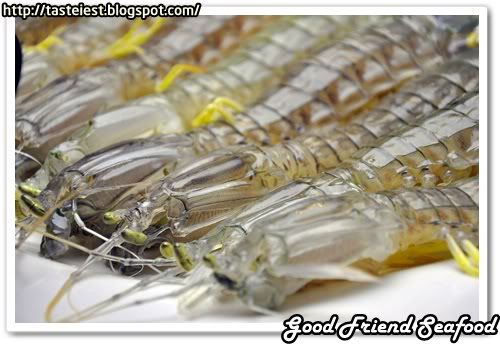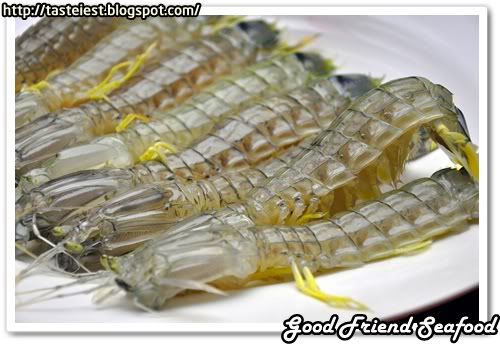 Fresh Mantis Prawn cook with Cheese, I extremely like the Mantis Prawn as we can really taste the freshness and sweetness from the Mantis Prawn and the additional cheese taste make it taste even better.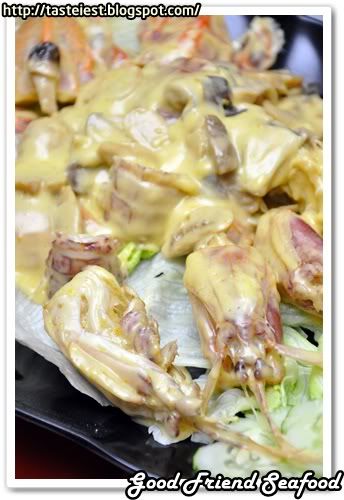 Signature Crab 招牌螃蟹 - RM50/kg
Crab is rather small in size and the sauce is taste sweet/spicy/sour, it came with small mantou for you to dip into the sauce.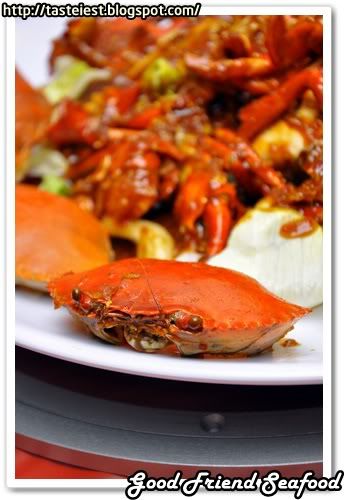 Teow Chew Noodle 潮州面条 - RM12
Lum insist on his cooking style to cook Teow Chew Noodle in dry version as most of the shop cook it wet and too soft, this dry version is a little bit hard and it best to take with Sambal.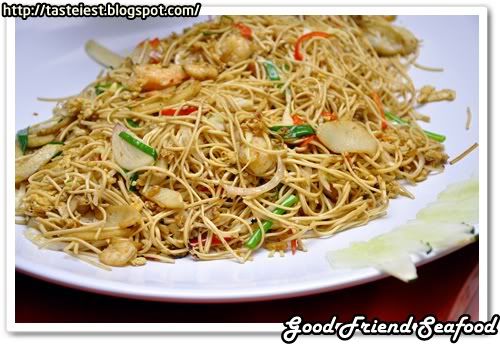 Salted Fish Fried Rice 咸鱼炒饭 - RM12
Fried Rice is just normal as it lack of the oomph for fried rice.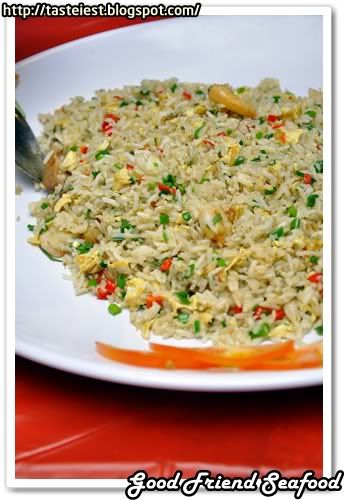 The UNNAMED dessert无名糖水 - RM12
My lovely personally love this dessert so much, the yellow and red jelly has a soft and chewy texture.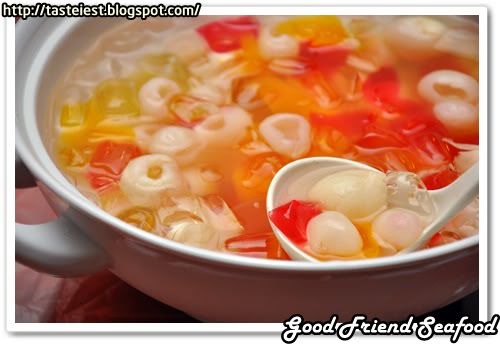 Let reveal the shop owner Lum (right in picture), he is the owner and chief focusing on seafood dishes while the man in middle is another chef preparing dishes such as pork, chicken, duck, vegetable, egg…etc. Terry from Qyzzy is on the left, thanks to him and his partner Vin for organizing this review.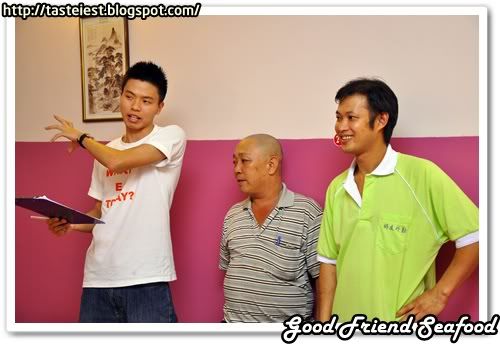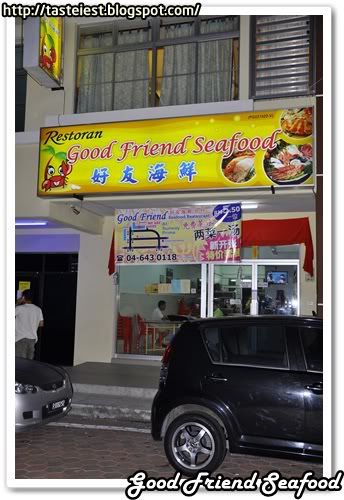 19A, Sunway Prima, Lintang Sungai Tiram 5, 11900 Bayan Lepas, Penang
10.30am - 2.30pm Lunch & Delivery, 5.30pm - 10.30pm Seafood Dinner
04-6430118
N5 18.126 E100 16.361
Nearby seafood restaurant you might be interested :-
Khuntai Raja Uda
Khuntai Teluk Kumbar
Hai Boey Seafood
Hao You Seafood
Good Friend Seafood
Bukit Genting Thai Food First Visit
Bukit Genting Thai Food Second Visit


View Good Friend Seafood in a larger map