This article link from Penang Gurney Plaza Dining Guide
Once again we need to Thanks Criz from Criz Bon Appetite organizing Manhattan Fish Market new menu food sampling event to all blogger. If you read our post on Manhattan Fish Market before then you will know how much we love the Alaskan crab platter, and we are glad to be invited to review their new menu again.

We been invited to Gurney Manhattan Fish Market which cover two floor and outdoor seat, spaces, relax and great environment.


The new menu is definitely "Share n Care", a package for 4 to 8 persons, price start as low as RM49 for 2 pax and a saving of RM24.30!
With the price you can 1 starter, 2 Soups of the Day, 2 Favorite Flavors and 2 refreshing Tropical Breeze drinks.
Starter choice of Kicking Shrimps, Fried Calamari, Fried Country Mushroom or Quad Delights and all above will be share with you in detail later on.
As well we will share with you the "Favorite Flavors, aka Main Dish" from the choice of Grilled Catch of the Day(Cory), Manhattan Baked Fish, Manhattan Fish'n Chip (Dory) or the new Poached Dory in Minty Sauce.
Add on to the Share N Care, you can opt of 4 pax RM95, 6 pax RM139 or 8 pax RM179, the more people the more saving, a massive RM114.20 saving for 8 pax package.

Let get start with the drink
Citrus Mint RM7.90 combination of lemon and spearmint leaves, refreshingly fresh lemon juice smoothie with a dash of cool minty flavor.

Sweet Alabama Smoothie RM9.90 combination of chocolate, vanilla ice-cream and peanut butter, those who are looking for strong flavor then this will definitely your first priority drink as it has strong chocolate and peanut butter flavor.
Oreo Kaboom RM9.90 combination of crushed Oreos and vanilla ice-cream, Oreos lover should not miss this as lot and lot of Oreos blended together with the vanilla ice-cream.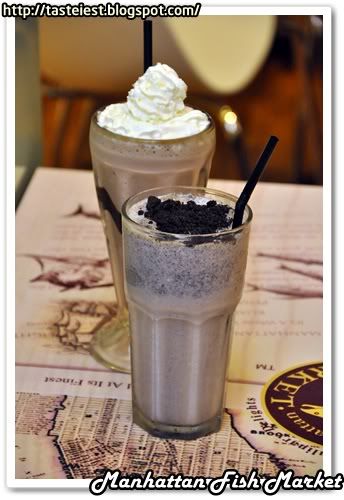 Sunset on the Ocean RM9.90, combination of yogurt, orange and vanilla ice-cream, if you looking for something acidity then this might be your choice.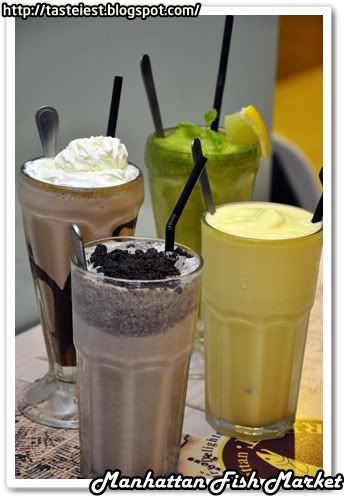 Two choice of soup available, Soup of the Day RM4.90 and Chowder of the Day RM5.90.
Chowder of the day is at the front of below picture while Soup of the day is behind, Chowder mean mixture of ingredient to form this delicious soup.

Garden Salad with Salmon RM13.80, crunchy garden green drizzled with choice of thousand island, Cajun honey mustard or Italian dressing, three different type of dressing provided to suit every different taste buds.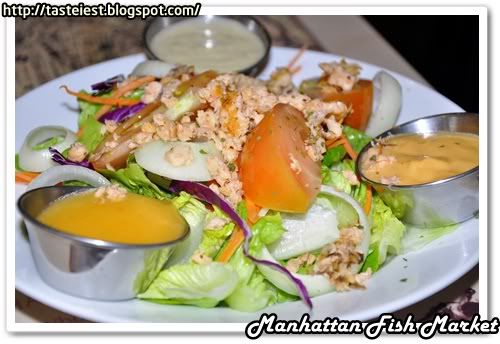 Fried Country Mushroom RM9.90, deep fried mushroom served with Cajun Honey Mustard for dipping. Deep fried mushroom is not oily while it crispy and remain the mushroom juice, great to be taken together with the sauce provided.

Fried Calamari RM9.90, Calamari aka squid is deep fried to golden color with the in house flour to create a crispy bite.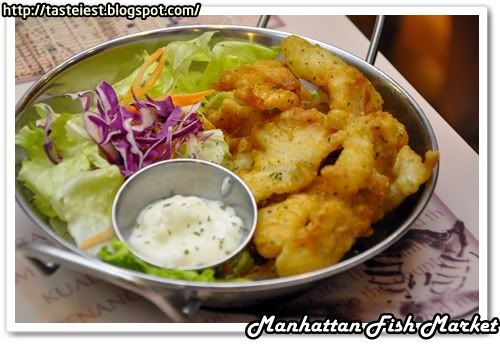 Quad Delights RM15.90 Fried calamari, fried country mushrooms and fried shrimps served with coleslaw with raisins, great choice if you like to try out all started in one plate. Personally love the salad that came with raising, which give additional sweetness to the overall salad and the multi choice of started is just great to sample everything with various sauce provided.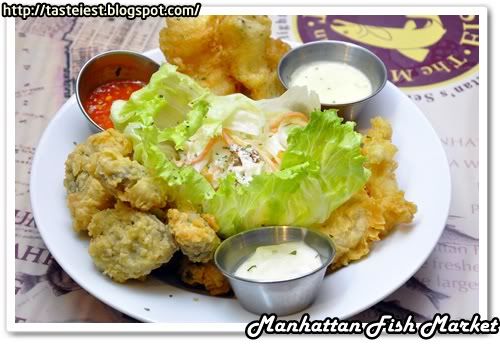 Kicking Shrimp RM13.90, fresh and big shrimp deep fried then tossed in homemade sauce, served over bed of coleslaw and raisins, well I really like the shrimp as it taste sweet, springy and fresh. The sauce taste a sweet coated the shrimp is just so delicious.

Garlic Herb Mussels RM14.90, Mussels poached in the Garlic Herb Sauce which served with baguette slices, baguette is a type of hard bite bun and it best to eat with some sauce hence the garlic herb sauce is playing a major role here.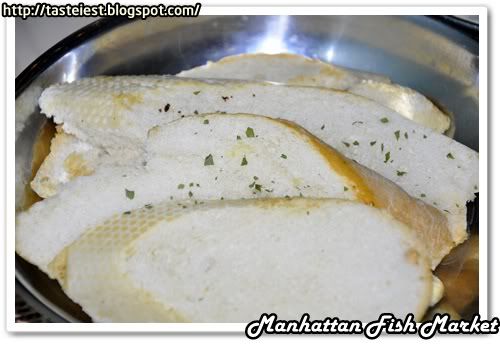 What you think of the starter served during our review, I have to say Thanks to Manhattan Fish Market management as what we had above is just starter and more dish is moving toward our table non-stop.
No word to show how generous and sincerity of Manhattan Fish Market, as we will told those food that we took picture is cold down hence they prepare whole new plate for us to eat. This is how a big company value their customer and always serving the best and fresh food to customer, we truly appreciate that.
Time for us to show our appreciation by introducing food served in Manhattan Fish Market to our beloved reader, just a note that, no matter how kind the restaurant owner is we will share what we think and never bias toward what has been offer, we reassure that your trust to us is always our top priority.
Back into action!
Manhattan Fish n Chip RM10.90(light) RM16.90(Regular), signature dish served with garden salad with a choice of chips, garlic herbs rice or more garden salad. People like me always worry Fish n Chip never enough for my stomach but with the present of garlic herb rice it just nice for a complete meal.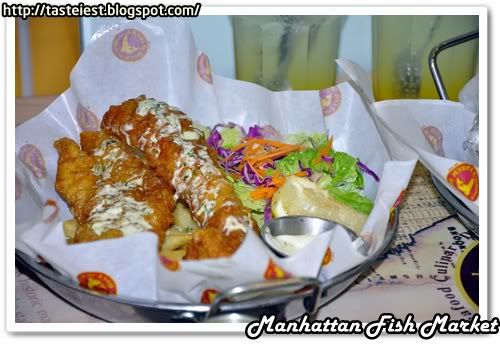 Grilled Catch of the day - Halibut RM35.90, freshness of seafood is the greatest taste of the dish and Grilled catch of the day reassure the freshness of seafood in your plate, it served with various vegetable and choice of chips, garlic herbs rice or more garden salad. Been hearing Halibut many time when watching Top Chef and finally got the chance to try out the smooth and fresh Halibut meat, it texture is smooth and great.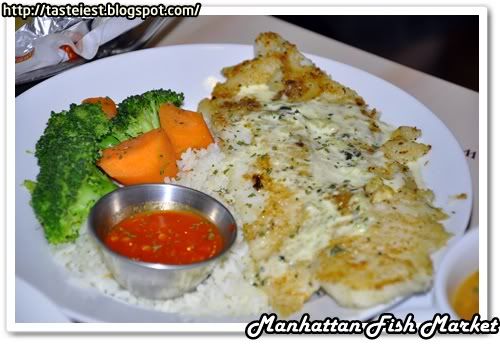 Another Grilled Catch of the Day – Cod Fish RM45.90, it tends to be more expensive for Cod Fish but it slightly disappointed as the Cod fish is not up to our expectation.

Manhattan Baked Dory in Garden Herbs RM18.90 baked Dory in wholesome garden herbs, served over a bed of Garlic Herb Rice with broccoli and carrots. If you are herbs lover then this will be your choice.

Manhattan Baked Fish RM16.90 Dory baked in coriander marinade, served with Garlic Herb Rice with broccoli and carrots.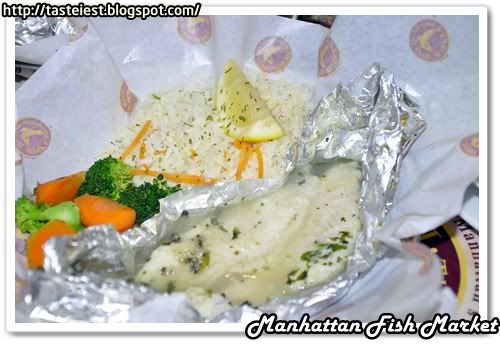 Fire Cherry Snapper with Mussels RM23.90, Grilled cherry snapper specially prepared in homemade spicy marinade, topped with mussels on a bed of garlic rice and vegetable.

Shrimp My Olio RM17.90, sautéed shrimp and spaghetti swirled in a garlic, coriander and olive oil dusted with zesty chili flakes.

Spaghetti in the Sea RM20.90 various type of seafood such as mussels, shrimps and calamari tossed in delicious marinara goodness.

Garlic herb Chicken Pasta RM21.90 Tender chicken breast and pasta tossed in creamy garlic herb sauce, personally I would suggest to use chicken drumstick part which will be much more smooth.

Up next is strict for two, Manhattan Fish Market signature dish "Seafood Platter" I wonder they sell if you alone and order it..haha! share with us your experience!
Manhattan Flaming Seafood Platter RM52.90, perfect platter for sharing, fried calamari, fried fish fillet, oyster with flaming prawns served on a bed of garlic herb rice, chip, broccoli and carrots. The plate shown how big the portion is and don't forgot underneath the seafood is whole plate of rice and chips which is more than enough for two person.

Show time, glad to capture this moment where the fire flaming high with the burning smell from the cheese is just awesome.

Completion of flaming, the cheese smell is covering the restaurant! I like the cheese on top of the flaming prawn which taste a little bit sour and sweet, best to take with rice.

Close look of the flaming prawn, pity the prawn head get serious burn! Opps!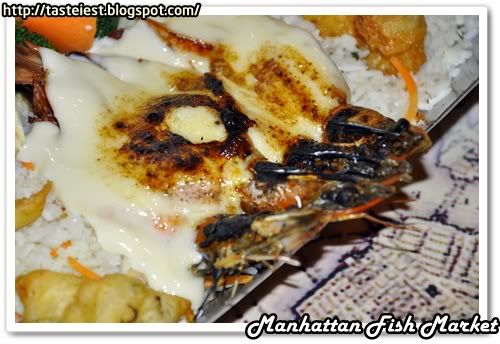 Not only flaming platter, they do serve us with Small Flame RM29.90, Manhattan flaming prawn and catch of the day served with rice of chips.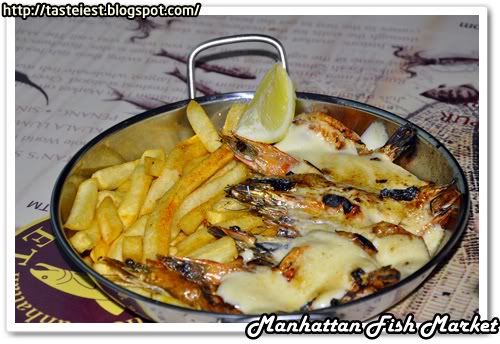 Into action again!

Chicken Wrap n Roll RM13.90 Chicken wrapped in tortilla, packed with garden veggies, drizzled with the famous Manhattan Flaming sauce and served with a side of Chips. Chicken breast meat is a little bit dry and hard.

Tuscan Tiramisu RM6.90, the ever so popular Italian dessert, ours are made with the best coffee and cream cheese.

Brownie with Ice-Cream RM9.90, Fudgy and delicious chocolate brownie topped with vanilla ice-cream, melting ice-cream slipping through rich chocolate flavor brownie.

Manhattan Mud Pie RM7.90 is signature dessert for Manhattan Fish Market, rich chocolate cookie ice-cream pie topped with nuts and chocolate syrup.