This hidden gem is only know by people who came here before either by luck or someone bring them here, Kepala Batas Seafood is quite a general name, why not we specify the name is because this shop doesn't has a signboard and it doesn't look like restaurant as well. How we recognize this shop is by looking at the crowd during lunch time, where people are waiting for table to taste the fresh and delicious seafood.
Rojak hawker is selling just beside the shop, Rojak is a traditional fruit and vegetable mix together with sweet sauce and prawn paste, it taste sweet, spicy, sour and natural flavor from fruits. Prawn paste is the key to ensure the plate of Rojak tastiness and additional peanut on top making it taste even better.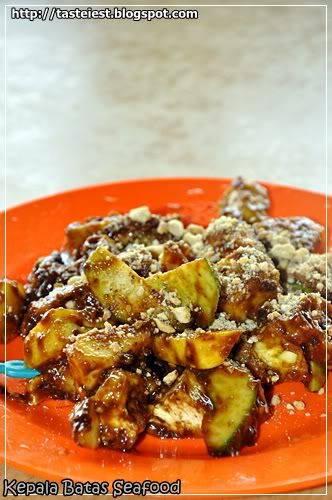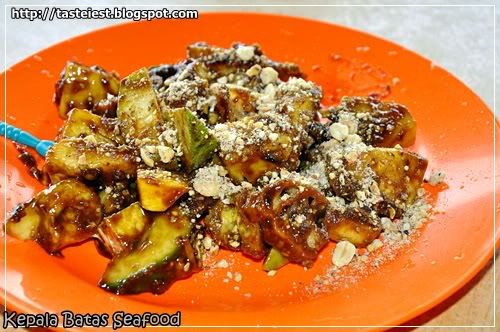 After finish our starter main dish is served, first we had here is deep fried fish meat with soy sauce, fish meat is cut into big pieces and deep fried to crispy outside while maintain the freshness of fish meat inside, season with soy sauce and lime to create some sourness, it taste very good.

Next is steamed Pomfret with soy sauce, key element for tastiness of steam fish is no other than fresh, as long as the fish is fresh it will taste good. No disappointed to this fish, it is extremely fresh and delicious.

Stir fried vegetable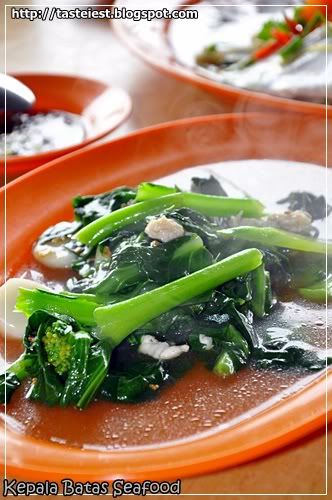 Sweet and Sour Squid, I appreciate the soft and tender squid, it not overcook or undercook instead just right on the cooking time to ensure the tenderness of squid and the sweet and sour sauce is just taste good.

Assam Prawn, fresh and big white prawn deep fried and stir fried with Assam paste, Assam paste is sour and the sweetness from prawn meat is just best combination.

What we had above cost RM90+ for 3 persons with 2 drink per person, price is reasonable and food is tasting good. Worth a try, but remember to go on lunch time only, they don't serve dinner.

Jalan Datuk Haji Ahmad Badawi, Kepala Batas
N5 31.304 E100 25.085