Shangri-La's Rasa Sayang Resort and Spa located in the "Top 10 Islands to Explore Before You Die" Penang Island strategically along the most popular Batu Ferringhi
Beach, offer luxury hotel service and great dining experience. On this post of food review, we going to share with you our great dining experience at Spice Market Café.
We have dine in here about 2 years back and anxiously return to recap the great dining moment we had, resurface from our memory the freshness of seafood, great variety of main dish and the girl dreams
dessert. We know you can't wait for the food review but we need to hold you back a little more for an introduction of the Spice Market Café.
Spice Market Café design theme as the word "spice" mean, significant flavor, eye catching color and pungent aroma are all concentrated within the restaurant. Spice Market Cafe offer buffet that reflect Penang heritage and culture different range from Chinese, Indian, Nyoya, Japanese, Thai, Western and International.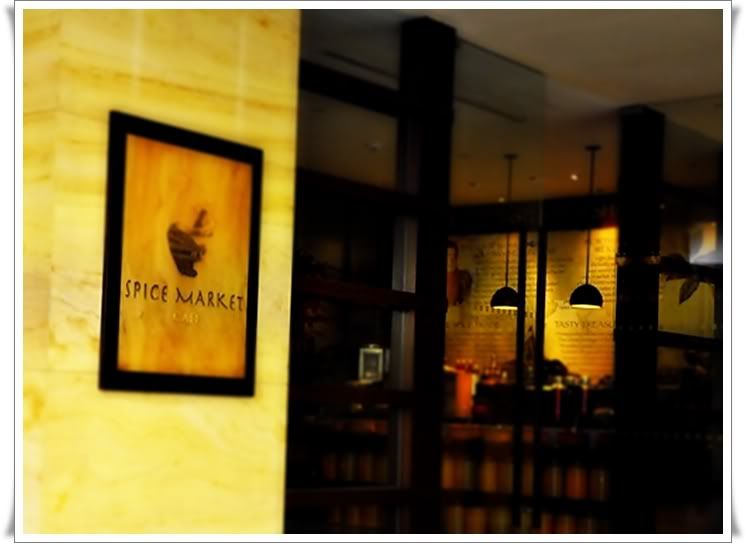 Spice aroma is sensitively touch our nose from far and every step walking toward changing the spice aroma from mild to pungent, welcome by the pungent aroma is the entrance of Spice Market Café where stock of spice are pile up together.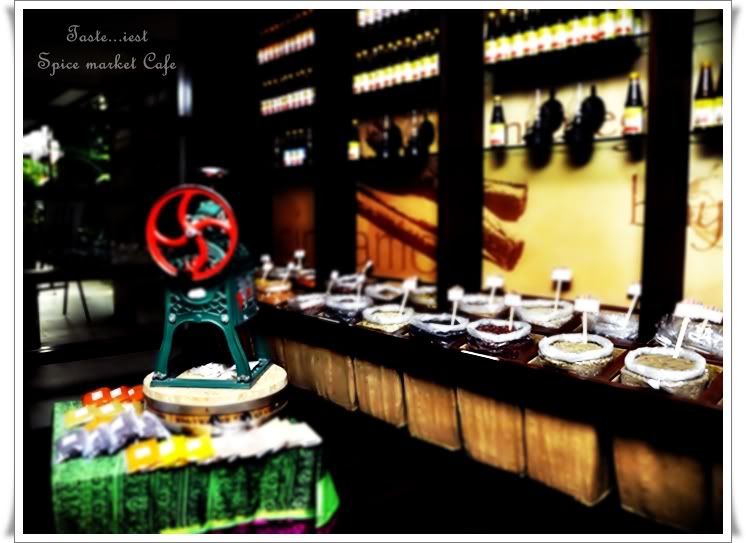 A total of 250 seats available covering indoor and outdoor based on personal preference, you can select which ever suit you the most and most of the foreigners like to enjoy outdoor seat as natural green surrounding is indeed very attracting.
Spice market segmented into Indian, Chinese, Western, Local, Noodle, Seafood, Sushi and Dessert
Right after the main entrance on right hand side is the Indian Corner where Indian traditional cuisine such as Tandoori, Naan, Curry and Papadum are served. Indian foods are best known for extensive use of various spices which indeed well represent Spice Market Café.

Tandoori Chicken aka Roasted Chicken is marinated in curb and seasoned with tandoori masala, even though the color look to be spicy but it doesn't taste spicy at all. Well control of cooking produce succulent chicken meat and rich in flavor.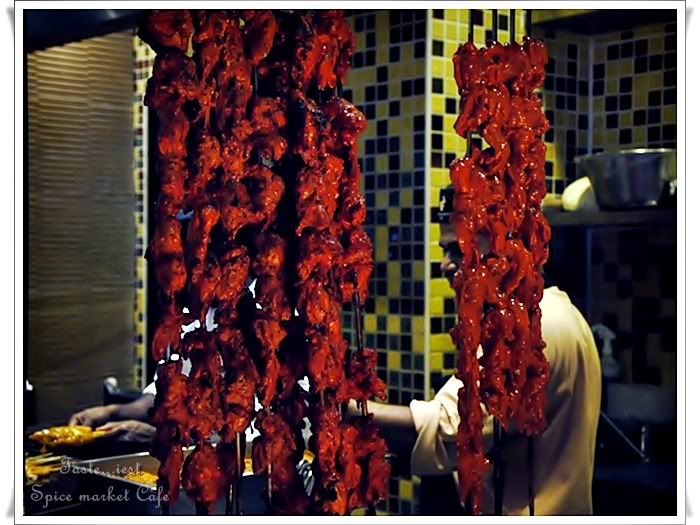 Satay or a skewered meat which is truly Malaysian dishes, where chicken meat are marinated with the present of turmeric which turn the chicken meat into yellow color served with peanut sauce, onion, cucumbers and ketupat.

Sushi Corner offers different type of Sushi such as Inari Sushi, Prawn Sushi, Tuna Sushi and Salmon Sushi also include Maki Roll with much different type of ingredients. We created our self a Sushi Boat and that boat really drives us full even at the start of buffet, specifically love the Salmon sushi and Prawn sushi which is truly fresh and delicious.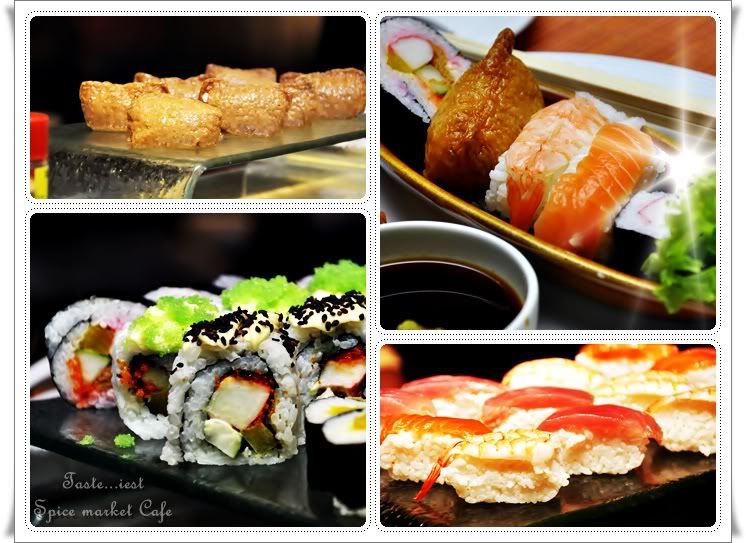 Macaroni Cheese Cup also known as "Mac and Cheese" where great partnerships between Macaroni (flavorless) combine with Cheese (strong flavor) to form a great taste and texture dish.

On the spot cutting the Roasted Chicken based on the part you request is my favorite as I got to choose my favorite drumstick, I was expected the chicken to be dry since it was place there sometime before served but it came to a surprise that chicken meat is soft and the outer skin has mild spice flavor which not overwhelm the original tastiness of chicken meat.

Deep Fried Eggplant, Hand Cut Potato Wedges, Deep Fried Fish and Mushroom cook Macaroni.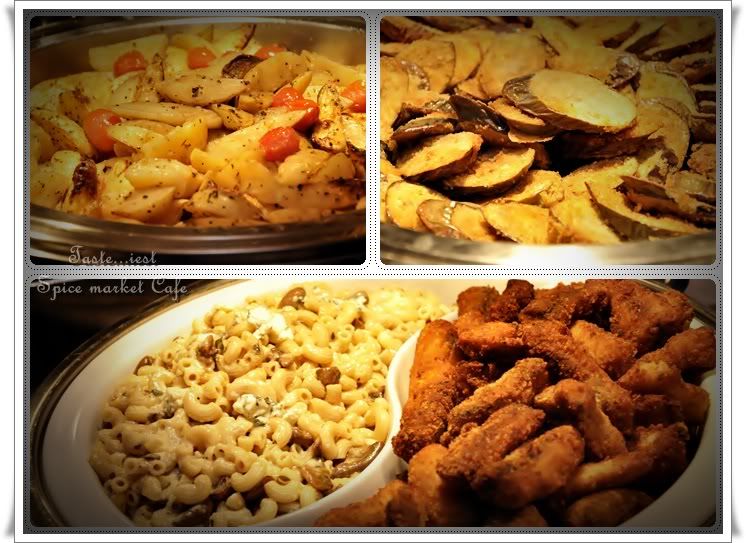 Stir Fried Satay Chicken, Black Pepper Beef and Chicken Lobak

Chef busy platting, demonstrating their love and respect to each individual dishes.

Fried Noodle and Fried Rice together with Oxtail Soup

Suddenly heard loud "pop" sound loud while taking photo, turn over and saw a Sifu flipping and twisting flour to make ramen, which is our very first experience on ramen making process in such close range. On noodle station, different range of ingredients cooks with 6 different type of noodle with either chicken soup or prawn soup.

Cheese Station, different type of cheeses available and the most memorable is definitely blue cheese which carry a distinct smell.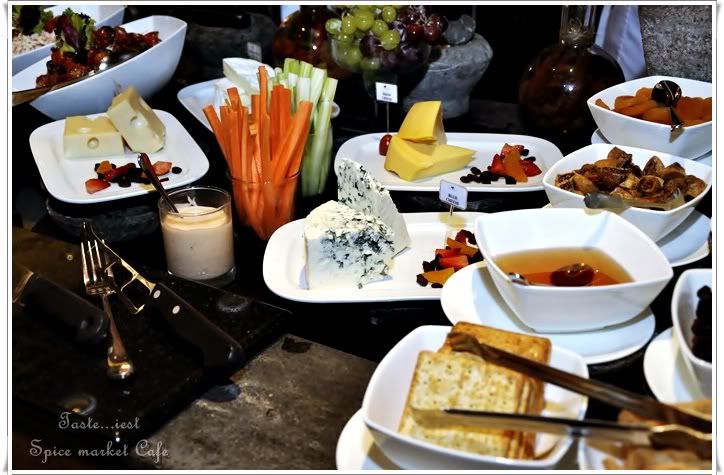 Different flavors of Roasted Chicken Meat.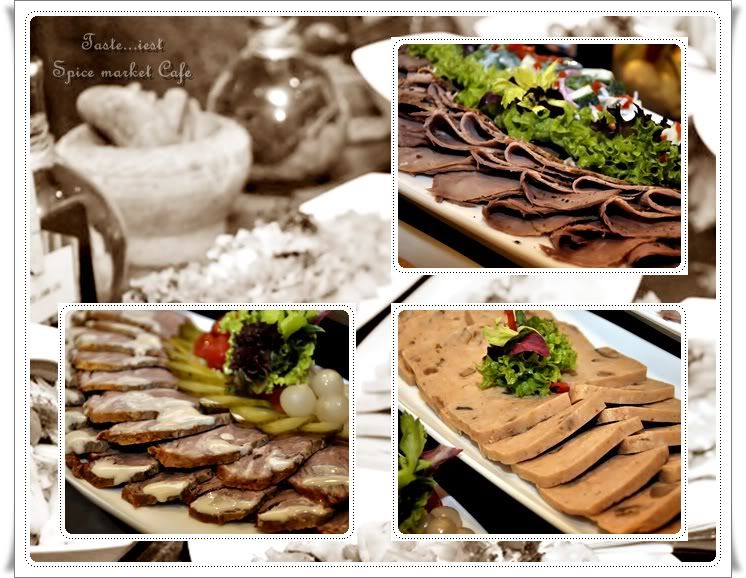 Another nice food presentation, we didn't get a chance to taste it as there is really too much to consume, even a small piece for every dishes. This dishes bread top with salmon and egg.

Four big basket of seafood included of fresh Yabbies, Scallop, Prawn and Muscles.
According to Sous-Chef, those Yabbies are live delivery everyday to Spice Market Café and Yabby are half fresh water and half salt water. My first time to taste the Yabby and honestly it took me few minute on where to start ripping off the shell, after some war fight with the Yabby finally I make my way through to the fresh flesh.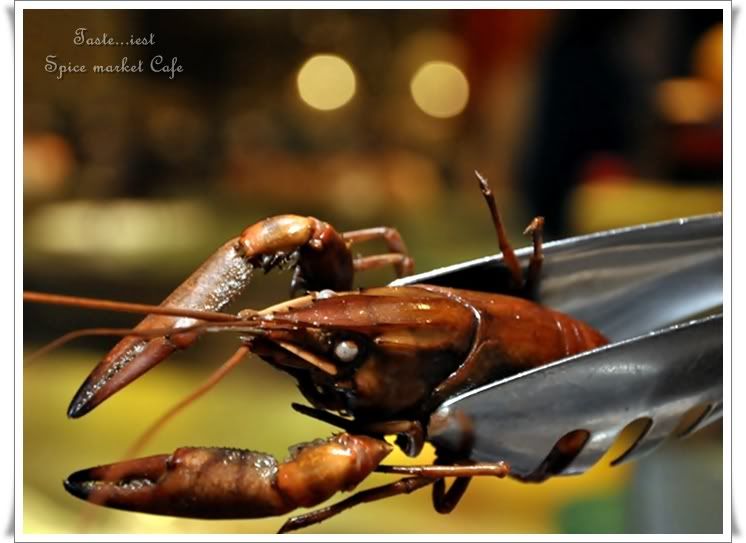 While sweat and blood fighting with Yabby, I conquer and win the War but the upcoming challenge will be Prawn. Prawn is cook with plain water without any seasoning and kept on top of ice cube to chill it, it an easy match for us to get the prawn down on our feet to tear it meat out from the shell. We are melting down after first bite of the fresh prawn as it was truly fresh and nature sweetness.

It took some time to fight and win the battle, time pass by very fast and those seafood stocks are running out as well. We will so depress when plate and plate of seafood being taken away but something energize us when the chef toping up the basket again, very generous of topping and no worry about running out of food.

Beverage corner, a nicely allocated multi color fruit juice fill the jug in nice and organize sequence, various choice of refreshing and healthy fruit juice available such as Guava, Apple, Orange...Etc. Even though the juice is not blended on the spot but according to the Sous-Chef, high quality of juice is served.
If you looking for some drink to keep you awake then you may request for Coffee or Tea as well.

Shall we call the next corner as girl favorite or kid favorite? No doubt! I should call it men favorite as well, because the color, shape and size are definitely eye catching.
Sweetness tends to make people feel excited and when you are presented with so many excitements, I pretty sure you are out of control.
We are very impress with the dessert presented but unfortunately our stomach only manage to fit in few pieces even we try our very best.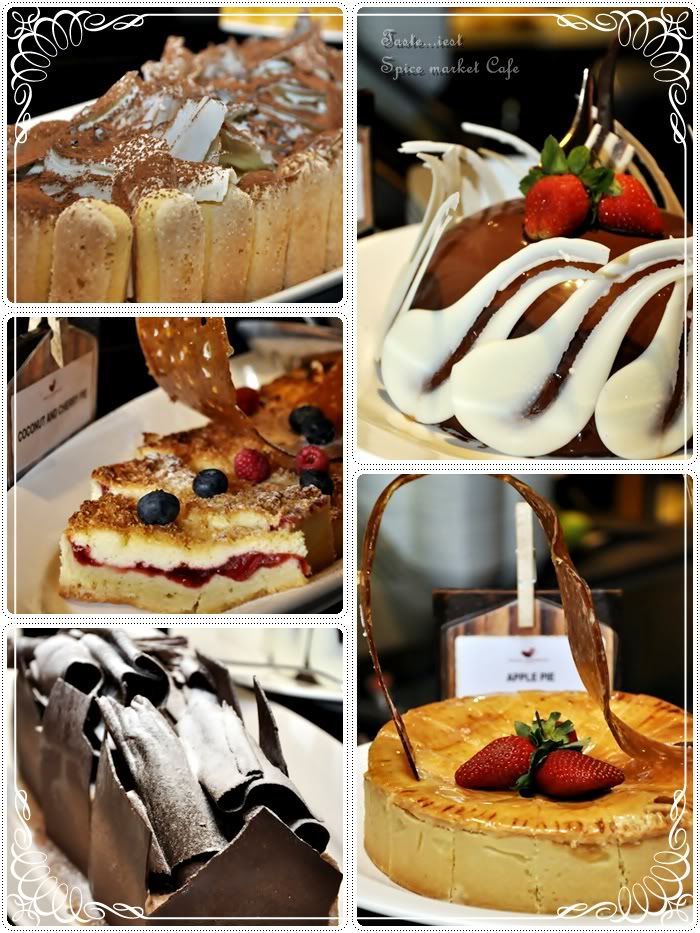 Five different types of fruit available for selection, such as Pineapple, Watermelon, Honey Dew, Papaya and Jackfruit. If you like to have whole fruit such as Orange and Apple I believe you can take those and enjoy it.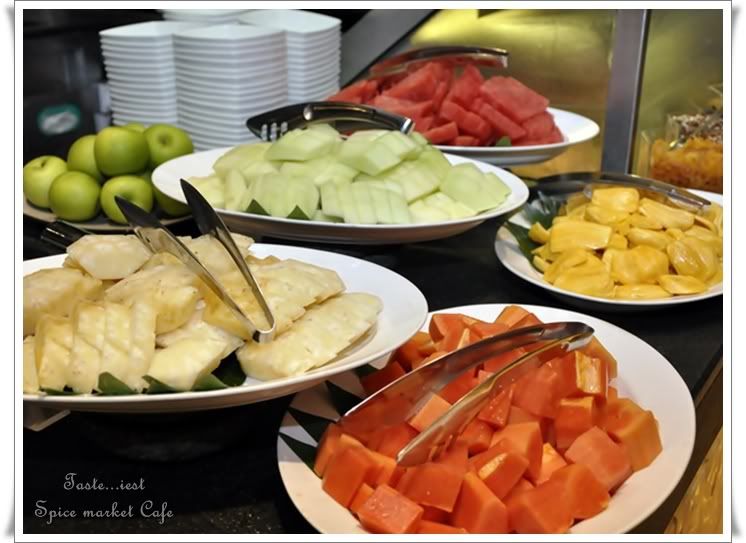 You may as well ops for Truely Penang Symbolic dessert "Ice Kacang" that you can DIY, you select your own ingredient and top with your own desire syrup, a total of six different syrup and various ingredients such as red bean, longgang, jelly and etc.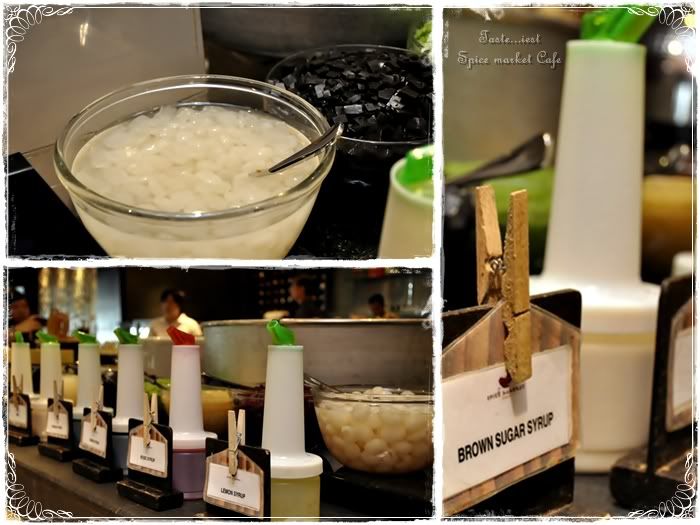 Beside the Ice Kacang is a big and tall Chocolate Fondue, where hot melting chocolate dripping top down circulating non-stop inviting you to pick up the mashmallow and dip in the hot melting chocolate.

There is another dessert, thin layer crisp with ton of ingredients to add on, the skin is soft and fill inside are ingredients of you own selection, as the picture shown below

Nyonya kuih such as Kuih Talam, Layer Kuih, Kuih Bengkak…Etc. The different shape, texture and multi colors Kuih are nicely plated.

Dining and enjoying the clown presentation, clown is really bringing up the excitement especially kids, while on our table he twist and turn the balloon to form a Doraemon that has crooked face and Pink Panter that got three legs. OMG! Even though the balloon doesn't look to be same but I clarify it as creative and indeed his talent to create something new and attracting.

We appreciate for Sous-Chef Lim and his assistance sous-chef on the detail explanation, from the conversation we know that how strict SFSMS (Shangri-La Food Safety Management System) are implemented to ensure food safety and freshness. In short, you can reassure food poison unlikely to happen after your meal at Shangri-La, Thanks to those hardworking chef that make it happen.

While we anxiously waiting for Independence Day to come, Spice Market Café offer Buy 1 Free 1 Sunday Brunch buffet for RM80++ adult while children just RM40++.
Buffet as what you see above, exactly the same range of item but maybe different menu but definitely same value. We hope you enjoy the buffet.
This review is participate in a competition, i need lot of "like" and appreciate if you could help to like my post in facebook. Thanks
Step 1: Click LIKE on http://www.facebook.com/gourme​tgarden.com.my
Step 2: Click LIKE on http://www.facebook.com/gourmetgarden.com.my/posts/142514562​503305
Spice Market Cafe
Shangri-La's Rasa Sayang Resort & Spa
Batu Ferringhi Beach
11100 Penang, Malaysia
Tel : 04 8888888
N5 28.752 E100 15.295

View Spice Market Cafe in a larger map