Time past by so fast, it almost one year since our last visit to Viva Dim Sum , Viva Dim Sum celebrating it one year anniversary and invite blogger to sample their Dim Sum which has been modified and improve over the year.
Expecting a long reading for this post as we going to review a lot of items, whole lot of dim sum almost covered two table. Viva Dim Sum boss David is very generous and keep sending out Dim Sum to our table for testing.

Let drink a cup of tea before I begin, according to David, tea leave use are higher grade and it not so bitter compare to those cheap tea leave.

Crispy Yam Puff aka "woo kok" is made with Yam and flour for outer skin while fill inside with char siew.

Pan Fried Radish Cake aka "chai tai kuih" is made with radish blended together and make a square form then deep fried to golden color, skin is crispy while the inside is soft.

Deep Fried Manggo Prawn Roll, deep fried flour wrap mango and prawn to form the golden color roll.

Baked Sweet Potato Puff, it look to me like a moon cake as we always can see those small type of moon cake sell in night market, indeed it taste almost like moon cake as well.

Egg Tart, the crust is made from flaky puff pastry with lard to create the thousand layer feeling while inside fill with egg custard.

Crispy Bean Curb Skin and Prawn Roll, thin skin bean curb wrap with prawn and deep fried.

Deep Fried Sesame Sweet Ball aka "Jin Tui" given a chewy texture due to the dough use and fill with lotus paste.

Deep Fried Dumpling.

Steamed Radish Cake, another way to enjoy radish cake is to steamed it and top with same sauce is very tasty.

Steamed Scallop Dumpling, it almost the same as normal dumpling but with extra scallop on top.

Steamed Glutinous Rice aka "Loh Mai Kai" on the traditional way they wrap glutinous rice with lotus leaf but now very hard to get lotus leaf hence they just put into metal bowl and steamed it, it contain char siew, chicken meat and mushroom.

Steamed Pork Ribs aka "Pai Kut" is steamed of pork ribs.

Next is our favorite since last time and it never disappointed us as well, Liu Sha Pao, serious amount of butter cream and salted egg York fill inside the bun, I compile a animated picture below to show how much the melting cream flowing out from the bun below.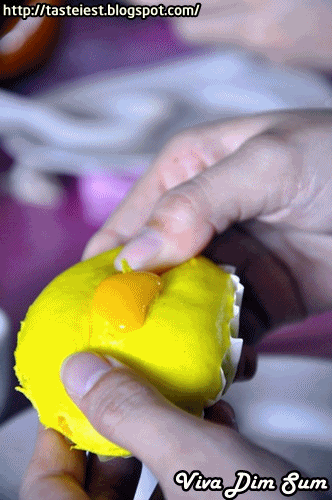 Steamed Bun with premium Lotus Paste and York

Steamed Red Bean Bun

Siew Mai, steamed dumpling fill with prawn.

Steamed Dumpling with Fish Roe

ShangHai Xiao Long Bao

Chicken Feet with "Zhu Hao" Sauce

Char Siew Pao, according to David they do not use softener as it not healthy hence the bun is not that fluffy, but for me I feel that that is good enough and the most important is healthy.

Steamed Vege and Prawn Roll

Steamed Fish Ball

Steamed Fish Ball

Stuffed Vegetable with Fish Paste, it healthy and tasty.

Crispy Dragon Roll, very nice presentation exactly match for it name, Dragon Roll!

Hot Lean Meat, Century and Salted Egg Porridge

Chee Cheong Fun With Prawn, with Barbecue Pork and with Egg Yolk. Three different type of Chee Cheong Fun for your selection

Stir Fried Radish Cake with Egg

Char Hor Fun, the way it cook is very HK style where bee hun is deep fried and it has a hard texture with lot of egg on it gravy.

Sundry all bamboo steamer to avoid fungus growing and the main reason for using bamboo is the ability to absorb water vapor.

You can join our Facebook community Taste…iest to keep yourself updated on all the latest from Taste...iest.
Viva Dim Sum
Lot 303, Jalan Tanjung Tokong, 10470 Penang, Malaysia.
6:00am – 2:00pm
04-890 2549
N5 27.778 E100 18.300

View Viva Dim Sum in a larger map