Portland Saturday Market is located at North Waterfront Park & Ankeny Plaza Portland, Oregon where over 350 small business and individual artists across the nation gather each weekend from March till Christmas. The market is accessible by TriMet's MAX Light Rail line which stops within the market at the Skidmore Fountain stop beside Skidmore Fountain.


Kielbasa is a type of eastern European sausage and in Malaysia we usually call it sausage or hotdog but it bigger in size. Kielbasa I try here is indeed original flavor from Poland where the chef has 16years of experience in preparing National food of Poland and I am lucky enough to try it at Portland Saturday Market.
I had Kielbasa on the stick USD3 with a sweet tea USD1.50, you can add different type of pickle and sauce depend on your favorite taste.


Kielbasa texture is totally different from our sausage, it doesn't has chewy bite instead it taste like chop meat inside which the outer skin is harder, it has stronger meat taste. Overall I like the texture and taste as well as the big portion.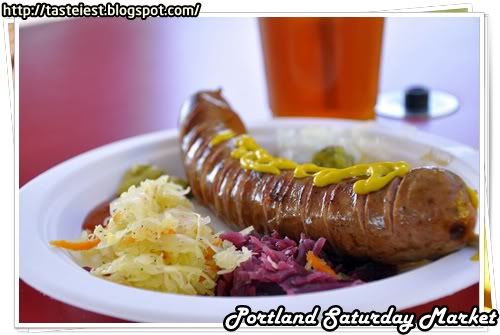 Something new to me and I like it.

Portland Saturday Market
North Waterfront Park & Ankeny Plaza Portland, Oregon